1 View
2018 John Deere Gator XUV835 and XUV865 Unveiled
September 1st, 2017 4:01 PM
Share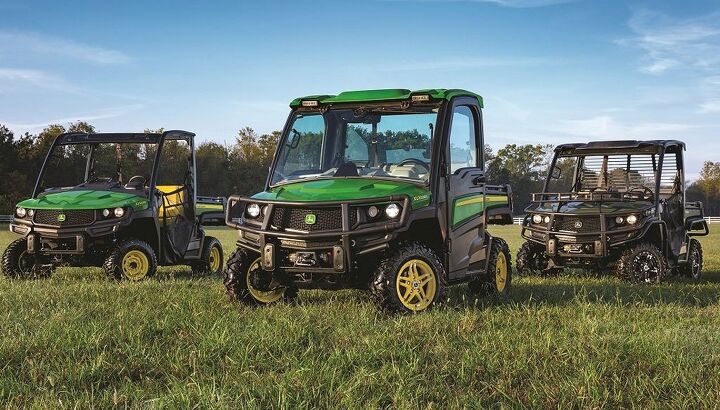 John Deere has taken the covers off of two new UTVs ready for four-season use – the 2018 John Deere Gator XUV835 and Gator XUV865.
Deere boasts the new Gators feature its quietest cabs, along with three-wide seating, heating and air conditioning.
John Deere Introduces New Gator HPX615E and HPX815E
"The new Gator XUV models combine versatility, durability and comfort into a machine that can increase productivity in all types of conditions," said Mark Davey, John Deere marketing manager. "It's a workhorse that can tackle any job with features designed to save farmers time and energy."
The John Deere Gator XUV835 is powered by a 54-horsepower gasoline, while the Gator XUV865 relies on a 23-horsepower diesel engine. As for speed, the Gator XUV835 offers a top speed of 45 mph, while the diesel-powered XUV865 tops out at 30 mph.
These new Gators are designed to work and Deere offers up more than 90 attachments to help owners get the job done. As well, each model features a massive 11-gallon fuel tank so owners can stretch out the work day before needing a fill up.
The three-wide seating is a first for the Gator family. The driver's seat is adjustable and tilt steering comes standard.
"Available HVAC systems and pressurized cabs offer year-round weather protection, providing cooler operating conditions in the summer, and heating capabilities during harsh winters and snowy conditions," John Deere says in a release. "The heating feature also defrosts the windshield, to keep you operating efficiently. In addition, noise isolation and sound dampening features in the cab provide a quieter experience."
As for capabilities, the new John Deere Gator XUV835 and XUV865 can tow up to 2,000 pounds, carry up to 1,000 pounds in the bed and offer up to 16 gallons of storage space.
According to Deere, the launch of the new units comes with new naming conventions. All XUV models will switch to an "E," "M," or "R" designation to indicate the power and level of features available on each unit.
"The Gator XUV835R and Gator XUV865R come standard with a climate-controlled cab with premium cloth seating, similar to their tractor siblings," says John Deere. "With exclusive tan interior, including premium sound dampening headliner, it is our most comfortable cab in the Gator lineup. The R trim level also includes upgraded attachment ready wiring to allow quicker installation of roof lights or other electrical attachments, plus the R models come standard with brighter, longer lasting LED headlights."
John Deere says Gator XUV835 and XUV865 models will begin shipping to dealers late in 2017. Prices have not yet been released. Visit JohnDeere.com/Gator for more information.
Published August 31st, 2017 11:31 PM
Top Brands
Popular Articles