1 View
John Deere Introduces New Gator HPX615E and HPX815E
August 31st, 2017 11:32 PM
Share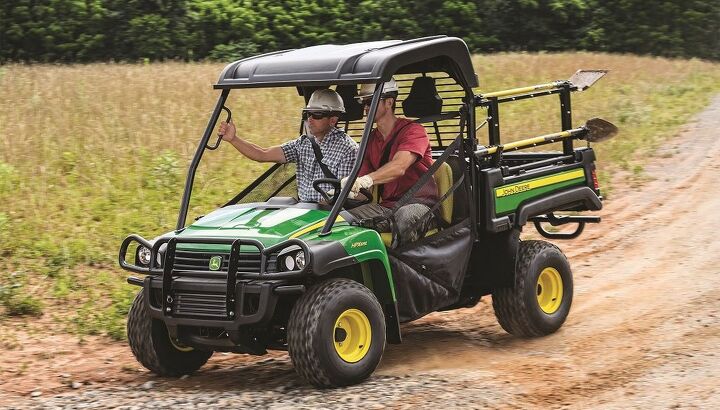 John Deere has added two affordable new models to its 2018 Gator lineup – the Gator HPX615E and Gator HPX815E. Prices have not yet been released.
The Gator HPX615E is powered by a 617cc, two-cylinder gas engine that produces 20 horsepower, while the Gator HPX815E boasts an 854cc, three-cylinder diesel engine that produces 18.2 horsepower. Both machines have a top speed of 25 mph.
"These new models offer even more cargo handling versatility," said Mark Davey, John Deere marketing manager, Gator Utility Vehicles. "Whether you're on a construction site or working on the farm, our HPX vehicles are fine-tuned with excellent hauling and handling characteristics to help you get any job done."
The cargo box on each of the new Gators features removable sides and removable tailgate and is built with composite construction that is designed to be dent, rattle and rust resistant. Users can haul up to 16.3 cubic feet of cargo in the bed. But when you've got large or irregularly shaped cargo, you can transition to a flatbed for added versatility.
2018 John Deere Gator XUV835 and XUV865 Unveiled
As for capacities, the cargo bed can carry up to 1,000 pounds and both the Gator HPX615E and HPX815E can tow up to 1,300 pounds. Total payload capacity is 1,400 pounds.
"Optimal weight distribution, six inches of ground clearance and four-wheel drive ensures the new models handle challenging terrain with ease," John Deere says in a release. "Additionally, it is easy to service on its own or through John Deere's dealer network."
According to John Deere, the Gator HPX615E and Gator HPX815E will begin shipping in Fall 2017. Visit JohnDeere.com/Gator for more information.
Published August 31st, 2017 11:24 PM
Top Brands
Popular Articles