1 View
2016 Can-Am Defender vs Polaris Ranger XP 900
February 24th, 2016 12:20 PM
Share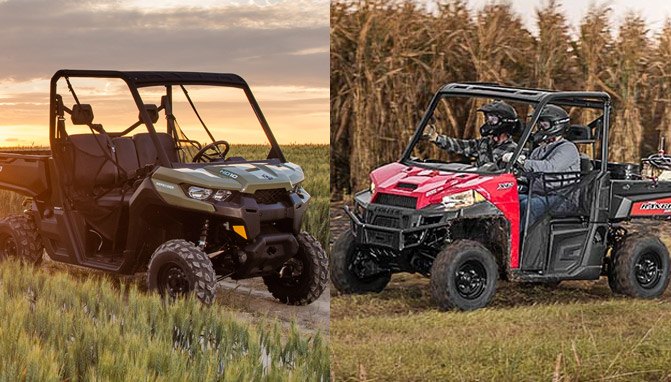 A specs comparison between these heavyweight Utility UTVs
It's no secret that Can-Am and Polaris have been duking it out for Sport class supremacy over the last several years. With the release of the all new Can-Am Defender HD10, it appears that battle is spilling over to the Utility segment as well.
The Polaris Ranger XP 900 has been a class leader in the utility segment for a number of years, though it has remained largely unchanged since its introduction in 2013. While we're waiting expectantly to see a 1000 version of the machine, Can-Am has jumped into the Utility UTV game with a 1000 model of its own, purpose built to compete with the Ranger XP 900.
If you're in the market for a Utility Side-by-Side, here are some things to keep in mind when considering either of these two models.
Utility UTV Specs Comparison
Polaris Ranger XP 900
Can-Am Defender HD10
Price
$13,499
$13,799
Engine
875cc Fuel Injected Inline Twin
976cc Fuel Injected V-Twin
Horsepower
68
72
Torque
NA
61 lb-ft at 4000 rpm
Transmission
Automatic PVT H/L/N/R/P; Shaft
PRO-TORQ transmission with Quick Response System (QRS) high airflow ventilation and Electronic Drive Belt Protection. Extra L / H / N / R / P
Wheelbase
81.0 in
83.0 in
Overall Dimensions (LxWxH)
116.5" x 60" x 76"
120" x 62" x 76"
Weight
1,318 lbs (dry weight)
1,395 lbs (dry weight)
Front Tires
25 x 10 x 12 Carlisle 489
25 x 8 x 12 Maxxis M923J
Rear Tires
25 x 11 x 12 Carlisle 489
25 x 10 x 12 Maxxis M923J
Ground Clearance
12.0 in
11.0 in
Fuel Capacity
10.0 gal
10.6 gal
Front Suspension
Dual A-Arm 10" of Travel
Dual A-arm 10" of Travel
Rear Suspension
Dual A-Arm IRS 10" of Travel
Tortional Trailing Arm (TTA) w/ sway bar 10"
Brakes
4 wheel hydraulic disc brakes with dual bore front calipers
4 wheel dual 220 mm ventilated discs with dual piston front and single piston rear calipers
Lighting
55W low/60W high, LED Tail
Four 35-W reflectors / LED tail lights
Instrumentation
Digital Guage, speedometer, odometer, tachometer, trip meter, clock, hour meter, gear indicator, fuel gauge, hi-temp, coolant temperature, voltmeter, service indicator, seat belt
Multifunction Digital gauge featuring speedometer, tachometer, odometer, trip and hour meters, fuel, gear position, seat belt, diagnostics, clock and auto shut off
Towing Capacity
2,000 lbs
2,000 lbs
Driveline/Differential
On-Demand True AWD/2WD/ VersaTrac Turf Mode
Selectable 2WD / 4WD with Visco-Lok auto-locking front differential
In Vehicle Storage
9.7 Gallons Total
10.4 Gallons Total
Bed Capacity
1000 lbs
1000 lbs
Bed Dimensions L x W x H
36.5" x 54" x 11.5″
38" x 54.5" x 12"
Power Steering
Optional
Optional
Payload Capacity
1500 lbs
1500 lbs
Seating Capacity
3
3
Work Features
Since we're talking about utility machines, we figure payload and carrying capacity might be the best place to start. Both machines are capable of hauling up to 1,000 pounds in the bed with a towing capacity of 2,000 pounds and an overall payload capacity of 1,500 pounds. The Defenders cargo bed is 1.5" wider than the Ranger XP and while that doesn't sound like a lot, that one inch could be the difference between something fitting in the bed and having to go hook up to a trailer. The bed on both machines feature pre-formed recesses, allowing the user to install dividers to keep materials more secure. Four five-gallon pail recesses are also molded into the bed of the Defender.
Both the Can-Am Defender (pictured) and Polaris XP 900 can carry up to 2,000 pounds in the cargo bed.
Both machines are designed to put in long hours, featuring fuel tanks in excess of 10 gallons, with the Defender providing just over a half gallon more capacity. If you find yourself working after the sun goes down, the Defender will light up the night with 140 watts of illumination via four reflectors and the Ranger XP gives you the option of both low and high beams. (55w low / 60w high).
When Size Matters
If you're of the bigger is better mindset, the Can-Am Defender comes with a slightly wider footprint at 62" over the Ranger XP's 60". It's also just shy of four inches longer at 120" in overall length. The wheelbase is also two inches longer on the Defender at 83" to the Ranger XP's 81". Those are fairly small margins, but it's worth noting as the Defender offers a slightly larger footprint. That extra size comes with a minor weight penalty, as the Defender tips the scales at 1,395 pounds, compared to 1,318 pounds for the Ranger XP 900.
As for power, the Defender HD10 edges out the Ranger XP just slightly with 72 horsepower coming from its 976cc Rotax V-Twin engine, while the Ranger XP provides 68 horsepower via a trusted 875cc ProStar inline Twin. The Ranger XP received a boost in performance for the 2015 model year, bumping the horsepower from 60 to 68, a gain of 13%. If, or should we say when, Polaris upgrades the Ranger XP, we wouldn't be a bit surprised to see that horsepower number reach into the high 80's or low 90's.
The ProStar 900 engine in the Ranger XP 900 produces a claimed 68 horsepower.
When it comes to torque, the Defender HD10 produces a claimed 61 lb-ft at 4,000 rpm. Polaris doesn't publish torque numbers for the Ranger, but Can-Am notes that the Defender delivers up to 20% more torque than "the top selling competitor."
Suspension and Traction
Dual A-arm suspension can be found on both vehicles with traditional Independent Rear Suspension on the Ranger and Can-Am's patented Torsional Trailing Arm or TTA Independent Rear suspension with a sway bar on the Defender. Yet again, the machines are tied with 10" of travel all the way around. The Ranger XP, however, wins the ground clearance battle with 12" in clearance compared to the Defender's 11".
When it comes to the transmission, each vehicle offers a few goodies of its own. In addition to selectable 2WD/4WD, the Ranger XP's true on demand AWD automatically engages all four wheels when the vehicle senses it needs more traction and then reverts back to 2WD when it doesn't. To maximize grip in any situation, the Defender offers a four-mode traction system with locking rear differential that works in both 2WD and 4WD, as well as Can-Am's Visco-Lok auto locking front differential that transfers power to the tire that stays in contact with the ground in the event you're traversing an uneven surface. Both machines include a turf mode so you don't have to worry about tearing up delicate surfaces with the 25-inch tires – 25x8x12 / 25x10x12 Maxxis M923J on the Defender and 25x10x12 / 25x11x12 Carlisle 489 on the Ranger XP)
More of the Same
You can tell by now that the two machines are very similar, both in performance and available features. A few more areas of similarity include a three-person carrying capacity, four-wheel hydraulic disc brakes, electronic fuel injection, and multi-functioning digital displays with all of the standard gauges and alerts. Power steering is available on upgraded models, but for the purpose of our illustration, we are comparing the base models of each machine and neither are equipped with power steering.
Both machines offer a variety of storage options within the cab, but one feature unique to the Can-Am Defender is a removable glove box. While 1.7 gallons isn't a ton of space, the convenience of being able to remove it from the vehicle, or swap it out with another box filled with other tools or supplies is something we've never seen before. The Defender also provides additional storage space beneath the flip-up passenger seats.
If Money Talks
MSRP on the two machines is $13,799 for the Defender HD10 and $13,499 for the Ranger XP 900. At this price point, the $300 difference is fairly insignificant. Both Can-Am and Polaris offer multiple versions of these units with a variety of extras. If you want power steering, you're looking at $14,999 for the Defender HD10 DPS and $14,499 for the Ranger XP 900 EPS.
For the those with a smaller budget, Can-Am also offers an 800cc version of the Defender (HD8) that produces 50 horsepower and 50 lb-ft of torque and costs $10,999. That competes with the Polaris Ranger 570 XP, which has a 567cc engine that produces 46 horsepower and retails for $11,299.
Regardless of which machine you prefer, now is a great time to be in the market for a new UTV.
Published December 9th, 2015 12:07 PM
Top Brands
Popular Articles