23 Views
2017 Can-Am Defender HD5 vs. Polaris Ranger 570: By the Numbers
June 30th, 2017 2:45 PM
Share
We're committed to finding, researching, and recommending the best products. We earn commissions from purchases you make using links in our articles. Learn more here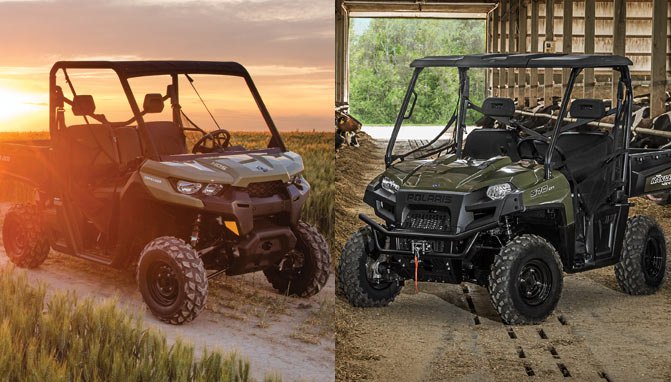 The Utility UTVs for the rest of us
The relationship between Polaris and Can-Am is like trying to describe the relationship between the New York Yankees fans and those of the Boston Red Sox. Yeah, there's a metric ton of competition, a whole lot of pride and maybe a bit of bad blood. These two powerhouse brands are locked in a horsepower war with their turbo-powered sport UTVs, and that is spilling into the utility scene with the 1,000-class machines.
But there are those that don't need, nor want the massive power of the flagship models. They also don't want the price tags that go along with all those ponies. How do the two companies handle this segment? Can-Am recently released the Defender HD5 to go up against the Polaris Ranger 570. Here we go again! Let's see how these two mid-sized machines match up by the numbers.
| | | |
| --- | --- | --- |
| | 2017 Can-Am Defender HD5 | 2017 Polaris Ranger 570 |
| Price | $9,999 | $10,299 |
| Engine | Rotax 427 cc single cylinder, liquid cooled | 567cc 4-Stroke Single Cylinder DOHC |
| Horsepower | 38 | 44 |
| Driveline/Differential | 2WD / 4WD with Visco-Lok auto-locking front differential | On-Demand True AWD/2WD/ VersaTrac Turf Mode |
| Transmission | CVT, P / R / N / H / L, standard engine braking | Automatic PVT H/L/N/R/P; Shaft |
| Wheelbase | 83 in | 79 in |
| Overall Dimensions (LxWxH) | 120 x 62 x 75.5 in | 114 x 60 x 74 in |
| Weight | 1,286 lbs dry | 1,140 lbs dry |
| Front Tires | 25 x 8 x 12 Maxxis M923J | 25 x 8-12; 489 |
| Rear Tires | 25 x 10 x 12 Maxxis M923J | 25 x 10-12; 489 |
| Ground Clearance | 10.5 in | 10.5 in |
| Fuel Capacity | 10.6 gal | 9.0 gal |
| Front Suspension | Double A-arm / 10 in. | MacPherson Strut / 9 in. |
| Rear Suspension | TTA-HD with external sway bar / 10 in. | Dual A-Arm, IRS / 10.0 in. |
| Front /Rear Brakes | Dual 220mm disc/ Single 220mm disc. | 4-Wheel Hydraulic Disc with Dual-Bore Front Calipers |
| Bed/Rack Capacity | 600 lbs | 800 lbs |
| Towing Capacity | 1,500 lbs | 1,500 lbs |
Singling Out the Power
Both machines run single-cylinder, four-stroke engines for power. The Can-Am Defender HD5 utilizes a 427cc Rotax that puts out a respectable 38 horsepower. This is a new engine for their Side-by-Side lineup and is the smallest powerplant Can-Am has used so far in UTV. It carries the electronic throttle control system and electronic fuel injection over from its two bigger brothers.
The Polaris Ranger 570 runs on Polaris' tried and true 567cc ProStar DOHC Single that has powered several machines for Polaris for a little while now. This engine pumps out a decent 44 horsepower and is fed by electronic fuel injection. Like the Can-Am, the Ranger runs a CVT-belt transmission.
It is worth noting that the Can-Am Defender HD5 comes standard with electronic hill descent control. This helps when hauling a heavy load down an incline. The Polaris Ranger 570 doesn't have that option. On the flip side, the Ranger has a turf mode to unlock the rear differential for tighter turning and to take it easy on the lawn.
Classy Chassis
It is safe to say that both of these machines benefit greatly from the development of the UTVs that preceded them. In fact, both machines share a chassis with models that have bigger engines and were available earlier. The HD5 is basically the same as the HD8, just with a smaller motor. There are subtle differences, of course. The HD5 is .5 inches shorter height-wise than the HD8/HD10. That's because it runs on 25-inch Maxxis M924 tires as opposed to the 26 inchers the other machines run.
The Polaris utilizes a very similar chassis to the Ranger 900, a very popular machine that is still part of the Polaris lineup. When compared to the HD5, the Ranger is two inches narrower at 60 inches, making it a little easier to fit on some trails.
Both the Can-Am HD5 and the Polaris Ranger 570 can tow up to 1,500 pounds. The Ranger box can handle 800 pounds of cargo, while the HD5 box limits out at 600 pounds. The total payload capacity for the Ranger is 1,500 pounds versus the HD5's 1,200 pounds. This includes cargo, passengers and fuel. Fuel capacity in the Ranger is nine gallons compared to the HD5's 10.6 gallons. Derrek Sigler
Derrek's love for all things ATV started when he was a mere 11 years old, growing up on his family farm. His mom gave him and his sister a choice - get a horse, or a three-wheeler. The sister wanted the horse, and Derrek wanted the ATV. Luckily he won out, and was soon burning up the trails on a Yamaha Tri-Moto 200. By the time he was 14, he had saved enough of his own money by working on the farm and in his folks restaurant to buy a new 4-wheeler. That happened the day he and his mom were driving past the dealership and saw 1987 Banshee. His mom had no idea what he was buying, and he never looked back. He's been riding ever since, and been writing professionally for many years. He has ridden all over North America and been behind the controls of just about every machine out there. And yes, he still has his 1987 Yamaha Banshee.
More by Derrek Sigler
Published June 30th, 2017 2:45 PM
Top Brands
Popular Articles