5 Views
2019 Textron Havoc vs. 2019 Polaris General: By the Numbers
February 12th, 2019 12:42 PM
Share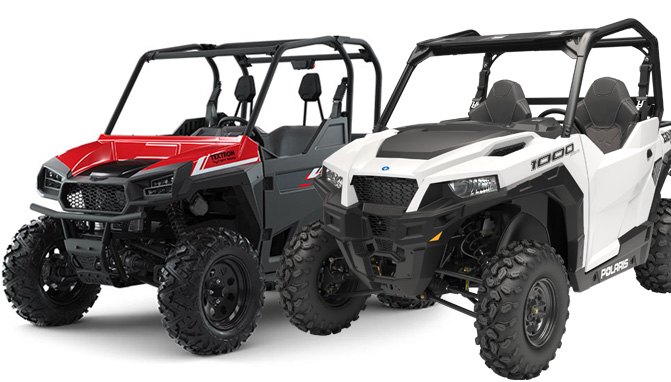 The 2019 Textron Havoc and Polaris General base models share quite a bit in common. Let's see how they stack up…by the numbers.
When you see a machine lineup for a new year, you're naturally drawn to the top models with all the bells and whistles. Then when you check your budget, you have to reconsider and think about what you need versus what you can afford. That's where the base models come into play. The new 2019 Textron Havoc base model competes directly with the base Polaris General EPS. With that in mind, we decided to find out how these two sport-utility UTVs compare, specs vs. specs.
Power Training
Both of these-cylinder, liquid-cooled, single overhead cam four-stroke engine that follows the Weber design from the Stampede. These motors are being made in the Textron factory in Minnesota and are quickly gaining a solid reputation. The engine is fed by fuel injection and runs out through a CVT transmission.
Polaris runs a 999cc ProStar, dual overhead cam, twin-cylinder, four-stroke motor in the General. It's pretty much the same engine you'll find in the RZR as well, just tuned differently. As you would expect, Polaris feeds the engine through electronic fuel injection and it runs out through Polaris' version of a CVT transmission.
What Are the Base Models Missing?
When you've got the heavy hitter engine on the roster, you've got to make some cuts somewhere to come in under the salary cap. Both the General Deluxe and the Havoc X are widely known for their amazing suspension. As you probably know, shocks are expensive. So, these base models have to make due with a less advanced shock in the suspension system. The 2019 Textron Havoc base model still has 12.8 inches of wheel travel up front and 12.9 inches out back, and the same dual A-arm setup is there. It just features a cheaper, dual-rate spring gas shock that still works quite well. You just lose the adjustability and performance that the Havoc X's Fox shocks provide.
The Polaris General still has the same 12.25 inches of travel up front and 13.2 out back. Again, it's the same setup as the Deluxe model. You just don't get the Fox QS3 shocks from the Deluxe. As with the Textron, going down to the base model suspension is not the end of the world, performance wise, but you will save well over $1,500.
Other Cuts
While the base Textron Havoc (pictured) and Polaris General lack a windshield and roof, you can pick and choose from a variety of options after your initial purchase.
One of the first things many of us do when we buy a new UTV to customize it, is to swap out the tires and wheels. My local dealer has a special warehouse for all the take-off tire/wheel combos he has. Many base model machines come with a basic tire/wheel combo and the Havoc and General are no exception. The Havoc comes with a 14-inch steel wheel and 27-inch Duro Powergrip tires. The Duro is a good all-around tire and for general use there's no need to swap. The General also runs a stamped steel wheel, in this case a 12-inch one wrapped with a 27-inch CST Clincher. Again, the CST is a decent all-around tire.
You'll also notice that neither machine comes with a winch, something the higher-end models carry right off the floor. Both the base 2019 Textron Havoc and Polaris General also lack a roof. Neither of these are deal breakers for most of us. Not coming with a standard winch allows you to pick the winch you want. A roof can also be added any time after you purchase and there are many options available outside the factory accessory market.
Price
The 2019 Textron Havoc base model has an MSRP of $16,299 and it comes in any color you want, as long as it's red. Compare that price to the Havoc X at $17,799. You get a really nice machine and save $1,500. Go check one out at your local Textron Off-Road dealer.
The 2019 Polaris General will also set you back $16,299 and comes in basic white. I actually like the white, graphic-free look. This is a $1,500 saving from the General Premium and a $4,000 savings from the General Deluxe package. Slide on into your Polaris dealership and check one out for yourself.
Published October 15th, 2018 10:51 AM
Top Brands
Popular Articles