1 View
2019 Textron Prowler 500 vs. Honda Pioneer 500: By the Numbers
August 23rd, 2019 4:13 PM
Share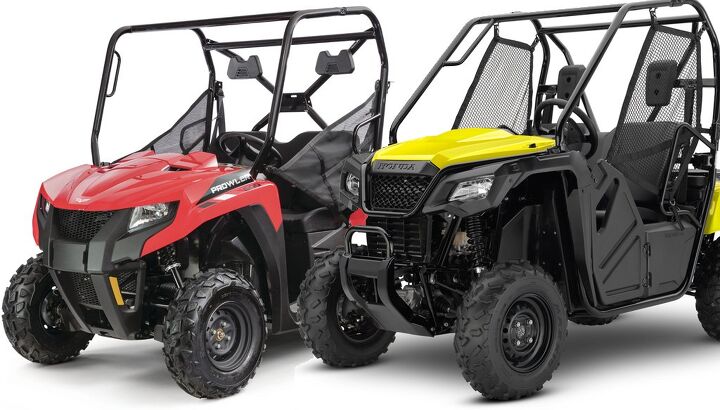 Compact and low in price, the 2019 Textron Prowler 500 and Honda Pioneer 500 are two great options for a small, yet capable UTV. But which one is right for you? Let's compare by the numbers and find out.
We often talk about the big-bore utility and recreation UTVs, but not everyone has the need for the horsepower, or the budget for the price tag associated with them. For that market, there aren't as many options. Both Textron Off-Road and Honda offer 500-class UTVs that lack the frills and horsepower of the flagship models from each, and they also lack the higher price tags, too. The 2019 Textron Prowler 500 was released not long ago and Honda has had success with the Pioneer 500. How do these machines meet your needs? Let's see how they stack up, by the numbers.
Motoring
The 2019 Textron Prowler 500 is based on the machine available back in the feline days of the company. It is powered by a liquid-cooled, 443cc single-cylinder, closed-loop EFI four-stroke engine. Why call it a 500 and not a 450? Because 500 sounds better. And to be honest, when we're talking about this class of engine, it has more to do with the gearing when comparing power delivery. The Prowler runs through a CVT transmission and has selectable two- and four-wheel drive. The front differential locks through an electronic actuator and the rear diff works through the gear case. If you're using the Prowler as a 500 and not expecting it to be a 100 hp Havoc, it has enough power for the tasks at hand.
The Honda Pioneer 500 has the same fuel-injected, 475cc liquid-cooled, single-cylinder engine as the Rubicon ATV, which we love. Honda uses a five-speed automatic transmission that is inspired by their automotive division, meaning it is not a typical CVT. Another sweet feature to the Honda is an automatic and manual mode, which lets you shift gears via steering wheel-mounted paddle shifters. It adds a level of control to the Honda that you don't see in machines in this category. You have two-and four-wheel drive and the Pioneer has Honda's legendary Traxlok differential lock for additional traction control.
Cargo Stuff
The 2019 Textron Prowler 500 has a traditional dumping cargo box with a 500-pound capacity. There is additional storage un the glove box and like Prowlers of old, there is a semi-sealed storage compartment under the front hood. We say semi-sealed because while there is a gasket to keep most stuff out, some dust and water can get in if you really try. The Prowler has a two-inch receiver hitch and it can tow 1,500 pounds.
Honda Pioneer 500 Rack
The Honda Pioneer 500 goes a completely different route. Unlike other UTVs, there is no rear cargo box area. Instead the Honda uses a steel rack, similar to what you would find on an ATV. It has a similar capacity too, with a 300-pound rating for cargo. The Pioneer 500 does have a two-inch receiver hitch and is rated to tow 1,000 pounds. If you're starting to think the Pioneer has a lot in common with an ATV, you're right.
Trail Rating
The Honda Pioneer 500 does share a lot in common with its ATV cousin. On the trail, this makes it feel like a two-seat ATV. The Pioneer is just 50 inches wide and has a 73-inch wheelbase. It is legal for any trail and fits well in places that are a tight fit for other UTVs. While you're on the trail, you may notice the 8.5-inch ground clearance. If you push the little Honda, you can also run out of suspension travel, which is 5.9 inches front and back. The Honda does have fully independent suspension on dual A-arms and the ride quality is quite good.
The 2019 Textron Prowler 500 is a little wider than the Honda at 56.4 inches wide. It has a 72-inch wheelbase and is stable at speed and in rough terrain. The Prowler soaks up terrain thanks to 7.5 inches of travel from the shocks riding on independent double A-arms at each corner. The Prowler has a full 10 inches of ground clearance. Like its previous heritage, this Prowler is equipped to work, and also capable of getting out and having some fun after the day's work is done.
The 2019 Honda Pioneer 500 comes in five color options for 2019 and has a suggested MSRP of $9,099. Hop into your local Honda dealer and ask to see one for yourself.
The 2019 Textron Prowler 500 comes in two color options and has an MSRP of $8,999. Want to see one for yourself? Just waltz into your local Textron dealership and ask for more info.
Published October 22nd, 2018 1:52 PM
Top Brands
Popular Articles