82 Views
2021 Yamaha Wolverine RMAX2 1000 vs. Polaris General 1000 Deluxe: By the Numbers
September 10th, 2020 2:10 PM
Share
We're committed to finding, researching, and recommending the best products. We earn commissions from purchases you make using links in our articles. Learn more here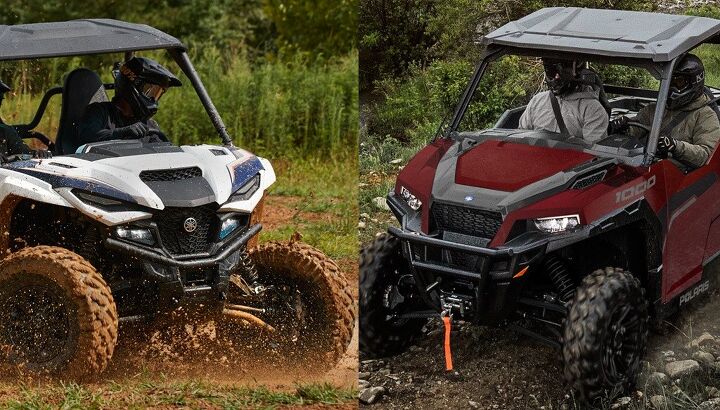 Let's see how do these Sport-Utility UTVs stack up
How does the new 2021 Yamaha Wolverine RMAX2 1000 compare to the Polaris General? Let's have a look at how they stack up…by the numbers.
Off-road companies don't introduce all-new rigs every single day. When they do, we tend to sit up and take notice.
So it is with the Yamaha Wolverine RMAX2 1000 and its four-seat counterpart. Built at Yamaha's factory here in America, it packs a new 999cc twin into an aggressively styled body while adding Fox shocks and burly tires. If you think this is a salvo fired directly at Polaris, you'd be 100 percent correct.
We're stacking the two-seater Yamaha Wolverine RMAX2 1000 against the Polaris General 1000 Deluxe. How do they fare on paper? Read on. How do they fare on the trail? Check back after we've gotten a bit of yee-haw seat time.
Powertrains
Inspired by the Wolverine X2 and X4's engine, Yamaha scaled up the power in RMAX 1000 models, creating a high-octane 999cc DOHC, eight-valve, parallel twin-cylinder engine. It revs to a sky-high 8,500 rpm redline. Power is delivered through Yamaha's Ultramatic CVT transmission, which the company says was redesigned to accommodate the increase in power. How much power? There are 108 ponies on tap.
In the Polaris, a 999cc engine also stands at the ready. Called the ProStar, it is also a twin cylinder but makes an even 100 horsepower (Yamaha wins the 'mine is bigger than yours' contest here). A typical automatic variable transmission, called PVT in Polaris-speak, sorts out that power and is able to send it to two or four wheels. VersaTrac Turf Mode permits the inside rear wheel to rotate independently from the outside wheel during turns.
Suspension
In building its new rig, Yamaha chose to deploy an Independent double wishbone suspension up front, taking on an anti-sway bar and Fox QS3 piggyback shocks. This permits 14.2 inches of travel on the two tires ahead of the driver. Out back, the suspension setup is the same save for the anti-roll bar. This frees things up a bit and allows for 16.9 inches of suspension travel. Note there's no tire stagger in this thing; 30-inch Dirt Commanders of equal width are standard all around.
In its Premium trim, the General 1000 also uses Fox suspenders, deploying Fox 2.0 Podium shocks. Dropping down to the Deluxe trim deletes these for ZF Sachs units. Front suspension is a dual A-arm setup with a stabilizer bar limiting wheel travel to 12.25 inches. A dual arm IRS, also with a stabilizer bar, lives out back but permits 13.2 inches of wheel travel. Look for 27-inch Maxxis Coronado tires mounted on 14-inch wheels, with the two aft donuts measuring a couple of inches wider than the fronts.
Size & Weight
Yamaha kept an eye on weight when developing the Wolverine RMAX2 1000, with this particular trim tipping the scales at 1845 lbs wet. Total length is 119.3 inches on an 86.7-inch wheelbase and it stands 77.8 inches tall. Width is listed at 66.1 inches, but the company makes note that the stance width, defined as the width measured laterally between the outermost wheel rim on each side of the vehicle) as 64 inches even. Ground clearance? That'd be 13.8 inches on this two-seater model.
Overall, the Polaris General 1000 Deluxe is ever so slightly smaller than the new RMAX2. It spans 118.2 inches in length on a 81 inch wheelbase with height checking in at 75.0 inches. Width is officially 62.5 inches but, like Yamaha, a separate stance width of 60 inches even is listed. Ground clearance is slightly less than the Polaris at 12.0 inches, part of which can be explained by the smaller diameter tires. Dry weight is about 1544 pounds.
Payload & Towing
Bed capacity of the RMAX2 is a generous 600 pounds, so feel free to go ahead and load in the wild game you just quartered up on your hunting trip. Towing checks in at a hearty 2000 pounds, meaning one will be able to borrow their dad's old trailer that's made of heavy pig iron. Fuel capacity is 9.2 gallons.
General 1000 owners will be able to load … exactly the same amount of cargo into their rig's dumper box as in an RMAX2. Polaris goes a step further to list total payload as 1100 pounds, an important number to keep in mind when calculating how heavy of a trailer one wants to haul. The hitch rating on this rig is 1500 lbs, by the way, and fuel capacity is 9.5 gallons.
Styling
Always a subjective topic, we think Yamaha has done well with the new Wolverine RMAX2 1000. Narrow headlights peer ahead to give it an aggressive look, with the flared hood and neat grille treatment playing well with those styling cues. The RMAX2 has great proportions, with its box right-sized compared to the rest of the rig.
Your author will go out on a limb and say that Polaris was one of the first companies to make side-by-sides look cool. The General 1000 Deluxe continues the brand's chiseled appearance, with narrow rectangle LED headlights and a muscular hood that can't be mistaken for anything but a Polaris. Splashes of orange paint help break up the monotony of the Deluxe's White Lightning paint. An optional Burgundy Metallic looks baller, as does the Rockford Fosgate audio.
Pricing
Yamaha has decided to price the Wolverine RMAX2 1000 at $19,799 which will permit them to loudly advertise a starting price of under twenty large. Upgrade to the Wolverine RMAX2 1000 XT-R ($21,999) or RMAX2 1000 Limited Edition ($23,999) if you'd like to kick things up a notch.
For their part, Polaris has held the line on pricing, putting a sticker of $20,799 on its General 1000 Deluxe. However, if the General 1000 Deluxe isn't to your taste or budget, there is also a base General 1000 Sport ($15,999), the General 1000 Premium ($18,299) or the upscale General 1000 XP ($22,999). Published September 10th, 2020 2:10 PM
Top Brands
Popular Articles