1 View
ATV Trails: Off-Road Riding in the Dominican Republic
June 17th, 2015 1:35 PM
Share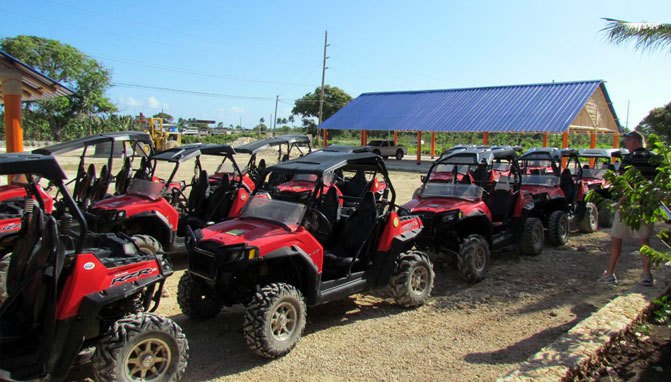 RZR riding in the Caribbean
What could be better than a week in paradise? How about exploring that tropical paradise from the seat of a UTV? That's exactly what my wife and I were fortunate enough to do on our recent honeymoon getaway to the Dominican Republic.
As you can probably imagine, my wife was adamant that I unplug and leave work at home for the duration of our honeymoon. Despite the much needed break, that can be very difficult for me to do. Little did we know that one of the more popular tourist activities on the island would be a UTV excursion through the Dominican countryside.
After an initial welcome briefing at our hotel and learning of all the activities we could choose from, there was little doubt that the UTV trip would be on our to-do list. Despite the urging to not "work" while on this trip, my wife is always up for an adventure and since she grew up in a powersports family, it took very little convincing to change her mind.
On the morning of our excursion, we were picked up from our hotel by a large, open air truck that shuttled us to our destination. I was a bit skeptical of what kind of shape these machines would be in, but upon arrival I was pleasantly surprised to see a long line of shiny clean Polaris RZRs prepped and ready for the day's adventure. After a closer examination I did notice many of them had some severely worn tires and a few vehicles actually had mismatched tires on all four corners, but the vehicles themselves were clean and appeared to be in good working order.
Safety is clearly not paramount in the Dominican Republic. Our tour operators equipped drivers and passengers with bicycle helmets and bandanas – and that's about it. ATV.com does not recommend riding any ATV or UTV without proper safety gear, including helmet, gloves and goggles.
After signing a release form and receiving our helmets (well worn mountain bike helmets), our trail guide Bolivar gave us a quick rundown of the day's events and some specific instructions on the vehicles. We were told to use only one foot to operate both the gas and the brake and to leave the vehicle in high gear only. Because there are so many first time riders using these vehicles, it makes sense for them to keep the instruction as simple as possible. It makes it easier on the driver, but also causes less wear on the vehicles. They never mentioned anything about 2WD, 4WD, park or reverse – just push the break when starting the vehicle and hit the gas when you're ready.
After the brief intro we hopped in our Polaris RZR 800 and hit the trail. Each of the vehicles was equipped with a roof to shield the passengers from the brutal Caribbean sun, as well as a windshield to help with the dust. We were also encouraged to wear bandanas over our face to keep the dust out, as well as any road hazards like mud or animal dung that we might happen to run over.
Having a RZR equipped with a roof was a welcome respite from the intense Caribbean sun.
From the meeting point, we headed out into the countryside up an old dirt road. Away from the coastline, much of the landscape is very lush and green despite the high temperatures. Regular rainfall is enough to keep the fields pretty green and we saw lots of cows, pigs and horses out grazing in the pastures. In some areas the animals were behind fences and sometimes they were just meandering up the same road we were on.
Our first stop was at a small roadside plantation where we had the opportunity to learn about some of the local Dominican agriculture. Coffee, cacao and cinnamon are locally grown and harvested and our host gave us a detailed explanation of how the various products make it from the field to the grocery store. The most intriguing to me was coffee, which they showed us in its most organic form as a red cherry on a small branch.
It was interesting to learn how coffee goes from a red berry on a bush to a warm cup of Joe.
It was pretty impressive learning about all the steps a little coffee bean goes through between the vine and making its way into my cup at the breakfast table. I definitely have a greater appreciation for good coffee now and after sipping a sample of the local coffee as well as a chocolate drink made from cacao, we decided to bring some home with us. A small school building was located across the street and as a way of bringing in support for the community, $2 of every $6 purchase at the stand went to support the school.
From the plantation, we remounted our RZR and headed back down the trail for another 15 minutes or so past a few banana plantations to our next stop at a freshwater cave. The cave itself was more of a crevasse that had opened up, exposing a bunch of stalactites hanging from the ceiling and a deep pool of crystal clear water. We made our way down a steep set of stairs to get a closer look at the water and a few brave souls plunged right in. We thought we might go for a swim, but after seeing how little the water seemed to be moving and thinking about the number of tourists that pass through the area on a daily basis, we decided to hold off. Regardless, it was a beautiful to look at and definitely a spot I would recommend checking out if you ever visit the Dominican.
A cave with a freshwater pool was another interesting stop on our UTV tour in the Dominican Republic.
Above the entrance to the cave, a small market was set up and the shop owners were certainly playing to the American crowd with their own versions of big box stores. We had a good chuckle while browsing through some of the shops, but didn't end up buying anything else despite the rather aggressive attempts of the shop owners.
Wal-Marts look different in the Caribbean.
From the cave we climbed back into our RZR and headed to our final stop. To this point, most of the terrain had been pretty mellow, which I can understand since there is a lot of liability with a guided tour like this – especially considering most of the people are tourists that have little to no experience driving a UTV. These machines obviously see a lot of use and rougher terrain would make it much harder to keep them running.
As we passed other tours of people driving along the same road, I couldn't help but notice that everyone seemed to be a whole lot dirtier than us. Other than a little dust kicked up from the RZR in front of us, we were still pretty clean, but most of the vehicles passing us were completely covered in mud.
An otherwise mellow tour was spiced up with a bit of mud on the home stretch.
I found my answer on the way to our final stop at a stretch of beach. The tour ran us through a road that had been flooded and there were several large mud holes that drivers could splash through if they so chose. I was more interested in getting some action photos of other cars in the mud and since they didn't allow us to actually stop and take pictures, my wife expertly shot from the passenger seat as I tried my best to navigate us through the mud.
As a kind of crescendo on our little adventure, the muddy road emptied out onto a beautiful beach that was much less trafficked than the one near our hotel. Here we had another opportunity to swim in the crystal clear water or purchase souvenirs from vendors selling hats, towels and other goods along the beach. If we'd had more time, this was definitely the spot I would have loved to post up and spend the rest of the afternoon, unfortunately the tour was drawing to a close and we had to head back to home base. It was about a 10-minute ride back down the flooded road, which provided an opportunity to shoot a few more pictures before getting back to the meeting point.
These are the kinds of sights we don't normally get to see on a UTV ride.
Compared to some of the other off-road adventures we've been on this was definitely on the tamer end of the scale, but we had a great time nonetheless. If you ever have the chance to visit the Dominican, or any foreign country for that matter, and have the opportunity to explore the country via a UTV, I highly recommend you do so. Just keep in mind you're in a different country and if it's a tour company, the vehicles probably see more use in a week than the machine in your garage sees in a year. Our little RZR ran just fine the whole trip, but it definitely has had some rough miles put on it. The tour company actually had a small army of people doing everything from fabricating frames to changing tires and just about anything else you can think of.
My wife and I thoroughly enjoyed our honeymoon and this little excursion was our sole escape from the confines of the resort. It was great to get away from all the touristy stuff and see more of the real Dominican Republic. I'm always up for mixing business with pleasure and my wife agreed this was one "work" experience that we wouldn't have wanted to miss out on!
Published April 21st, 2014 1:06 PM
Top Brands
Popular Articles