1 View
Hetrick Outduels Wienen at Ironman National MX
May 10th, 2016 12:21 PM
Share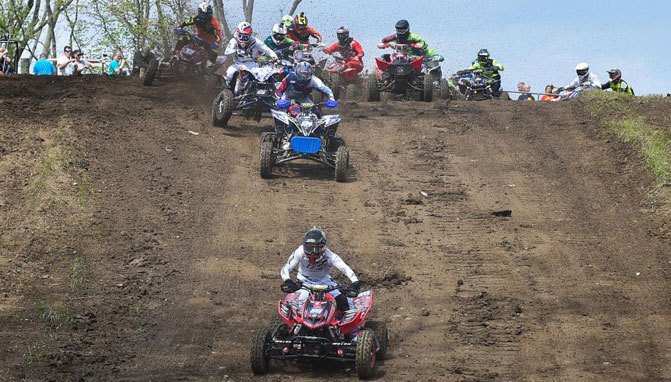 Rastrelli completes Pro podium
(Press Release) The 2016 ProX ATV Motocross National Championship (ATVMX) presented by CST Tires, an AMA National Championship, continued today, May 7, at the iconic Ironman Raceway in Crawfordsville, Indiana. The rain began to fall right before the second timed qualifying session creating a rough and rutted track, but Maxxis/Elka Suspension/Liquid Wrench's Joel Hetrick conquered the obstacles to come out with the overall win. Wienen Motorsports/Yamaha/Maxxis/SSi Decals/Walsh Racecraft/FLY Racing's Chad Wienen and JB Racing/Root River Racing/Gold Speed Tires' Jeffrey Rastrelli rounded out the overall podium in second and third.
Once the gate dropped for the first moto it was Wienen who jumped out to the early lead and claimed the SSi Decals Holeshot Award. Root River Racing/Hoosier Tires/Rage ATV's Josh Upperman found himself in a favorable position where he came out of the first turn in second. Hetrick was stuck mid-pack, but was able to work his way into the top three once after lap one was complete.
Hetrick made quick work and moved into second on the second lap, with Upperman remaining in third. Perhaps one of the best battles of the race was for the fourth place position between Rastrelli, Maxxis/Root River Racing/JB Racing's Thomas Brown and Maxxis/FLY Racing/Baldwin Motorsports' John Natalie. The three racers continued to switch places throughout the latter half of the race.
Overall Podium: (2) Chad Wienen, (1) Joel Hetrick, (3) Jeffrey Rastrelli. (Photo by Ken Hill)
While the battle for fourth was going on behind them, Hetrick was busy charging for the lead. After getting around Upperman Hetrick had his eyes set on Wienen. Due to his unfavorable start, Hetrick had to throw his goggles off in an attempt for better vision. After putting forth his best effort, Hetrick was unable to make the pass at the end of the 15-minute moto finishing just a tenth of a second behind Wienen.
Wienen would end up seeing the checkered flag first followed by Hetrick and Upperman. With the battle for fourth winding down with a couple of laps remaining it was Rastrelli taking the position followed by Natalie in fifth and Brown in sixth.
Jeffrey Rastrelli made his second podium appearance of the season taking home third overall. (Photo by Ken Hill)
"I had a bad holeshot in the first moto and missed a shift," said Hetrick. "I ended up having to take my goggles off and it was pretty hard to follow that close behind without goggles, but I had an epic battle with Chad and just couldn't make the pass."
By the start of the 4 p.m. moto the rain had cleared off leaving the track in near perfect race conditions. The start would be a flip-flop of the first moto with Hetrick claiming the second moto SSi Decals Holeshot Award, and Wienen finding himself stuck in the middle of the field of riders.
Hetrick used this early lead to his advantage to gain valuable seconds on the rest of the field while Rastrelli and AGX Designs/Walsh Racecraft/Maxxis-backed Nick Gennusa tried their best to keep with his pace.
Joel Hetrick went 2-1 for the overall win. (Photo by Ken Hill)
Wienen knew he had to quickly advance himself in the field in order to make the overall podium. By the sixth lap he had worked his way from seventh to third. By the time Wienen had made his way into second, Hetrick had a commanding lead living up to his nickname "Kid Dynamite." Hetrick would end up crossing the line first (2-1) followed by Wienen (1-2) and Rastrelli (4-3).
"I didn't have the best start but I savaged a pretty good spot coming out of the turn," said Rastrelli. "Being back on the podium is awesome feeling. I had a rough couple of rounds recently and I just want to thank all my sponsors and family for standing behind me."
Gennusa had an impressive finish placing fourth in the second moto for fifth overall. Koster Racing/Blommel Motorsports/Walsh Racecraft's Brett Musick put in an equally impressive ride and taking home his season best finish of sixth overall. SSR/FTR/Maxxis/Corrosion Specialties-backed Nick Moser finished seventh overall after battling torn ligaments in his foot after casing a jump at the previous round.
Unfortunately both Brown and Natalie would have issues ultimately taking them out of the second moto where they would finish eighth and ninth overall. Maxxis/Liquid Wrench/Elka Suspension/Honda's David Haagsma rounded out the top ten going 9-12 for the day.
The ATVMX circuit continues in two weeks, May 21, at the popular High Point Raceway in Mount Morris, Pennsylvania. For more information on the 2016 ProX ATV Motocross National Championship, visit the official series website at www.atvmotocross.com. Join the conversation on the series Facebook page, follow on Twitter and Instagram, and be sure to always hashtag
ATVMX National Championship Standings
Chad Wienen (167)
Joel Hetrick (139)
Jeffrey Rastrelli (128)
John Natalie (116)
Thomas Brown (113)
Josh Upperman (107)
Nick Gennusa (105)
Brett Musick (77)
Joe Byrd (79)
David Haagsma (75)
Published May 9th, 2016 10:17 AM
Top Brands
Popular Articles