1 View
Honda Talon Live Valve Vs. Polaris RZR Dynamix: Suspension Comparison
June 11th, 2020 2:18 PM
Share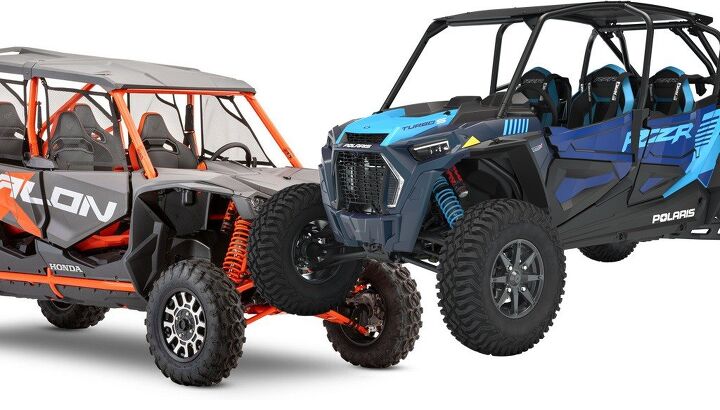 These innovative suspension systems share a lot in common
FOX Live Valve shocks are found in both the Honda Talon and Polaris RZR Dynamix UTVs. How do these two active suspension systems compare?
When the Dynamix Active Suspension version of the Polaris RZR came to market, it was a revolutionary feature for the off-road industry. The idea of shocks that control your ride comfort and handle all of the roughest terrain as well as the general trail riding situations with the flip of a switch just blew us away. Not to mention you could watch the shock data (in a graph style display in the center dash) happening in real time. Some might say technology gets in the way and that it has potential to be another thing to break, but you can't deny that it was a big step forward in innovation and another notch in the Polaris belt of success. And for those trail heroes in the group with more right foot than talent…it makes them look even better.
It was not long after the release of the Polaris RZR with Dynamix Active Suspension that Honda put its hands in the mix with a suspension that was smart enough to adjust for every move the driver of the vehicle made. The Honda Talon Live Valve 4-seat machine stood out with FOX 2.5 Live Valve shocks controlled by a Bosch ECU (the same set up as the Polaris Dynamix).
Are they the same exact shock? The short answer is yes. They may have different ratio springs, settings, but it appears that most every part of these Polaris and Honda suspension systems are very similar.
So how do you compare the technology from Polaris's Dynamix to Hondas Talon with Live Valve? There are subtle differences, and most revolve around getting a little more out of the technology. It doesn't mean that more choices are always better, but the Polaris Dynamix benefits from a third setting (compared to two for the Honda Live Valve).
To show you how similar these systems are, we've put together a list of features for both the Polaris Dynamix Active Suspension and Honda Live Valve. You will notice that these systems are nearly identical.
| | | |
| --- | --- | --- |
| Suspension Features | Polaris Dynamix | Honda Live Valve |
| FOX Podium 2.5 Live valve shocks | Yes | Yes |
| Bosch ECU controller | Yes | Yes |
| Inertia measurements via IMU | Yes | Yes |
| Accelerometer data used to determine adjustments | Yes | Yes |
| Steering, braking, throttle position, lateral movement sensing and terrain inputs | Yes | Yes |
| Reads information every 5 milliseconds for adjustment to conditions | Yes | Yes |
| Comfort – Sport – Firm switch control options | Yes | No |
| Normal– Sport switch control options | No | Yes |
| On screen interface for driver immersion into the system | Yes | No |
| Manufacturer designed software for suspension control elements | Yes | Yes |
| Independent shock operation – Each individual shock gets what it needs from the system as it needs it | Yes | Yes |
| Brake tap at speed sends front shocks to full harsh for impact of trail obstacles | Yes | Yes |
Making Sense Of Things
Getting to the point, here are a few questions that should cover those inquiring minds:
One key difference between the two systems are the three different modes you can choose with Polaris via a toggle switch.
Knowing FOX builds both systems for these manufacturers using Bosch controllers, who do you think did it better? The Polaris Dynamix user experience looks to be a bit better as it seemingly offers more immersion and a third level of adjustment on the user-operated switch. The full color display and real time information being served up is also an advantage to the Polaris team's efforts to give drivers and passengers something to see. However, the Honda Live Valve set up is doing the same thing – just without the screen and the third selection of adjustment.
The Honda Talon FOX Live Valve edition offers two different settings – Normal and Sport.
Is there really a difference and how to tell? When the Honda Talon Live Valve version first hit the market, it was on its four-seat off road rig. There was indeed a difference in the way the two totally different rigs felt under the wheel; however, after driving the larger Talon a couple hundred miles in the desert, the Live Valve system performed as well as anyone could expect and was indeed a bonus to anyone looking for a suspension that adjusts automatically.
Final Thoughts
The Polaris Dynamix package in partnership with FOX was the first in the powersports industry and seems to offer more of a deeper immersion into the system via its interactive display. The Honda Talon "Live Valve" system offers a more streamlined suspension while offering the driver/end user the ability to change settings as well while riding. The systems are ultimately the same in most ways except for that interactive display and the third setting offered by the team at Polaris.
Published June 11th, 2020 2:18 PM
Top Brands
Popular Articles