1 View
McClure Finishes Season Strong With Win at Ironman GNCC
October 31st, 2016 11:02 AM
Share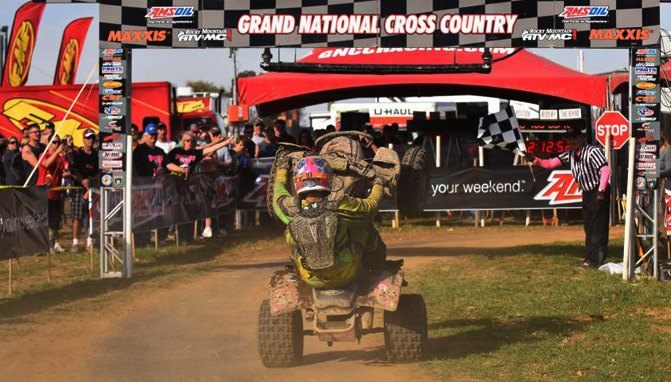 Borich, Wolfe join McClure on XC1 podium
The 2016 AMSOIL Grand National Cross Country (GNCC) Series took place Saturday, October 29, with the 22nd running of the AMSOIL Ironman GNCC held annually at Ironman Raceway in Crawfordsville, Indiana. The top spot on the box quickly became anyone's to take with the two-time National Champion and N-Fab/Maxxis/AmPro Yamaha/Lonestar/MXP's Walker Fowler missing from the start line due to a lingering issue that occurred at a local hare-scramble last weekend.
As the green flag dropped for the highly anticipated season finale, CST/LSR/Induction Solutions/DeRisi/SG/Tire Blocks-backed Adam McGill wasted no time in making his way to the front and claiming the $250 Wiseco XC1 Pro Holeshot Award. McGill immediately felt pressure from Maxxis/Fly Racing/HMF/Ye Olde Cycle Barn/Suzuki's Chris Borich and Coastal Racing/MSR/Maxxis' Brycen Neal who were on his back tires as the trio checked through timing and scoring for the first time.
Adam McGill jumped out to the early lead to grab the $250 Wiseco Holeshot Award. (Photo by Ken Hill)
The second lap played in favor of McGill who began to have some breathing room where he held a ten second lead over Neal who had moved into the second place position. Borich remained in the picture but seemed to be having some issues.
As the teams began their pits stops on the second lap, Borich unmounted from his quad to adjust his shock. Once the six-time champion was back in action he set his sights on making up lost time and taking over the lead. Just one lap later, Neal came into the pits with a broken front end bracket.
Their misfortunes allowed an open spot for JMR/ATVriders.com/DWT's Jarrod McClure who took full advantage of the opportunity to display his talent. With a clear track McClure quickly caught up to McGill. The two began battling it out until McGill's spindle broke. As McGill made his way off the track, McClure continued to the finish line virtually untouched. McClure would end up crossing the finish victorious for the first time this season, and Borich followed nearly three minutes behind him.
Meanwhile, Landon Wolfe continued to push from a top-five start to secure third when the two-lap card came out. Despite the enormous amount of pressure on him, Wolfe would end up landing on the podium with third. Wolfe's placement proved that he will be a top contender for the 2017 championship with his first career podium finish at the Ironman GNCC.
Overall Podium: (3) Landon Wolfe, (1) Jarrod McClure, (2) Chris Borich. (Photo by Ken Hill)
Fast Traxx/Wolf Racing's Brian Wolf finished just off the podium with fourth, while Independent Cycles/Shockworx Motorsports/Variom's Matthew Lindle finished fifth in his XC1 Pro debut. Neal continued charging hard in an attempt to salvage as many points as possible, and at the conclusion of the two-hour race the Yamaha rider placed sixth. Both N-Fab/Maxxis/AmPro Yamaha/Lonestar/MXP's Cole Richardson and BNR/Moose Racing/Maxxis-backed Josh Merritt faced issues on the first lap, which took them out of contention for the overall win.
The XC2 Pro-Am championship remained undecided coming into the final round. Randy Hamilton headed into the woods first after claiming the $100 All Balls Racing XC2 Pro-Am Holeshot Award on his JMR/ATVriders.com/DWT-backed machine. Dillinger's Celtic Pub & Eatery/GBC Motorsports/Moose Racing's Marty Christofferson made quick work to secure the lead by the conclusion of the first lap. While Christofferson continued to lead from start to finish, Goldspeed/Hygear Suspension/Waynesburg Yamaha/Moto-Xperts/Spider Graphix-backed Greg Covert's third place finish earned him the coveted XC2 Pro-Am National Championship.
Greg Covert was named the 2016 XC2 Pro-Am champion.
Indiana native Austin Abney continued his success from 2015, taking the College A (16-21) class win along with sixth overall. Abney's impressive performance also allowed him to break the record and become the top finishing ATV amateur in GNCC history, where he finished ahead of many of the XC1 Pro and XC2 Pro-Am competitors.
Can-Am/DWT/Houser Racing/Elka Suspension/HMF's Cody Miller dominated the Side-by-Side UTV racing action where he led every lap from start to finish. Miller's speed mixed with his consistency secured him the UTV Overall National Championship. Cody's brother, Hunter Miller worked his way from the outside the top ten to earn his first ever overall podium with second. JB Off-Road/Can-Am-backed Tim Farr placed third.
Cody Miller took home not only the UTV overall win, but also the National Championship. (Photo by Ken Hill)
In the 10 a.m. race, Can-Am/DWT/Houser Racing/Elka Suspension/HMF's Cody Miller continued his winning streak making it three-in-a-row in the 4×4 Pro division. Can-Am/QuadBoss' Bryan Buckhannon and Cunningham Racing/Can-Am/Spider Graphix/Gold Speed's Kevin Cunningham finished in second and third.
Ye Olde Cycle Barn/Maxxis/Fox Shocks' Alicia McCormick capped off a successful year in the WXC class by taking home another win. The victory wouldn't come easy for McCormick who battled with New York's Katelyn Osburn and GBC/BNR/Spider Graphix's Kara Merritt who rounded out the WXC podium.
WXC Podium: (2) Katelyn Osburn, (1) Alicia McCormick, (3) Kara Merritt. (Photo by Ken Hill)
The familiar face of Pierce Performance/Maxxis/Waynesburg Yamaha/FLY Racing's John Glauda Jr. landed just off the 10 a.m. overall podium with fourth, but his placement vaulted him to the top of the amateur ranks where he pocketed the $125 GT Performance Overall Amateur Award.
The first race to hit the woods of Indiana was the Youth ATVs. Rhett Cox ended the season victorious with the overall win, but Mikey Nickels second overall finish was good enough to earn him the Overall ATV Youth National Championship. Daulton Keyes claimed the last spot on the podium with third.
Youth Overall Podium: (3) Daulton Keyes, (1) Rhett Cox, (2) Mikey Nickels.Nickels was also presented with the No. 1 plate. (Photo by Ken Hill)
Both the 1 p.m. ATV Pro race and UTV race were broadcast LIVE in their entirety on RacerTV.com and can be viewed as archived video online by visiting the GNCC LIVE page. A highlight show featuring the event will be broadcast on the NBC Sports Newtwork on Saturday, December 17, at 4:00 p.m.
For more information on the GNCC series, visit the official website at www.gnccracing.com or call (304) 284-0084.
2016 GNCC National Championship Standings
Walker Fowler (326)
Adam McGill (280)
Chris Borich (269)
Brycen Neal (212)
Jarrod McClure (212)
Cole Richardson (187)
Landon Wolfe (166)
Marty Christofferson (128)
Greg Covert (128)
Josh Merritt (116)
Published October 31st, 2016 11:02 AM
Top Brands
Popular Articles