5 Views
Off-Road Riding With Toyota TRD Pro Trucks and Yamaha
November 7th, 2018 12:02 PM
Share
We're committed to finding, researching, and recommending the best products. We earn commissions from purchases you make using links in our articles. Learn more here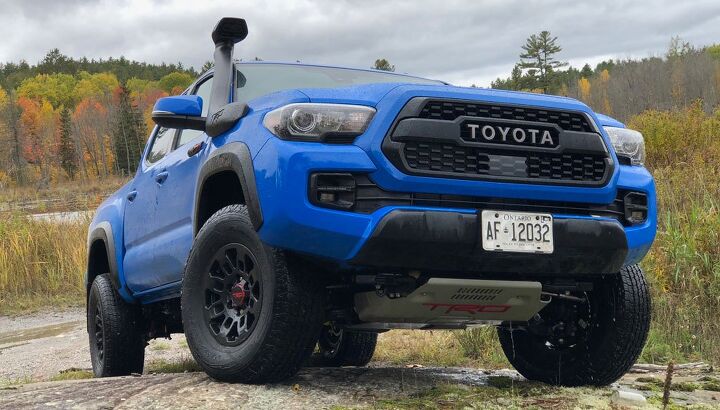 We had a chance to spend the day riding Toyota TRD Pro trucks and Yamaha ATVs and UTVs off-road through some truly challenging conditions.
As the editor of an ATV publication I generally don't hear much from car and truck manufacturers, but a little while back Toyota Canada invited me on an off-road adventure to test drive the TRD Pro versions of its Tundra, Tacoma and 4Runner. Yamaha Canada was also on hand with Grizzly ATV and Wolverine UTV models.
On a crisp fall morning, I made the four-hour drive north from Toronto to French River, Ontario to meet up with Toyota marketing folks see how these trucks can handle off-road situations. I was greeted by perhaps the best display of fall colors I have ever witnessed. Seriously…you should check this place out for yourself.
I arrived ahead of the rest of the media members, so the Toyota representatives handed me the keys to 2019 Toyota Tacoma TRD Pro, along with a map, and was given an hour or so to go exploring on road and off.
Early Impressions
This Voodoo Blue Tacoma was the first compact pickup truck I'd ever driven, so I was eager to see exactly where I could take it. The map mostly led me along a small highway with a seemingly endless chain of sharp left and right turns as it cut through the rocky Canadian Shield. Eventually it took me through a small town and onto a gravel road. I was a bit worried that this was the "off-road" that Toyota Canada had in mind.
Not long after hitting the gravel, signage on the road indicated that going forward was entirely at my own risk. Since the truck wasn't mine and the map urged me to continue, on I went.
The area had seen quite a bit of rain and soon I came across some puddles in the road, but nothing I wouldn't freely blast through on an ATV. But the farther I went, the bigger and deeper the puddles seemed to get. Still nothing an ATV or UTV couldn't easily handle – though you'd probably get a little wet.
Overall all, it was a nice way to get comfortable with the Tacoma TRD Pro, but I was hoping for a little more off-road excitement on the press ride the next day. I did not leave disappointed.
TRD Pro Features
Before we headed to the special TRD Pro course created by Toyota, we got the run down of what, exactly, is included in the TRD Pro Package for the Tundra, Tacoma and 4Runner. Each of the test vehicles was dressed in Voodoo Blue, though other color options are available.
The Tundra TRD Pro comes equipped with 18-inch forged black alloy wheels, 2.5-inch FOX coil-over performance shocks up front, remote reservoir internal bypass shocks in the rear, Rigid Industries fog lamps, TOYOTA heritage grille, black leather seating with red stitching, TRD performance exhaust and black chrome exhaust tip, premium audio with AVN navigation, TRD stamped skid plate, and spray in bed liner.
The more compact Tacoma TRD Pro rides on 16-inch alloy wheels and features FOX shocks and TRD remote reservoir suspension kit, TRD-tuned front coil and rear leaf springs, Rigid Industries LED fog lights black chrome exhaust tip, desert air intake (looks like a snorkel), TOYOTA heritage grille, Black TRD Pro leather seats, TRD shift knob, locking differential crawl control, and TRD skid plate.
Finally, the 4Runner TRD Pro features 17-inch matte black alloy wheels, TRD FOX shocks, TRD-tuned front coil and rear leaf springs, lever-type four-wheel drive selector, four-wheel crawl control, locking rear differential, multi-terrain ABS, hood scoop, silver skid plate, basket-style roof rack, TRD shift knob, and black TRD badging.
A factory-installed winch does not come standard on any of these models, which seems like a small oversight for vehicles designed for off-road use.
TRD Pro Ride Report
The course designed by Toyota included some steep hill climbs and descents, rock crawling, log crawling and a stretch of deep, thick mud.
The Tacoma TRD Pro was the first vehicle I piloted through the course and it ended up being my favorite. It's much more compact that the Tundra, which made things easier in the tighter sections of the course.
The 4Runner was not limited by its size either, but I found the Tacoma's control for four-wheel drive and other off-road features a little more intuitive.
Both the Tacoma and 4Runner boast the crawl control feature. It feels a bit weird to use, but once you flip the switch to crawl control, you just take your foot off the gas and steer while the truck does the rest. Honestly, it sounds quite violent and clunky under the vehicle as each wheel has brake and acceleration applied automatically. Odd as it sounds, the system works flawlessly. It's a great way to navigate a rocky section and also works great in sand, mud and pretty much anything you'd be worried about trying on your own.
The Tundra and 4Runner TRD Pro models also have a hill descent feature, which works similarly to crawl control in that you let the vehicle dictate throttle and braking as you focus solely on steering. Again, it's a feature that works quite well, but I prefer to handle downhill braking duties on my own. However, in a more extreme situation I could see myself letting the vehicle do the work for me.
The Tundra TRD Pro doesn't have either of these features, but if you are careful with the throttle and braking, it was no trouble getting through any of the nastiest sections of the course. Due to the Tundra's size, one area with a sharp descent followed immediately by a quick climb had to be avoided, as the big truck could get hung up.
The mud section of the course was the only area I saw anybody get into trouble. To be fair, I was with some outdoor media people who had minimal off-road experience and likely never got the memo about the benefits of momentum in the mud. With its taller tires and torquey engine, the Tundra probably had the easiest time in the slop, but the 4Runner and Tacoma had no issues fighting through the muck. When you know you aren't the one who has to clean up afterwards, mud riding is even more fun than normal.
Yamaha Grizzly and Wolverine
After we got finished slinging mud with the Toyota TRD Pro trucks, we had a chance to go for a ride on some Yamaha off-road vehicles – specifically the Grizzly EPS SE and Wolverine X2 and X4.
I'll be nice and preface what I'm about to say by pointing out that the other media members at this event had basically no ATV or UTV experience. With that said, this was the single slowest ATV or UTV ride I've ever been on in my life. We did a couple of runs through a fairly short course that took way too long for everybody to get through. Needless to say, I was left wanting more. Fortunately, most of the other media folks had their fill and the Yamaha reps took me and the other writer with some off-road chops on a far more spirited ride. I greedily grabbed the Grizzly SE.
I've long been a fan of the Grizzly, but this was my first time on the new SE model, which is outfitted with Maxxis Zilla tires. It was a short ride, but enough to gain some appreciation for an excellent ATV and, specifically, the more mud-capable Maxxis Zilla tires. Conditions were pretty slick and sloppy, but the Grizzly had no trouble finding traction wherever we went, while remaining playful enough to slide out the rear end around corners. I need some more time behind the bars, but this ATV and those tires seem like a pretty great match.
Bottom Line
While I still prefer an ATV or UTV for my off-road needs, I gained a new appreciation for what the Toyota TRD Pro trucks are capable of. In particular, I really came to like driving the Toyota Tacoma TRD Pro. It would be fun to go and do some rock crawling or desert riding with one of these and I think it would make a great tow vehicle and off-road companion for an ATV or Side-by-Side. Sounds like I need to put a big off-road adventure together to find out. Lucas Cooney
I have been working exclusively in digital media since 1997. I started out with TSN.ca, spending nearly nine years creating and editing content on Canada's leading sports website. I left to join VerticalScope, Inc., one of the world's largest online publishers, to start a number of powersports publications. While at VerticalScope, I've helped create and oversee content for a wide variety of different publications, including ATV.com, Off-Road.com, ArcheryTalk.com, Tractor.com, RVGuide.com, and many more.
More by Lucas Cooney
Published October 29th, 2018 1:33 PM
Top Brands
Popular Articles