58 Views
Quad-A-Palooza Entertains Gearheads While Growing Economy
October 20th, 2022 3:36 PM
Share
We're committed to finding, researching, and recommending the best products. We earn commissions from purchases you make using links in our articles. Learn more here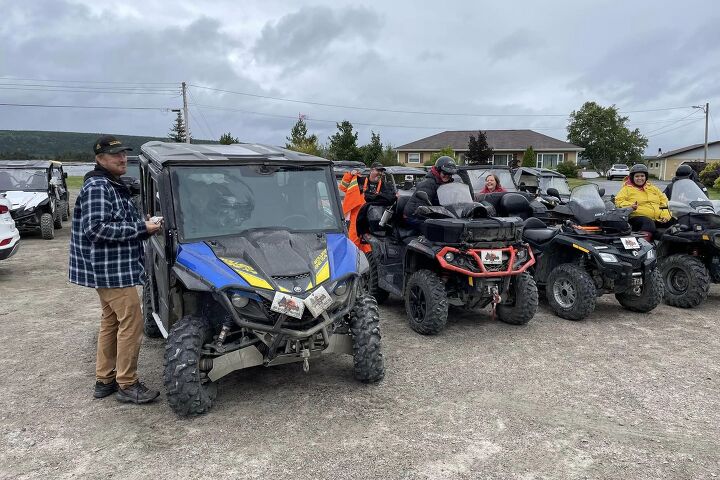 What do you get when you mix together great trails, off-road gearheads, and a region's legendary hospitality? If you're talking about the town of Gander in eastern Canada, you'll end up with an entire weekend of off-road fun – and one heck of a gathering.
And, yes, before we start – we are indeed talking about that town of Gander, a community in the province of Newfoundland, clinging to the eastern edges of North America and the setting of a long-running Broadway show chronicling the local's warmth and kindness towards thousands of stranded travellers in the wake of the September 11 terrorist attacks. In other words, these people know how to host a few strangers.
Not that anyone's a stranger to each other after Quad-A-Palooza. Set over the span of a weekend in September, this annual event (except for COVID interruptions, recently) welcomes ATV and side-by-side enthusiasts for two days of great riding, entertainment, and the type of camaraderie that can only found when a group of like-minded enthusiasts end up at the same place for a few days. The event kicks off with a themed party on Friday (this year, everyone brought their grooviest '70s attire), followed by trail rides on Saturday, plus a dinner and dance that evening.
Cory Abbott and Chris Tuck are festival committee members, helping with planning and running the event while taking part in whatever activities they can during the weekend. It helps they're both indoctrinated into the ATV lifestyle, having been part of the scene ever since they were old enough to twist keys on the family four-wheeler. In fact, that description could be applied to the vast majority of Gander area residents, such is the deep well of interest in local off-roading.
"Off-roading is basically a culture around here," Tuck explained in an interview. The numbers back up this claim, with Abbott telling us public records show there are about twice as many ATVs registered in this neck of the woods than snowmobiles. This is no small feat, given the average annual snowfall over the last twenty years is about 14 feet (for Canadian readers, that's about 430 centimeters of the white stuff). This community enthusiasm gives the place a bit of a leg up when it comes to organizing events involving ATVs and side-by-sides.
As one may expect, businesses welcome the boost provided by the Quad-A-Paloozers who descend on the area. "It's a great season extension," said Abbott, referring to this time of year when many establishments being to experience a drop off in tourist traffic. " Gas stations love us," he chuckles, pointing to the myriad of restaurants and accommodations in the area which benefit from enthusiasts opening their wallets. As the marketing manager for a company which runs several of the town's hotels, he knows this part of the puzzle better than anyone. Helping matters is a municipal government which shares the vision, creating a town plan which permits the safe and sane usage of these rigs on certain streets in order to allow primo access to the region's tremendous network of trails.
Which is, of course, the beating heart of Quad-A-Palooza. It's all well and good to have solid entertainment and great food on the go but the core of any riding event are the hours spent behind the wheel of yer machine. In this, Gander has an embarrassment of riches. There are a spider's web of trails radiating out from the town like spokes on a bicycle wheel, heading to lakes with beautiful vistas and a wide variety of riding conditions. Part of the appeal is the section of local T'railway, a stretch of former railway bed spanning the province which is maintained for the express purpose of recreation.
Some of the Saturday routes are planned by event organizers, providing opportunities for riders to take their rig on a journey to neighbouring towns where they will find businesses and other ATV-friendly groups either putting on a scoff or welcoming them with easy access to fuel and food stops. Abbott explained that sometimes they also see riding groups of up to a dozen people doing their own breakoff routes on Saturday, heading to a destination of their choosing.
"Over the years, we've had people going across the [Newfoundland] island who have planned their route and trip times so they are here during Quad-A-Palooza," said Tuck. This puts an exclamation point on the fact that events such as these don't just cater to locals; they also draw in new people from other areas, folks who often like what they find and make plans for a future return.
"There are no accidental tourists in Newfoundland," explained Shannon Pinsent, executive director of Adventure Central Newfoundland, a group which helps tourism stakeholders develop and deliver unique experiences like Quad-A-Palooza. "If someone is visiting our province, or even travelling from one part of our province to another, it is likely to be for a planned event." And organizers agree, saying the expertise within Pinsent's team make them a great addition to their planning committee.
Next year will mark Quad-A-Palooza's tenth anniversary, so you can be sure this crew is pulling out all the stops for a memorable occasion. "We joke that this is one of the only events in which simply sending an email to say 'Tickets are on sale' is all the advertising required," say Abbott and Tuck. Such is the anticipation for Quad-A-Palooza! This says a lot about the event's success, thanks in no small part to it being organized and operated by people who are ardent fans of the off-road lifestyle.
Fantastic trails, great entertainment, and a true spirit of camaraderie? Sounds like the formula for a world-class event – and Quad-A-Palooza is the proof the recipe works. Published October 20th, 2022 3:36 PM
Top Brands
Popular Articles