11 Views
The Age of Multi-Passenger UTVs
June 16th, 2015 4:32 PM
Share
We're committed to finding, researching, and recommending the best products. We earn commissions from purchases you make using links in our articles. Learn more here
Off-road fun for the whole family
Unless you've been living off the grid and away from your fellow man for the past six years or so, you have surely noticed the rapid growth of the UTV (Side-by-Side) market. While this era was primarily ushered in with sporty two-seat models, it didn't take manufacturers long to realize that multi-passenger units would be attractive to families looking for ways to enjoy the great outdoors together.
While you can argue about which manufacturer introduced the first machine capable of carrying a driver and at least two passengers, we can all agree that the technology has come so far and diversified so much that consumers have benefited greatly from better and more useful machines.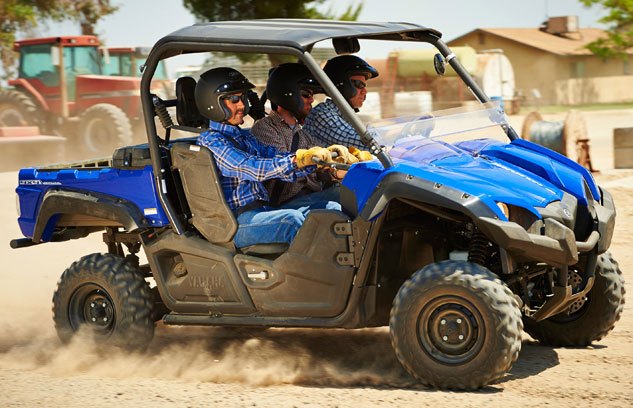 Replacing the two-seat Yamaha Rhino is the new three-seat Yamaha Viking.
Looking around at your local dealer you will most likely find many multi-passenger vehicles to choose from. Yamaha recently retired the Rhino two-seat machine, which was quite possibly the most well known UTV in the industry. Its replacement is the Viking – a vehicle better suited to carry three individuals comfortably in a single row. The rider in the middle has his or her shoulders inclined rearward by about five degrees, allowing the shoulders of the other riders to remain comfortable and not cramped. The big 700cc single four-stroke engine provides enough power to move people and cargo without complaint.
2014 Yamaha Viking 700 EPS Review
Polaris has had a three-person bench-style seat machine in its utility-minded Ranger lineup for years and has some models that can carry as many as six people, like the Ranger Crew 800.
The Polaris Ranger Crew 900 can haul as many as five people.
Perhaps the most intriguing new multi-passenger vehicle comes from Honda. Honda took the idea of a traditional two-person machine and expanded into the bed of the rig by adding a second row of seats. The Honda Pioneer 700-4 was recently released and received many good reviews. What makes the Pionner 700-4 so interesting is that it can be a two, three or four-person machine. Its rear seats can be folded down if they are not needed, providing more cargo carrying capacity. Should you need to transport multiple passengers, the rear seats can easily be activated one at a time. This gives the end user the option to make good use of the bed space or haul a couple more friends down the trail – whatever the situation calls for. It's an ingenious use of space and one we wouldn't be surprised to see other manufacturers duplicate in the near future.
Whether you need to carry four people or two people and a load of cargo, the Honda Pioneer 700-4 transforms to fit your needs.
If incredible comfort is a must have then you can find it in many machines. Kawasaki jumped into the people moving market with its Teryx4. This slim four-seat machine gives riders high-back bucket seating and big bore V-Twin power to mosey up the narrow paths. Automotive-style doors are becoming a standard feature on many Side-by-Sides, providing an additional element of safety for the passengers while keeping trail debris like limbs and sticker bushes from encroaching into the cab. Kawasaki's doors close easily and feel more like car doors than cattle guards. Having a full roll cage gives much more comfort to the more cautious people in the family. These are all items found on many machines and some will also include netting in the mix for additional protection.
Though it doesn't offer the utility of some other four-seat UTVs, the Kawasaki Teryx4 provides a very comfortable ride.
The four-seat UTV segment also has a wilder side with three manufacturers offering pure sport models. With big power rumbling under the seat and explosive launches off the trail head, the wide open areas for off-road riding have become a natural focus of the industry. The Arctic Cat Wildcat 4 holds the market lead in suspension travel, but both Can-Am and Polaris have sporty offerings for the throttle happy rough riders who need to go fast and cross the nastiest terrain. The Can-Am Maverick MAX is the newest multi-passenger model in Can-Am's stable and with four big comfy seats it's a great machine to share a fun ride in. Polaris has three pure sport four-seat UTVs in its stable – the RZR 4 800, RZR 4 900 and RZR XP 4 1000.
You and three friends can rip up the open trails with abandon in the Arctic Cat Wildcat 4.
Whether you need a vehicle for work, play or a little of both, this is truly the golden age of multi-passenger UTVs and it seems to be getting better and better.
So why has this style of machine caught on? If we look at how people have been thinking financially over the last few years we believe it comes down to stretching your dollar as far as possible while still being able to take every member of the group out for a fun ride.
Picture yourself in the garage during pre-planning for a ride and imagine four individual machines needing service before you can even load the trailer. Now picture the youngest in the group who may still be learning and wants to ride along, but you are out of space on your ATV.
No matter what you need a multi-passenger UTV for, you can bed there's one out there that fits.
Personally, I enjoy having my wife right beside me instead of worrying about her on the trail behind or in front of me. I also enjoy the conversation as we travel the trail system.
The third and fourth seats allow riders to join in the fun without the stress or expense of having multiple machines on hand. It also cuts down on the space taken up in the garage. In pure financial terms, for about a third the cost of four quality ATVs you can get a four-passenger UTV that allows the entire family to enjoy a safe and fun day of riding. Published November 28th, 2013 1:54 PM
Top Brands
Popular Articles