1 View
Yamaha Moving Worldwide ATV Manufacturing to U.S.
May 18th, 2011 12:23 PM
Share
We're committed to finding, researching, and recommending the best products. We earn commissions from purchases you make using links in our articles. Learn more here
First new models being assembled with month
Starting this month the first production run of new Yamaha ATV models transferred to the U.S. from overseas facilities will begin at the factory in Newnan, Ga.
According to Yamaha, the ATV production transfer could add 200 or more American jobs at Yamaha's U.S. factory as well as additional jobs at the 125 North American parts supplier companies. The specific ATV models will be announced on June 8 as part of Yamaha's worldwide unveiling of select 2012 model year products.
Yamaha's ATV production transfer, first announced in early 2010, is a long-term strategy that will culminate in bringing the great majority of Yamaha's worldwide ATV manufacturing to the U.S. by 2013. The company has invested more than $250 million into the factory over the past 10 years, creating a state-of-the-art facility and ensuring top quality products are built in a safe and environmentally responsible manner.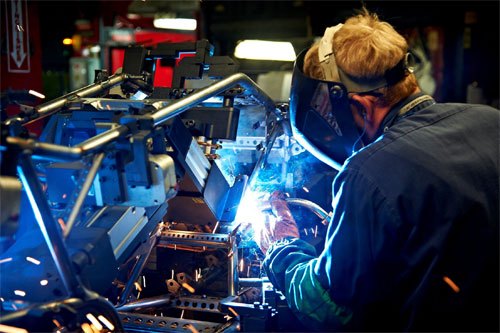 "This production transfer shows Yamaha's commitment to this facility and the U.S. motorsports market – the world's largest ATV market," says Henio Arcangeli Jr., Yamaha Motorsports President. "Manufacturing ATVs in Georgia will allow Yamaha to respond more quickly to its customers' demands while streamlining its supply chain and distribution processes. It is a strategic move that will benefit the company, employees, dealer partners and customers as well as the local Newnan community and more than 100 U.S. parts supplier businesses."
Yamaha held a press conference at its factory in Newnan on May 18 where it announced the production transfer news. Yamaha executives and government officials spoke about the significance of the transfer and Yamaha's manufacturing facility in the U.S. The company also unveiled a new "Assembled in U.S.A." logo to illustrate its pride in U.S. manufacturing.
As one of the largest motorsports companies in the world, Yamaha is a major contributor to the U.S. economy directly employing approximately 2,800 Americans and supporting more than 30,000 additional jobs through its manufacturing facilities, corporate offices, field staff, distribution centers, suppliers and dealer partners. Overall, Yamaha has corporate offices, regional offices, factories and distribution centers in nine states including Georgia, California, Wisconsin, Texas, Pennsylvania, Tennessee, Illinois, New Jersey and Washington. The Newnan factory alone spends more than $170 million annually with 137 worldwide suppliers – 125 of which are also based in North America.
This production transfer ensures that Yamaha maintains its loyal workforce in Newnan and will result in the hiring of more U.S. workers in the coming years. There are 90 positions at YMMC (Yamaha Motor Manufacturing Corporation of America) that are directly related to this year's new production. The company currently estimates adding up to 200 additional jobs over the next three to five years based on other planned ATV model transfers to YMMC and market forecasts; however, the transfer has the potential to add as many as 800 to 1,000 jobs depending on market conditions. The factory currently employs more than 1,100 people in Newnan.
"Yamaha's factory in Newnan is state-of-the-art with more than 20 years experience making a variety of Yamaha products and more than 10 years of producing top quality ATVs," says Mike Chrzanowski, senior vice president of operations and engineering services at YMMC. "We here at YMMC are extremely excited about this production transfer to the U.S. Above all, it is the YMMC employees and their longstanding dedication to the company, their own quality of work, and their communities that has made this transition possible. With their support, Yamaha is confident we'll have a smooth transition this summer and over the next few years."
"Yamaha has been in Newnan for more than 20 years, and we feel very lucky to have such a fine world renowned company in our area," says Newnan Mayor Keith Brady. "On behalf of the City of Newnan, I would like to congratulate Yamaha on its ATV production transfer and wish them continued success for the many products they produce." Published May 18th, 2011 12:23 PM
Top Brands
Popular Articles