1 View
ATV AnswerMan - June 2016
July 4th, 2016 10:23 AM
Share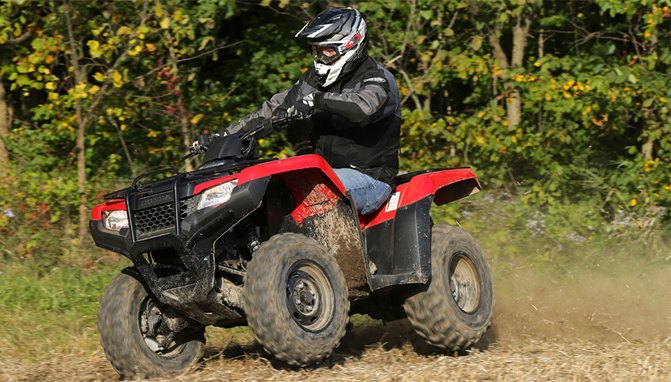 Roughed up Ranchers and crippled KingQuads
Have an ATV or Side-by-Side tech question for the ATV AnswerMan? Send an e-mail with your name, vehicle year, model and a detailed description of the problem to answers@atv.com: ATV AnswerMan. Just be sure to watch your spelling and write clearly, because it will be out there for the world to see.
Down To Three-Wheel Drive
I have here is a (2014) Honda 400 farm quad, good going atv but when 4 wheel drive is turned on, only the wheel on the right starts spinning and the other one does not. Seems to be not catching the shaft or something, need to know soon thanks
Aaron Kelly
Just an old farm quad, eh? Well we love the old farm quads and the new farm quads as well, so lets see if we can help get this beast going. I am guessing this is a Rancher 420 so I will give you my advice based on this. My thought is to get the quad up on a jack and get all of the wheels off of the floor. With the machine started and idling, engage the front drive. Simply hold the right front wheel firmly, as a friend attempts to hold the opposite side. One wheel or the other should be very difficult to hold onto as the engine tries to spin the driveline. If this fails to get the left going then there could be an issue with the axle. The next part of this inspection would be to turn the engine off, hold the left wheel with both hands and gentle roll the tire forward then reverse while watching the axle. If the axle does not move with the wheel motion then you have found your problem.
No Action In Two-Wheel Drive
We have an apache 400 and can't seem to get the 2×4 to engage. It runs perfect in 4×4 but when we switch it back the engine revs but ATV does not move. We haven't had it out for a run this year but we have moved/driven it around our property and it was working great until about 2 weeks ago when we back it out of the garage to do some work, then it just stopped moving. No loud noises, bangs or other signs of damage. My husband had the rear axle off today and all looks normal. He changed the oil in the differential to an 85w/140 (which was super thick and dirty) but still nothing.
Just wondering if you have some other option that we should look into?
Well, I hate to say it but I have never heard of an Apache 400. After searching for images to try and get more familiar with the machine it looks like a TGB or Taiwan Golden Bee product dressed in Apache brand clothing. This does not surprise me, though, as there are so many crazy copy machines bounding into the off-road arena. My only suggestion is to again jack the rear of the machine up and try to get a good look at the shaft coming from the rear of the engine to the rear differential. Make sure it is rotating. Once you figure out that the rear differential is getting drive power then try to hold the left or right wheel and feel for any resistance. If there is none I would say there is an internal issue in the diff. That gets complicated, but would need to be investigated outside of the machine.
Cranky Clutch
Hi,
I have a Parklands Brumby Quad bike, it only has 36hrs on it but it is about 5yrs old so it is out of warranty. When I accelerate it seems to slip in gear. Does this mean I should replace the clutch or could it be another issue?
I would say that you have clutch issues causing the slippage. I have not seen a Brumby here in the states, but I bet there are parts from the dealer you bought the machine from. Adjusting typically does nothing but prolong the destruction of the remaining fiber plates in the clutch system, so just replace them with new.
KingQuad Has Lost Its Spark
Hello I have a 2006 Suzuki 400 quad runner quad that is having spark problems. If it does run it's very short. So I pulled the plug and put my spark tester on. Noticed that it will spark roughly for 10 second then stop sparking for 20 second then spark again for 10 and so on. What would cause the spark too come on and off like this. I tried wiggling the start button or pushing it a different way when I was do the test but that didn't make a difference. Is it a stator-cdi problem?
Think about the simple possibilities first, my friend. Do you have a kill switch attached to the machine? Could that wiring be shorting out? Are there any chaffing wires or wires with cuts in them rubbing the frame or each other? If there is any moisture, mud, dirt etc in the switch/controls this too could cause these issues. Try to look at the least obvious before digging in to the deep more complicated possibilities. Also, be sure all of the wiring on the battery and solenoid are making solid contact and free of rust/corrosion.
Is This A Question?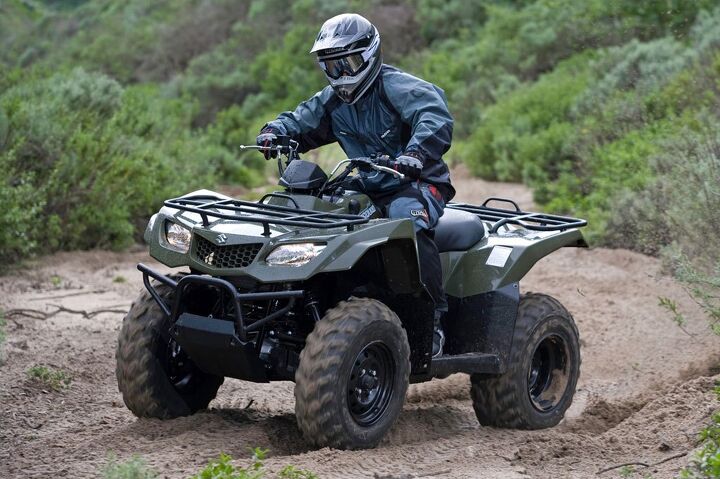 while it (Suzuki KingQuad) is sitting and not running it makes a moaning noise.
Paul
Ha! Well it sounds like you are not riding the ole girl near enough or It's possible you have hornets building a nest in the tailpipe!
Some Don't Like It Hot
Hello, I just bought a 1997 Suzuki king quad 300 and it keeps shutting of when it gets hot. I have cleaned the carburetor and it looks brand new but it still keeps shutting off. Thanks
My first instinct is to perform a compression test on the engine. Try a cold test and then get the engine warm or at the point of where it will not run and perform another compression test. You might see a big difference and this would indicate the engine needs a top end overhaul. This could be anything from piston/ring to valve adjustments. If the top end is still the 97 original parts, then it might be a good idea to do this regardless.
Oil And Coolant
2008 BMX UTV 500
WHAT OIL& COOLANT DO I USE ALSO NEED WIRING DIAGRAM FOR DUMP BED
I'd say good oil for this machine is any 10w 40. This gives good overall lubrication and works really good in warmer climates where oil viscosity can break down faster. As for the coolant, visit the local dealership and pick up a quality coolant fit for any of the major brands. Since there is no reference for the BMX UTV, that should be a great start. You'll have to get a wiring diagram from the original dealer or manufacturer. Good luck on that one as most of these off name brands have no dealer support even from the people who slam their name on the side of them.
Red Light, Green Light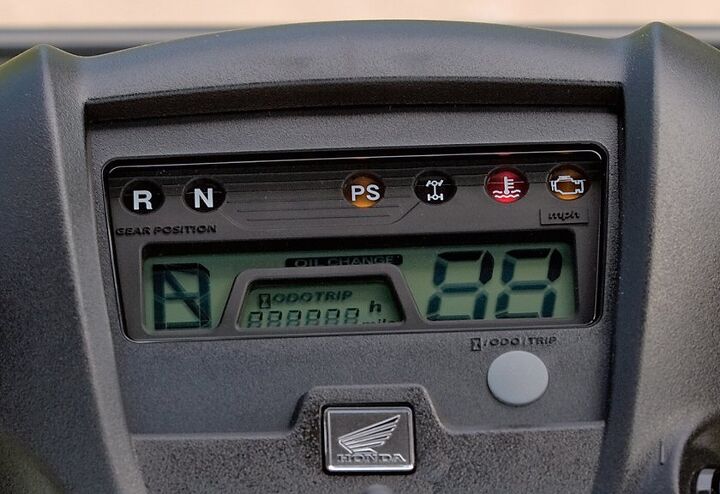 I have a 2004 Honda rancher 4X4 and the neutral light doesn't work. When I shift it in first gear the red light works. When I shift it in reverse the other red light works. But when I put it in neutral the green light doesn't work. I've made sure the solenoid wires weren't touching each other and still the green light doesn't work. The four-wheeler won't crank or even start. I just need help.
So there are several possible issues. Starting with the easiest, there are a series of sensors on the shifter side of the engine. These can be located by looking at where the shift lever attaches to the shaft on the transmission. Just above this area against the engine should be three places where wiring attaches to the engine. The one closest to the rear of the engine is the neutral sensor/switch. Be sure this sensor wiring is in good shape and making good contact with the plug it is attached to. You can also make sure that there is good continuity from that plug to the receptacle on the ECM 34P connector on the ECM. This will be the black plug on the ECM and the wiring colors should be as follows:
Drive – Light Blue/white
Neutral – Light Green
Reverse – Gray
Published June 6th, 2016 11:32 PM
Top Brands
Popular Articles