98 Views
How To Buy a UTV for Under $5000
December 24th, 2019 12:51 PM
Share
We're committed to finding, researching, and recommending the best products. We earn commissions from purchases you make using links in our articles. Learn more here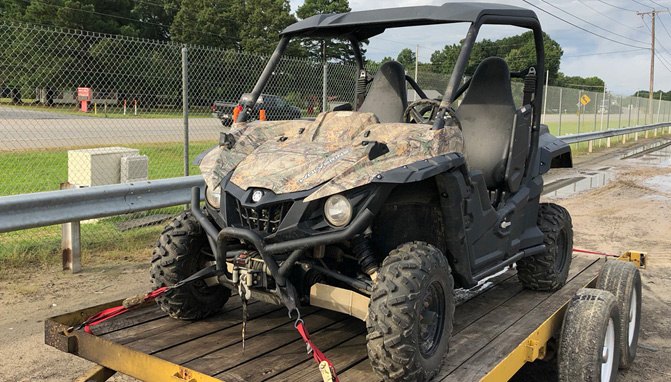 You can find some great bargains at insurance auctions, but there is some risk
Perhaps the biggest factor stopping people from getting out and enjoying the off-road lifestyle is cost. UTVs, in particular, carry pretty hefty price tags. With some new UTVs costing more than $25,000, it can well beyond the average budget. But if you are willing to get your hands dirty and find yourself a fixer upper, there are some incredible finds out there. How good? I've been able to buy more than one UTV for under $5000 that had a brand new MSRP of two or three times that price.
I have spent a few years now purchasing rehab projects from insurance companies and fixing those to sell for some pocket change. Although I have found many bargain UTVs in the market, it does not mean that it did not take a lot of research (as well as some mistakes) and knowing what I would actually have to do to make the UTV better than it was as well as fix the wounds inflicted by the previous owner.
What I am saying is that a cheap price usually comes with some extra cost. If you are looking to buy a fixer upper and are willing to shell out cash as well as time, sometimes hours upon hours, then this short read might just be for you. Here are some tips as well as cautionary things I have experienced so maybe you can purchase a UTV for under $5000.
The Search Is On
Finding a good candidate for you is all in your web browsing skills. Knowing where to look is also a good start. Insurance companies all over the USA sell damaged UTVs every week because they have paid the insured owner for their pile of scrap, deeming it unfit or too costly to repair. That is where people like me come in.
Companies like Copart, IAAI auctions and Crashed Toys have auctions almost every week and some offer "Buy it now" prices for those who see the value in the machine the think they can fix.
Need A License?
Most of these insurance auction sites have sections of machines that are "No License" required for the general public. These will be the ones you will want to look at first unless you are registered in your state as an automotive scrapper, rebuilder, used car lot owner or have a state BID (Buyer Identification) card. There are some sites easily found on the web that act as "Brokers" to the general public and they carry all of the proper licensing, so you do not have to. Now be forewarned, these people are not here strictly for your benefit, as they charge additional fees ($250-$400 depending on the auction) on top of what the insurance auction sites charge.
The Naked Eye Research
This Honda Pioneer I bought is an example of what you might find at an auction. The ROPS was badly damaged after a tree fell on it. A full story on this repair is in the works.
So, you have found a crashed machine on one of the auction sites and you are excited. The price seems almost too good to be true and most times it is. Do not let this excitement cloud your mind, because you now have to outbid others who might also want the UTV without creating an overpriced machine in the process. Look at all of the pictures thoroughly. Try to visualize any unseen damage and be honest with yourself and your ability to repair when bidding. I personally suggest going to the lot where the machine is and inspecting it as closely as possible, looking for any and all damages and making notes on these issues. Figure out a good price for repair, no labor included mind you, add in a few hundred for the unseen extras and if you get the parts cheaper then you win again as you try to rebuild a UTV for under $5000.
Fees Will Get You In Trouble
Auction sites are in business to make money and this means they charge for these auctions. DO NOT get so excited about your bidding that you forget to figure in all the fees attached at the end of the auction. Most auction sites have a schedule of fees according to dollar amount spent, so researching this chart can give you an idea of how high you want to bid to get to the final "Out the Door" price for your UTV. An example would be like this: Final bid price of $3500 for a consumer with no license and using a credit card would be an additional $650-$850 depending on the form of payment. You can pay with a money order or certified check for a little cheaper fee. Then you have what most call a "Lot" fee of $59 for the loading of your prized UTV. This is non-negotiable and most will not allow you to go on their lots to load your own machine for insurance purposes.
Buying and fixing a machine like this Polaris Ranger can be costly…especially when you add up all the fees. The end result has to make sense to you before you pull the trigger and buy it.
Then you will have an Internet bid fee of anywhere from $89 to $119. This is all followed up by the administrative fee for paperwork to be sent to your home once the transaction is complete. This is typically $20. Let's not forget the fact that you have to pick up the machine within three days after the auction or an automatic $50 flat rate and $5 a day storage will be accessed against you.
So, where was I? Oh yeah. That $3500 UTV that needs repairs is now yours for (on the low side) $4318.00. Not bad, eh? Now you have to figure in the fuel and time to drive out and get it or have it hauled to you for delivery charge providing they can deliver to your area. Each auction house is different, but those fees can make you feel sick.
Repairs
A great resource when it comes to repairing an auction UTV is used parts retailers. This can save you a fortune and make your auction buy an even better deal.
As I mentioned before, the damages for most of the auction UTVs exceed the repaired value and that's why those rigs are sitting there. However, places like Powersports Nation in Norfolk, Nebraska do sell used parts that are perfect for your UTV resurrection. eBay also has plenty of items to replace broken or bent parts and these sites will be invaluable for those trying to rebuild a UTV for under $5000.
Freedom Ride
So, you have now purchased and repaired your "new to you" UTV and you are ready to ride. Getting something for a great price and rebuilding it with your own hands is very rewarding. I personally find it somewhat stressful at first, but seeing a once discarded off-road machine being brought back to life for future enjoyment in the dirt trails is a great experience. Celebrate with a good ride with friends and family and you know that you did something good.
Final Notes
So, did I get a UTV from the scrap heap to running great for under $5000? Yes, I have done this several times. Here are some keys to making this happen:
Do not go over your budget
Be true to your understanding of the repairs that are needed.
Shop local unless you have the time to drive across state lines to pick up the machine yourself.
Understand this is not a life or death auction. You CAN quit bidding at any time.
Steer clear of flood vehicles as they tend to be trouble most every time.
That last one is particularly important, because I have had co-workers buy machines that once repaired were actually more expensive than if they had gone to the dealer and bought it brand new. It does happen!
Best Case Scenerio
Finding, purchasing and repairing a UTV for under $5000 is completely possible, but it does take some patience and legwork. It also takes a little luck as these results are NOT typical. Here is an example of that. This 2017 Yamaha Wolverine R-Spec Hunter Edition was up for auction after being a victim of flood waters in Arkansas (I know…I broke my own rule about flood vehicles). Note that the fees were fairly hefty, but overall the purchase was pretty good. So here is how that broke down with repairs and parts I had to purchase to get it running again.
Machine: $2150
Total Auction Fees: $613
Fuel cost from Georgia to Little Rock Arkansas and back: $238
Drive Time total with breaks to pick up machine: 24.5hrs
Parts to repair: $841 – Sensors, Piston Rings, Cylinder, Cylinder head bolts, Gaskets and fluids for engine, seat bases, front and rear differential. This does not include cleaning chemicals.
Labor: $ Cannot really be tallied here but i have approximately 30hrs in the repairs and cleaning.
Result of actual dollar amount is: $3842
This machine now runs and drives as it should. Brand new, that Wolverine had an MSRP of more than $13,000 ( check out the specs here), but I was able to get it running great again for less than a third of that price.
Yes, there was some significant risk involved and lots of hours driving and working to get it there. But if you have a strict budget, these are the sacrifices you have to make. Published December 24th, 2019 12:51 PM
Top Brands
Popular Articles