34 Views
Updates For Kawasaki UTV and ATV Lineup for 2023
September 2nd, 2022 11:11 AM
Share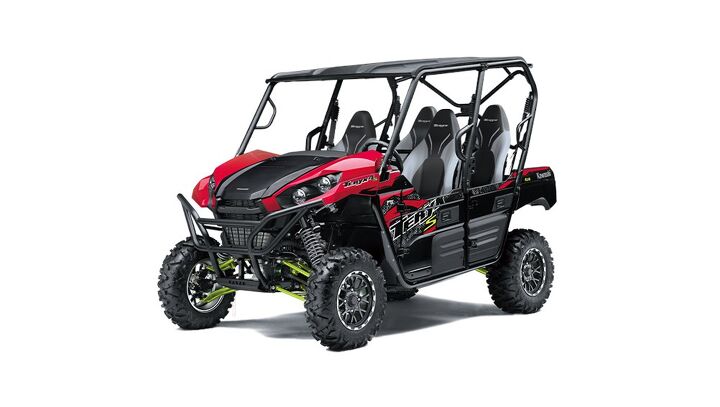 Kawasaki rolls into 2023 with new features and new editions of its popular UTVs and ATVs.
First out of the gate are some updates to the Kawasaki Teryx and Teryx4 line of machines, including a new S Special Edition trim which builds on the S LE gubbins. This means it is powered by the brand's unique 783cc V-twin, packs FOX 2.0 LSC piggyback shocks at each corner, and is capable of towing up to 1,300 pounds of yer stuff. Specific to the S Special Edition are a high-grade audio system controlled by a LCD screen and a stout Warn winch hanging off its front bumper. That winch has 50 feet of wire rope wrapped around its spindle. It's rated for 3,500lbs and controlled by either a switch mounted on the dash or a corded remote.
Of course, this machine comes with the Special Edition trim, along with colorways unique to the SE and a tasty three-tone seat cover (though let's be clear – the seats are primarily just black and red). While that aforementioned LCD screen won't be keeping the developers of RideCommand up at night, it is well integrated and features waterproof buttons. Inputs include terrestrial radio, USB, and Bluetooth – the latter works from up to 30 feet away. Price for all this in America? Just a hair over 20 grand.
On the other side of Kawasaki showrooms, the venerable Mule utility side-by-side soldiers on into 2023 with a stoic face and strong back. We will take this opportunity to say that if there's a more appropriate name than 'Mule' for a work-focused UTV, we haven't seen it yet. Various and sundry trims of the Mule are coming for 2023, including a comfy Ranch Edition Platinum and a Pro-MX EPS Camo model. The latter is targeted at hunters who don't wish to have arms like Popeye after steering through a thick marsh on the way to their duck blind.
Brute lineup
Finally, there are two engines on offer this year in the Kawasaki Brute Force ATV, measuring 300cc and 750cc respectively. The latter features the same reliable V-twin as last year, along with familiar handling characteristics and a choice of camo wrap or white paint. Its base price has jumped by over $1,000 to $11,399 thanks to supply chain headaches in the industry. Still, the Brute Force 750 (again, with the extremely appropriate model names) remains a reliable and reasonable choice for an all-around ATV.
Published September 2nd, 2022 11:11 AM
Top Brands
Popular Articles