1 View
2016 Can-Am Maverick MAX X RS Turbo Long Term Review
October 21st, 2016 11:50 AM
Share
Fast Facts
Engine: 976cc Rotax V-Twin
Suspension Travel: 15" front/16" rear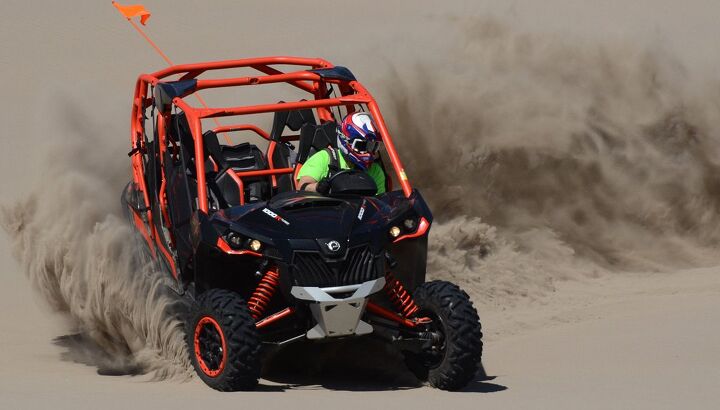 Multiple driving modes make this an extremely versatile multi-passenger Sport UTV
The excitement for model year 2017 does go to BRP and its Can-Am X3; rightfully so. However, for you four-seat Can-Am Maverick aficionados, the MAX remains your ride. For 2017, the Maverick MAX XR S Turbo remains as it was in model year 2016. We've had a turbocharged Maverick MAX strapped to our backside for a month and a half and we've come to report what this 2016 MAX did to our UTV passion. It elevated it.
When we took delivery of this black and red beauty, we knew it was designed for fast trail and dune business. For quite some time, sitting next to our Maverick MAX XR S Turbo in the ATV.com garage was its rival, a 2016 Polaris RZR XP 4 Turbo, also a four seater. Eeny, meeny, miny, moe. Just walking into this garage with the two Side-by-Sides sitting side-by-side made our stomach grumble and right foot twitch.
A few specs on the Maverick MAX Turbo. Can-Am claims its Rotax 1000R motor was the industry's first factory-installed turbocharger, which according to its marketing info, boosts the Rotax 976cc V-Twin to 131 horsepower, up from 101 horsepower. The motor is liquid-cooled, has forged pistons, integrated intercooler and Donaldson high-performance air filter. The fuel delivery system is BRP's Intelligent Throttle Control (iTC) with Electronic Fuel Injection (EFI).
The turbo unit has an electronically controlled wastegate that automatically adjusts boost pressure to assure the motor maintains its full performance at altitudes up to 5,000 feet. Paired to the turbo is an air-to-air Intercooler with built-in fan to keep cooled air flowing to the engine even in the most demanding conditions. For those of us who live in high mountain caves and eat elk jerky, boosted motors make us very happy as we have sea-level motor response at Teton Peak heights. Nice. Without the turbocharger, the motor would make 101 sea-level horsepower, and at 5,000 feet, this horsepower figure would drop to about 83.50 horsepower.
The tuned Yoshimura twin-dump exhaust is quiet while allowing the motor to breath. This exhaust system was designed with the turbo unit in mind, to work as one.
The Yoshimura twin-dump exhaust gives the motor room to breath, thus allowing the motor to spool up the exhaust and dump the fast moving exhaust with minimal hindrance.
This sweet Maverick MAX X RS Turbo is built with FOX 2.5 Podium RC2 shocks at each corner. Via Dual Speed Compression (DSC), the shocks can be dialed in for rebound; each shock has a dual rate spring with infinite preload, giving the operator latitude to fine-tune the Maverick's front and rear suspension for terrain or load.
The front suspension is a double A-arm unit with sway bar and delivers 15 inches of vertical travel. The rear suspension is Can-Am's unique Torsional Trailing A-arms (TTA) independent rear suspension with sway bar; its travel is 16 inches. Over the years, we've come to really like the TTA rear, and with the longer MAX chassis and repositioned motor, being a turbo, the chassis stays flat through the junk whoops. Shock dial-in is needed to gain the most from this rear trailing arm unit.
The front suspension with its long stroke, matched to the rear suspension, keeps the Maverick flat when in off-camber descents. Note the front bumper and crash bar.
Ground clearance for the Mav MAX Turbo is 13 inches.
Fourteen-inch aluminum performance beadlock wheels come standard, which rely on a mechanical fastenings to help prevent the tire bead from breaking loose from the wheel during heavy acceleration or slow load climbs, like rock climbing. Wrapped around the wheels are six-ply 28-inch Maxxis Bighorn 2.0 tires. Stout and true to Maxxis heritage, these are awesome general all-around and all-purpose tires.
The beadlock rims and Maxxis Bighorn 2.0 tires never threw a lug.
Another check in the plus column is Can-Am's Tri-Mode Dynamic Power Steering (DPS) system, which offers three driver-adjustable steering resistance levels. The DPS gives the diver control over how fast (less resistance) or how slow (more resistance) she or he wants the steering wheel to rotate; that is how much feel they want in their hands. We applaud this for high speed and low speed conditions – all terrain dependent. You may think, "Ah, don't need it." Until you've had it – once you've had it – you'll always want it.
The 2016 Maverick MAX X RS Turbo has two digitally encoded keys, – Sport and Train (or Learner, as some call it). Along with this, it has a two-position toggle switch – Sport and Eco – that work with each key, providing four settings in all. One can set the Maverick MAX Turbo to all-out assault mode, to calm baby-steps mode and to two other levels in between. Like the DPS mentioned above, this gives the owner/operator total control of how fast or slow she/he wants the motor to respond, given terrain variances and who is behind the wheel. Digitally encoded keys are also part of the Maverick's theft prevention system, DESS – Digitally Encoded Security System.
A cockpit filled with on-demand controls: lights, 2WD/4WD; Sport/Eco mode switch; DPS, two keys and Start.
Maverick MAX Turbo Ride Impressions
This 2016 Maverick MAX X RS Turbo arrived about the time we had to corral our 2016 Polaris RZR XP Turbo 4, due its stop-ride/stop-sale advisory. Our goal was to pair these against each other. While the RZR sat, we spent many weekends and miles in the Maverick, taking it from 130 miles at delivery to just under 500 miles upon its return. As mentioned in our long-term report on the 2016 XP 4 Turbo, we became very-well acquainted with the Maverick MAX.
When on the sand and with tire pressure set to eight-pounds PSI, the Maverick MAX Turbo would tend to wheel hop. But, we learned when using the "Sport" key and setting the cockpit toggle switch to "Eco," we had better launch results, providing a more linear roll up and on top the sand.
The Maverick MAX X RS Turbo is designed not only all out trail- and dune-assault, but casual scenic driving.
All of our test riders noted that in whoops and rollers, the Maverick MAX would want to porpoise. Meaning, as the chassis would fast roll over the chops, the chassis, as it lifted, would press the throttle lever against the driver's foot, thus increasing the whoo, whoo, whoo over the trail moguls. This became frustrating to them. They were in these cases in the most aggressive of the four driving modes.
One afternoon, we spent four hours alone on the desert working all four key modes, DPS modes and many shock settings, to settle the chassis down. We believe that if we have the option to unleash fury from a motor, we should always do this. Not so. With the Mav Max's "Sport" key and toggle set to "Eco", or using the "Training" key, and toggle set to "Sport," we were able to roll over tight-spaced or broad-spaced moguls at more even and consistent speeds, and maintain much more control when diving into and out of choppy corners with rocks. Shock adjustment was needed as well.
When diving into a hard corner and drifting out, the Maverick, be it in two-wheel drive or all-wheel, keeps itself gathered in. Credit to its multi-mode key system.
The bottom line is that if you take the time to experiment with the drive modes and play with the suspension and power steering settings, you can get the Maverick MAX Turbo to perform how you like it.
At the end of a day of testing at the famous St. Anthony Sand Dunes in Idaho, we ran into some trouble. While driving over some moguls at about 15 mph (Using the Sport key in Eco mode), the Maverick blew its drive belt. We were not under load or at any high speed at the time. Our only guess is the many desert and dune runs we made on this unit, while learning the many modes, made us stress the belt, or it was just its time. But no matter, these things happen and we found no mechanical miscues with the Maverick from this, or inferred it had mechanical misgivings.
Appearance, Comfort and Ergonomics
Looking over the hood, we like the two bulbous humps on the right and left. These just look tough. The tilt steering wheel is comfortable and goes from center to right- or left-lock in about 320 degrees, just short of a full rotation. This makes the Maverick quick in the operator's hands, minimizing hand-over-hand steering.
The seat's four-point harnesses are well-built and can lock down the skinniest passenger to the largest driver. For the diver, having all four-points cinched overly tight will make the shoulders sore. Also, a too-tight setting makes pivoting the head right or left rather cumbersome.
The four-point harness seats give to the driver and passengers safety that is perfect. Note the fine crafted seats.
Window nets attach to the ROPS and cab side panels. These window nets are excellent safety features, however, for the driver side, the net makes it difficult to look down the Maverick's side when needing to scan the front tire when rock crawling or looking back at the rear tire when backing out of a trailer, or on any occasion when line-of-sight is needed. Also, these can catch a full-face helmet with visor. This is a vehicle where side mirrors and a rear-view mirror are a must. Can-Am believes in safety, much so, and the company could enhance this by installing mirrors on the Maverick MAX as standard equipment.
Inside cab heat is not like the Maverick 1000 R XR S we had several years ago, the introductory model. Heat from the motor, exhaust and clutches was miserable in the first generation Maverick. For this 2016 model, we have no complaints.
Passenger grab bars are functional and were much appreciated by our squealing riders.
Can-Am factory-installs two grab bars for the passengers. Across the the front seats – directly behind these seats – is a full horizontal bar as well, as pictured above the grab bars.
The motor proved to be economical, though we did not measure MPG at the end of a day. We just know that we drove the heck out of it and just kept the tank topped off. When motor is set to "Eco" mode, it sips the fuel.
Overall, the 2016 Maverick MAX X RS Turbo took our hearts. We at first thought, what could we possibly do with the many motor and steering performance features? Well, we used them all, not once, but in every different terrain-type we encountered. At UTV Invasion, Labor Day weekend at the St. Anthony Sand Dunes, these many modes made dune blasting much more controlled blasting. Outside of including mirrors as part of standard equipment, we have few complaints.
It doesn't matter to the Maverick where it goes. It is meant to be off-road, even the road has water.
Published October 12th, 2016 12:26 PM