1 View
Polaris RZR XP Turbo EPS: A Technical Look
November 11th, 2015 1:53 PM
Share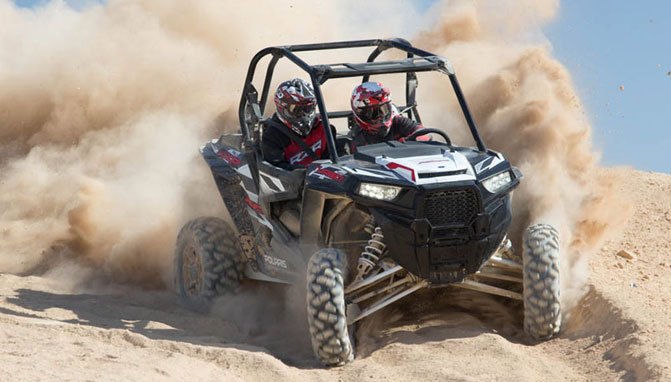 The engineering behind Polaris' new flagship RZR
When I was young I remember being chastised by an uncle who said "You're one of those guys that tears something apart, just to see how it works!" While I haven't been able to tear apart the new Polaris RZR XP Turbo EPS, I did get a chance to talk with a member of the Polaris design team who knows exactly how it all works.
My many questions arose from time spent in the snowmobile industry following the development and installation of several aftermarket turbo kits. Here's what I found out.
Engine
First, the 925cc powerplant in the RZR XP Turbo is not really a new motor. It is based on the ProStar 1000 found in the RZR XP 1000, but many changes were made to enhance motor performance and to create a motor that would survive boost.
The motor's displacement shrunk from 999cc to 925cc, based on larger diameter rod bearings on the crankshaft. The shorter stroke was necessary to prevent the lower part of the rod bearings from interfering or striking the crankcase. In addition, the rod and pistons received some additional strengthening.
Polaris told us the shorter stroke is more suitable for boosted motors. "It was all part of the desired outcome," they said. So when you learn your 1000cc motor is really a 925, not a 999, don't feel cheated.
The engine in the RZR XP Turbo has a shorter stroke, which Polaris says in better for boosted engines.
Changes with the motor don't stop there. The RZR XP Turbo compression is 9:1 versus the non-turbo RZR 1000 XP's ratio at 11:1. A lower compression ratio is better for boosted engines as it is receiving a larger volume of compressed air. Think motor longevity.
Polaris also changed the crank firing order. The RZR XP Turbo is a 270-degree firing order motor, whereas the non-turbo RZR XP 1000 is a 180-degree firing order motor. To handle the higher fuel requirements turbo motors require, Polaris built the motor with higher flow injectors. This, along with a manifold pressure reference regulator, enhances fuel flow on this higher horsepower motor.
With an oil cooler near the motor, the turbocharger uses motor oil to cool and lubricate the engine. The boost is regulated by an electronically-controlled waste gate.
Here is a cutaway of the turbo charger in the RZR XP Turbo.
We often state boosted motors are not affected by altitude (turbochargers and superchargers greatly aid motors in mile-high and higher thin air), though that's not always entirely true. For example, nine pounds of boost at sea level produces more horsepower than nine pounds of boost at 6000 feet in elevation. By using an electronic waste gate, which senses many motor functions, it will raise boost to compensate for the thin air (less oxygen), thus making sea level boosted horsepower at 6,000 feet.
Hot and Cold
Another horsepower robber is intake air being heated through compression. Hot air is thin air and thin air is low in oxygen. Polaris set out to defeat the hot air by incorporating an intercooler in front of the radiator, which drops the temperature of the incoming air used by the engine. This is smart. Cooler air is denser than heated air, and we know what denser air means – more horsepower.
SCOOP: 2016 Polaris RZR XP Turbo EPS First Ride Review The turbo's overall cooling system was vastly revamped over the non-turbo 1000. Polaris uses a liquid-charged air cooling system tied to a larger radiator with fan. Engine coolant beats through the motor via a high-flow electric water pump, rather than a mechanical pump.
Polaris put much thought into this motor package with a specific design, rather than adding basic bolt-on turbocharger to the current 999cc motor.
Transmission and Suspension
Since the RZR XP Turbo has an increase in power and torque, the next question is what about the drivetrain?
Polaris' demonstration at the St. Anthony Sand Dunes, St. Anthony, Idaho included a show-and-tell of the vehicle's drive and driven clutches, which were on display. As we picked up and examined the two clutches, there was no doubt in our minds the design changes should increase durability while delivering a high-level of performance. Along with additional cooling – air moving around and on the clutches – and a new belt design manufactured to withstand high horsepower and operating temperatures, we believe there should be plenty of life in the clutches and belt. Turbocharged motors, through the transmission, squeeze a belt with a hard kick, thus raising belt temps in rapid fashion.
Polaris beefed up the clutches in the RZR XP Turbo, compared to the naturally aspirated RZR XP 1000.
Front and rear half shafts are stronger over that of the non-turbo RZR 1000, along with a four-bolt flange at the transmission output.
Gear ratios in the CVT are varied, matching the larger diameter clutch. But according to Polaris, overall top speed will be comparable to the non-turbo model, though the RZR XP Turbo will have a harder hit. The Turbo RZR's wheelbase – length and width – are the same as the current RZR XP 1000.
For the RZR XP Turbo, suspension upgrades include FOX Podium internal bypass shocks; the rear is a massive three inches in diameter, with the front suspension shock body at 2.5 inches. The remote shock reservoirs have a 24-position clicker and dual rate springs to provide impressive handling and to control body roll and sway when on boost.
Massive three-inch FOX Podium internal bypass shocks are found in the rear of the RZR XP Turbo.
A front stabilizer bar was added to lessen body roll, which we've noticed on the RZR XP 1000.
Body roll is lessened thanks to a new front sway bar.
When you've got this much power on hand, you need to be able to slow it down. Polaris upgraded the vehicle's brakes by using thicker stainless steel rotors and three-piston calipers.
Thicker stainless steel brake rotors are clamped down on by three-piston calipers to bring the RZR XP Turbo to a stop.
Comparing the naturally aspirated RZR XP 1000 to the turbo unit equates to a horsepower difference of 34. Depending on the elevation, it could be more. In Idaho we ride from 5000 feet to 10,000 feet, so a naturally aspirated machine starts off oxygen-deprived.
Value
Talking money, the RZR XP Turbo costs $24,999, a $4,700 premium over the RZR XP 1000. With all the upgrades to engine, chassis, drivetrain and suspension (and the list goes on), I think that is money well spent. You may be able to find an aftermarket turbo kit in the same price range, but it won't come with upgraded and robust clutches, shocks, half-shafts and suspension components. It also won't come with professional installation. Also, once an aftermarket turbocharger is installed, the factory warranty is basically out the window.
If you want turbo power, purchasing a RZR XP Turbo with factory warranty is a smart financial decision.
Published November 3rd, 2015 2:32 PM
Top Brands
Popular Articles