1 View
2009 Yamaha ATVs: First Look
June 6th, 2008 9:41 AM
Share
New middleweight Grizzly among the highlights
Yamaha Motor Corp. USA invited us media types to Newport Beach, Calif. to get a sneak peak at the 2009 ATV lineup.
Among the updates for 2009 the popular Raptor 700R has some significant changes, a completely updated youth model caught our attention, the Grizzly 450 has a new look and a few special edition models are sure to garner some interest. The obvious focus of Yamaha's presentation, though, was the brand new Grizzly 550 FI.
Yamaha felt there was a significant gap between the Grizzly 700 FI and the Grizzly 450 IRS and decided to fill it with a 500 class machine. Though we won't get to ride the new Grizzly until later in June, at first glance it looks it could be a quad worth considering.
Based on the Grizzly 700 platform, the 550 looks very much like its big brother. According to Yamaha, the performance should be fairly comparable as well. Powered by a completely new 558cc fuel injected engine, the 550 should have a top speed right on par with the 700, although the 700 will still have a performance edge in the low end.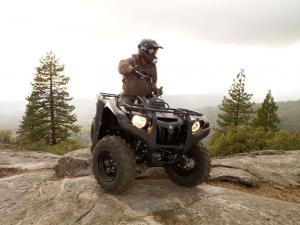 Yamaha included a completely new cylinder head that is tailored to a midsize engine, instead of just taking one off the 700. Also, the engine features roller rocker arms to reduce friction, a forged aluminum piston and a ceramic composite plating cylinder.
Electric power steering comes standard, offering lighter steering effort under all conditions and improved feel when hitting obstacles off the trails. Also standard is a full stainless steel exhaust and rubber mounted muffler, which will should keep the rust at bay.
Yamaha's Ultramatic Transmission features a one-way Sprag clutch for what the company calls 'natural feeling' engine braking. The direct drive shaft design is meant to increase durability and reduce vibration and power loss.
To help lower the center of gravity and centralize the weight, the fuel tank is located under the seat. Fuel is delivered using Yamaha Fuel Injection (YFI). YFI compensates for altitude and temperature from 600 feet below sea level to 15,000 feet above sea level so unless you plan on using the Grizzly 550 FI to climb Mt. Everest you should be fine.
With five way pre-load adjustable suspension, just about anybody should be able to set up the quad to their liking. The front and rear shocks are mounted to the lower A-arm to improve the low center of gravity feeling. Yamaha's 'WideArc' front suspension is five inches wider than a typical ATV for more usable ground clearance.
Like the 700, stopping power comes courtesy of four-wheel hydraulic disc brakes with a handlebar mounted rear master cylinder and separate front and rear controls.
To help the Grizzly 550 breathe a little easier, Yamaha mounted the air box as high as possible and added a water trap to increase water resistance. Also mounted high are the air intake and exhaust ducts.
A new for 2009 thumb throttle shape, which is also available on the 700, offers improved feel and less fatigue. Switching from two to four-wheel drive is simple with an easy to use push button 2wd/4wd/Diff Lock.
Added durability comes from new A-arm guards and stronger polyethylene CV boot material.
Creature comforts include: six-inch thick seat; improved gate style shifter with new ratios for easier management and left-hand operation; digital meter with speedometer, odometer, dual trips, clock, hour meter, four-wheel drive indicator, transmission position, fuel gauge and self-diagnostic and actuator system; sealed storage under the seat and in the front fender (waterproof).
Yamaha has put an MSRP of $7,799 on the new Grizzly 550 FI, but a non-electric power steering version is available for $7,099.
ATV.com will have full review of the Grizzly 550 FI in the coming weeks after we get to put it through its paces.
Grizzly 450
Sticking with the Utility lineup, the Grizzly 450 received a bit of a facelift for 2009. A two-inch receiver hitch and sealed wet brake are new additions and the seat is flatter for easier mobility and 20mm thicker for added comfort.
The 450 also received Grizzly 700-inspired front end styling and sealed inner fender storage.
Raptor 700R
Yamaha's big-bore sports quad, the Raptor 700R, has some key improvements for 2009. Chief among the changes is a new digital meter. ATV.com was very happy to see a speedometer on the 700R as it's always nice to know how fast you're going when you're tearing up the trails. It also comes with dual trip meters, which is another positive if you like to keep track the distance specific trails or if you want to know how far you have travelled on a day of riding. The digital meter also comes standard with odometer, clock, warning indicators and full diagnostic capabilities.
Yamaha decided to improve the performance of the 700R with new front shocks. The shocks have a 5mm longer stroke, improved comfort settings, high and low speed adjuster and easier to adjust knobs.
Also new for 2009 is the same thumb throttle shape as the Grizzly 550 FI and a revised front cowl and updated styling. It's nice to see that Yamaha is willing to update the look of a relatively new machine.
Always fond of releasing special editions and different color options, Yamaha offers a new Raptor 700R Special Edition for 2009. This quad features a new marbled red and black paint scheme, as well as YPAD grab bar and heel guards and a Wave-style rear brake disc. Also available is a white with red and black Raptor 700R.
Raptor 90
Though not a huge market, Yamaha decided to make a big change with one of its youth ATVs. A brand new Raptor 90 replaces the Raptor 80.
The Raptor 90 is new from the ground up. It is styled after its big brother, the Raptor 700R, and features a fully automatic continuously variable transmission and an 88cc forced air engine.
Replacing the foot pegs on the Raptor 80, the Raptor 90 has integrated full floorboards and low profile Maxxis tires. The Raptor 90 comes with double A-arm front suspension (Raptor 80 had leading arm suspension), 4.4-inches of front suspension travel (Raptor 80 had 2.3 inches), five-way pre-load adjustable shocks and molded front grab bar.
In the back the Raptor 90 has swing arm rear suspension, 3.3-inches of rear suspension travel, five-way pre-load adjustable shock and hydraulic rear disc brake.
To keep the kids safe, the Raptor 90 has an adjustable CDI rev limiter. In restricted mode the quad will produce a maximum of 4,800 rpm, compared to 8,000rpm in unrestricted mode.
The Raptor 90, which is manufactured in Taiwan, is available in Team Yamaha blue and white or black and white with dual graphic kit.
Rhino
Not much has changed with the Rhino line for 2009, but four special edition models are available: Brushed Silver Sport Edition, Red Mid-Night Armor Sport Edition, Red Special Edition and Black Metallic Special Edition.
Added featured for the special edition Rhinos include piggyback shocks, cast aluminum wheels, Baja front grab bar, sport sun top, bed rails, steering wheel cover, shift knob and LED taillights.
For those looking to customize, Yamaha is offering numbered sets of three new custom paint body kits in 'Rear Fire', 'Blue Flame' and 'Silver/Red Torn'. Only 200 of each kit are available.
Custom Rhino accessories are also available, including Rhino water dip body kits in 'Blue Carbon Fiber' and 'Red Carbon Fiber'. Yamaha also offers stereo systems, steering wheels, shift knobs, dash trims and painted Baja front grab bars, rear grab bars, bed rail and Nerf bars so consumers can personalize their Rhinos.
Published June 6th, 2008 9:41 AM
Top Brands
Popular Articles