1 View
Yamaha Unveils Base Model 2016 Wolverine
July 31st, 2015 11:58 AM
Share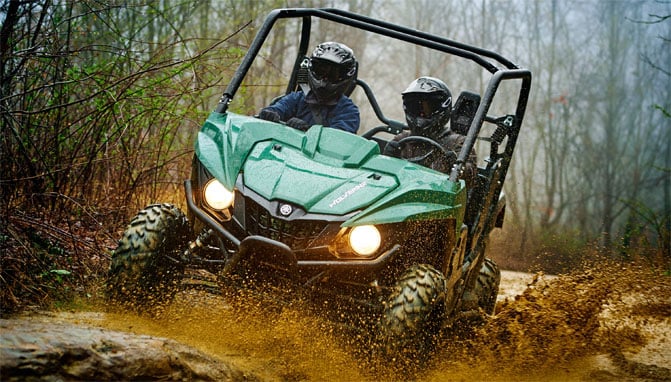 Wolverine performance at big savings
In an effort to make its new Wolverine R-Spec accessible to more consumers, Yamaha has taken the covers off a new base model version with a much more attractive price tag.
When Yamaha introduced the Wolverine R-Spec earlier this year, it made a lot of people happy as it looked like an evolution of the venerable Rhino. But with a price tag starting at $12,199 ($13,199 for EPS), it was aimed at a real enthusiast crowd of aggressive riders. The new Wolverine (no R-Spec) comes in at $10,999 and is targeted towards casual riders who just want to explore the trails, do some light utility work or go hunting.
Before we talk about what the base Wolverine is missing, we should mention what it still has. It features the same 708cc engine as the R-Spec, along with all-wheel engine braking, on-command four-wheel drive, long travel suspension with 10.6 inches of rear travel and 9.7 inches of front travel, 11.4 inches of ground clearance, 26-inch Maxxis Big Horn 2.0 tires, full length steel skid plate, center console storage, and 300 pound of cargo bed capacity. In short, it offers the same power and general vehicle specs.
Yamaha's base model Wolverine still benefits from the new 708cc engine and the same 10.6 inches of rear suspension travel and 9.7 inches of front suspension travel as the fully featured Wolverine R-Spec.
So how is the base Wolverine different than the Wolverine R-Spec? The devel, as always, is in the details.
To come up with $1,200 is savings, Yamaha had to make some sacrifices. While suspension travel is unchanged, the shocks certainly have. Whereas the Wolverine R-Spec boasts piggyback shocks with preload and compression adjustments, the base Wolverine relies on pre-load adjustable nitrogen gas/oil charged KYB shocks with no piggyback reservoir. Beyond the lack of compression adjustability, these shocks are less beefy with smaller diameter pistons, along with different spring rates, spring lengths, and stroke lengths. Yamaha says that the stock shock settings are specifically tailored for casual trail riders.
COMPARISON: Read our review of the 2016 Yamaha Wolverine R-Spec
Another notable change is in the seats. The Wolverine R-Spec features high-back seats, while the base Wolverine has low-back seats with a headrest. We haven't spent any time inside the base Wolverine, but expect a slight reduction in comfort.
To get its price down, the base Wolverine foregoes piggyback shocks, high-back seats, sun top, and a few other features.
Other changes to the base Wolverine are fairly minor and all can easily be addressed with a visit to Yamaha's accessories website. Optional on the base Wolverine are a sun top ($239.98), tailgate ($199.99), overfenders ($149.99), and fender extensions ($59.99). A sun top, at least in our opinion, is the most pressing omission and would be the first thing we'd think of adding to the Wolverine if we owned one.
New Wolverine R-Spec EPS White
Yamaha also took the covers off its priciest Wolverine – the Wolverine R-Spec EPS White.
Along with the base Wolverine, Yamaha also introduced its most fully featured Wolverine R-Spec EPS in white ($13,499). The only difference between the white R-Spec EPS and a standard R-Spec EPS is the color and some slick looking cast aluminum wheels.
Published June 4th, 2015 2:57 PM
Top Brands
Popular Articles