1 View
2009 Factory Polaris Rath Duro Team Recap
November 3rd, 2009 4:20 PM
Share
We're committed to finding, researching, and recommending the best products. We earn commissions from purchases you make using links in our articles. Learn more here
Exciting year for Polaris racing
The Factory Polaris Rath Duro Team had a busy 2009 season tearing up race tracks. The Rath team put its machines on the podium multiple times in multiple series. The team has taken home wins in all disciplines this season including cross country, motocross, supermoto, ice racing, and time trial.
The Rath team has enjoyed success with both the Outlaw 450 MXR and the all-new Sportsman 850 XP with Power Steering.
The Rath Outlaw 450 MXR's with Daryl Rath and Casey Martin piloting them, have taken wins in supermoto, time trial, and motocross respectively. Martin even holds the honor of the highest place finish at the Pro Am Level in the AMA ATV MX National Series with his amazing third place overall finish at the final round on MX at Loretta Lynn's. Since then, Martin has continued his winning ways competing in a winter series close to his hometown in Frenchburg, Ky., while training for next season. Martin once again will be contending for the 2010 AMA ATV MX Pro Am Championship in a class stacked with talent.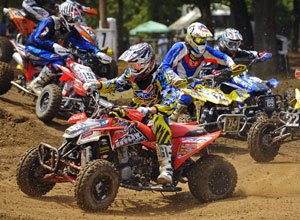 "I plan on racing throughout the winter season to train for 2010," says Martin. "The Outlaw 450 MXR has been awesome. I made the switch mid-season and while it may have taken me a round or two to get comfortable, I can say I am feeling 100 percent aboard this machine."
"With the double schedule we ran in 2009, Jennifer (Rath) was going to all the MX races and myself to the XC events. I had the first opportunity to watch Martin compete at Loretta Lynn's and he was amazing. He put his head down and charged the entire race. I couldn't ask for a more determined young rider to be part of my team. It was extremely clear we have this bike figured out and Casey is getting comfortable, and I am glad to have him back on the roster for 2010 and will enjoy watching him head for the front."
The Rath Sportsman 850 XP piloted by Daryl Rath has taken wins in the AMA National Hare Scramble Series and the IATVHSS Series in the "Utility Unlimited" class. Rath also has finished in the top three of his respective class at the GNCC Cross Country Nationals a remarkable eight times, giving Rath the third place overall in the" Utility Unlimited" class, along with earning a "Top Ten" National Ranking in the Overall Morning Class.
"We have a lot to be proud of and worked hard to get those results," says Rath. "We took a brand new bike and finished top three, it is amazing what can be done with good people behind you and supporting your drive to win. There will be no off-season for us as we are already testing and make additional improvements for 2010."
Cody Anderson also enjoyed his first year as a cross country contender on a Sportsman 850 and was happy about the opportunity. Anderson will be returning to his MX roots as well and will return to an Outlaw 450 MXR to compete in the regional series along with a select number of AMA Nationals.
"It allowed me to experience something new and different and though I am going to return back to the Polaris Rath MX Team for 2010, it was a great experience," said Anderson.
Another change for the team in 2010 will be the return of Rath on an Outlaw 450 MXR for some non-GNCC conflicting cross country races in select series.
"I have always been one to race many different types of ATVs and I still enjoy challenging myself by racing all across the board," says Rath. "It is one of the best ways to cross train which helps me stay on top of the game.
"I'm extremely impressed with the accomplishments of the team this year," says Eric Nault, race team manager for Polaris. "It is not easy to take a whole new quad and make it competitive the first year out and the success with the Outlaw 450 MXR and Sportsman 850XP with EPS in several different venues is a great testament to the work and dedication of the Rath team. With how much has been accomplished in 2009, 2010 should be an excellent race year for the Factory Polaris Rath Duro Team."
Related Reading
2009 Polaris 850 XP EPS Review
Daryl Rath finishes third at Unadilla GNCC
Darryl Rath picks up two wins aboard Sportsman 850 XP
Pro-Am contender Casey Martin joins Polaris/Rath Racing Published November 3rd, 2009 4:20 PM
Top Brands
Popular Articles