1 View
2010 Warnert Racing / Can-Am GNCC Team Announced
January 15th, 2010 5:50 PM
Share
We're committed to finding, researching, and recommending the best products. We earn commissions from purchases you make using links in our articles. Learn more here
BRP gunning for more GNCC titles in 2010
BRP has announced the roster of Team Warnert Racing / Can-Am, which will compete during the 2010 Grand National Cross Country race series. Team Warnert Racing / Can-Am looks to build upon a successful 2009 GNCC season that saw four GNCC championships, including a perfect season (13 races, 13 wins) in the 4×4 Limited class. Race-prepped Can-Am Outlander 800R EFI XT, Can-Am Renegade 800R EFI X xc and Can-Am DS 450 EFI ATVs will race out of the Warnert Racing hauler next season at all 13 stops of the GNCC series.
"Our partnership with Warnert Racing has produced multiple championships for the past several years and we are happy to continue that partnership for 2010 and beyond," says Denis Morin, Vice President Product Development and Racing at BRP. "Next GNCC season will be an exciting one for everyone here at BRP and on the Warnert Racing / Can-Am GNCC team."
A total of seven racers will contest the 2010 GNCC season for Team Warnert Racing/ Can-Am and each of the team members have been working hard during the off-season to be ready to go when the opener rolls around in March.
"For this year, we've put together an impressive team of off-road racers who are all more than capable of showcasing the abilities of our Can-Am ATV line-up out on the challenging GNCC courses. We are expecting multiple championships again next year from our Warnert Racing riders and crew," says Jimmie O'Dell, Racing Manager for Can-Am ATVs at BRP.
2010 Warnert Racing / Can-Am Roster: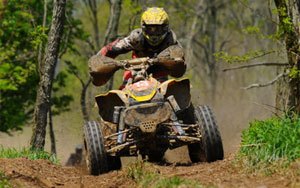 Chris Bithell is making his return on the DS 450 in the XC1 Pro class against the toughest woods racers in the world. Bithell is a fierce competitor and was consistently one of the fastest Pro racers in the woods last season finishing with several top-10 showings and an overall podium. "This is the season for the DS 450, I can feel it. I am pumped for the 2010 season and look forward to putting the Can-Am on the podium all season long. Everyone on the team is ready to make a run for a GNCC championship," says Bithell.
Joining Bithell in the XC1 Pro class and making his debut on the DS 450 will be racer Adam McGill. While this is McGill's first time racing a Can-Am on the GNCC circuit, he is no stranger to the XC1 podium. Last season, McGill finished third in the overall championship with eight overall podium finishes. "I've been riding the DS 450 for a couple of weeks and am already super confident on it. It is no secret, I am hungry for overall wins; I want to deliver a championship for Can-Am and Warnert Racing," says McGill.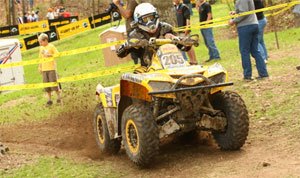 Last season, 4×4 Limited class rider Michael Swift went all 13 rounds without losing a race on his Outlander 800R EFI and he is looking forward to continuing that class-win streak in 2010. The class champion was also given the Utility Rider of the Year award at the GNCC year-end banquet. "Next season I am going to continue building on what got me the championship: being smart and consistent in the woods. The Outlander is a great machine out on the course and I like riding it, fast!" says Swift.
When he broke his leg at the seventh round of the season last year, defending his 2008 4×4 Open championship aboard the Outlander 800R EFI XT looked impossible. Bryan Buckhannon, however, was hard at work in the three rounds of racing he missed, making sure he would be ready to run up front when he returned. That he did as he finished in the top three of each of the final four rounds, including taking a do-or-die win at the final round of the season. He returns on the Outlander and is looking to dominate next season. "Last year taught me how hard it can be to win a championship," says Buckhannon. "This season I am looking forward to just going out there and winning each round by working hard out on the course with the Outlander 800R."
Lexie Coulter returns on the DS 450 in the Women's class, but will now be a part of the Warnert Racing / Can-Am team. Coulter ran in the top 10 at almost every round last season, including five class podiums and two overall podium finishes. This season she is looking forward to the added support the Warnert Racing crew will bring her. "I am happy to be on such a hard-working team and to be back on the DS 450. I know we can put this bike out front and win a championship next season," says Coulter.
Last year, Cliff Beasley took the 4×4 Lites championship on his Outlander 500 EFI ATV for Warnert Racing / Can-Am. This season he returns to the team, but on a new machine and in a new class. Beasley will be defending a Can-Am class title aboard the Renegade 800R EFI X xc in the U2 class next year. "I am looking forward to the challenge of racing a new machine in a new class," says Beasley. "This off-season I've worked to be ready when the green flag flies in Florida and am up for the new challenge of the U2 class."
Jamie Bithell raced the College A (16-21) class aboard a DS 450 as part of the Can-Am X-Team last season and finished second in the class championship with a win and several second-place finishes. This year, he will challenge for the College A class title with the backing of the Warnert Racing team. "It is great to be racing with my brother out of the Warnert Racing hauler. I cannot wait to get out there next year and win races on the DS 450!" says Bithell.
The first race of the 2010 GNCC season is the Parts Unlimited River Ranch GNCC on Sunday, March 1 near Lake Wales, Fla. For more information on Can-Am racing, the 2010 contingency program and DS 450 amateur racer support program, please visit Can-AmXTeam.com.
Related Reading
BRP offers up $1.6 million in 2010 ATV contingency
2009 Can-Am DS 450 Review Published January 15th, 2010 5:50 PM
Top Brands
Popular Articles