1 View
Arctic Cat Suffers Fourth Quarter Losses
June 1st, 2009 5:00 PM
Share
Minnesota-based manufacturer cuts 60 jobs
Arctic Cat Inc. has reported a net loss of $16.7 million on net sales of $90.7 million for the fourth quarter ending March 31, 2009.
For the fiscal 2009 full year, Arctic Cat posted net sales of $563.6 million compared to $621.6 million last fiscal year. The company reported a fiscal 2009 net loss of $9.5 million, versus a net loss of $3.3 million in fiscal 2008.
ATV sales totaled $64.1 million in the 2009 fourth quarter compared to $142.9 million in the same period last year. For fiscal 2009, Arctic Cat's ATV sales were $247.3 million compared with $350.3 million the previous year. ATV revenues were down for the quarter and full year due to lower ATV retail sales during the current economic downturn, and the company's decision to lower production to reduce dealer inventory.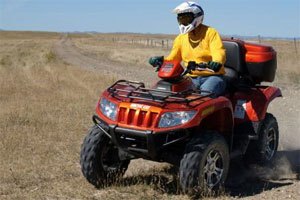 "Arctic Cat was profitable through the first nine months of fiscal 2009, due to increased snowmobile sales to dealers and distributors and lower operating expenses, but overall retail demand for recreational products remained weak in the fourth quarter as expected," says Christopher A. Twomey, Arctic Cat's chairman and chief executive officer. "In light of the difficult retail environment, we continued our plan to further reduce dealer inventories during the quarter, resulting in lower inventory levels across all product lines. However, this necessary action negatively impacted the company's revenue and profitability for the fourth quarter and full year."
In a response to the dip in demand for recreational vehicles, Arctic Cat announced the elimination of 60 jobs, or approximately 5 percent of the company's 1,200 employees. This comes about four months after the Minnesota-based manufacturer cut 100 jobs in January.
"We do not expect any meaningful recovery in the recreational products market in the year ahead," says Twomey. "Near-term, we are focused on rescaling the business and conservatively managing it to meet anticipated demand. We also are taking appropriate actions to preserve cash for operations and maintain dealer health, as well as developing select innovative products that position Arctic Cat to emerge as a stronger company as the economy recovers."
Published June 1st, 2009 5:00 PM
Top Brands
Popular Articles