1 View
Can-Am Racers Find Success at GNCC Opener
March 2nd, 2010 1:20 PM
Share
We're committed to finding, researching, and recommending the best products. We earn commissions from purchases you make using links in our articles. Learn more here
Eight wins for Can-Am at River Ranch GNCC
The 2010 ATV race season started in spectacular fashion for many of the Can-Am X-Team racers Sunday at the Grand National Cross Country opening round near Lake Wells, Fla.
Team Warnert Racing / Can-Am rider, Adam McGill, had a great debut on the Can-Am DS 450 EFI ATV taking third overall in the afternoon in XC1 Pro class. He and his teammate, Chris Bithell, had their DS 450 ATVs up front for the entire two-hour race with McGill leading for two of the five laps. Bithell finished fourth overall.
"It was amazing to go out there and be on the podium for the first race of the season," says McGill. "The bike was running awesome. I really have to give a big thank you to the team! I plan to be number one at Georgia."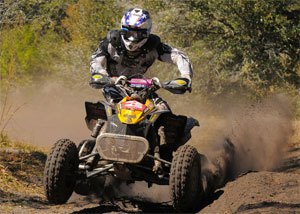 Warnert Racing's Lexie Coulter piloted her DS 450 to the Women's class win and the morning overall title; this is her first overall win on the DS 450.
"It is always good to start the season on a positive note and clearly our racers and teams worked hard in the off-season to produce the results we had in Florida," says Jimmie O'Dell, racing manager for Can-Am ATVs at BRP. "Now it is time to build on these performances and work hard week after week to bring home championships."
Additionally, Warnert Racing's Bryan Buckhannon began the defence of his 4×4 Open championship by taking the win in the class on his Can-Am Outlander 800R XT EFI ATV. His teammate, Michael Swift, won the 4×4 Limited class riding an Outlander 800R XT, as well.
"The team has built me a really fast bike for this year, so I am looking forward to getting some great starts and lots of wins," says Buckhannon. "I think this is going to be a very exciting season and I am going to work very hard to stay on top and defend my championship."
In the U2 class, Cliff Beasley was making his debut on a new ATV, the Warnert Racing / Can-Am racer took the class win on his Can-Am Renegade 800R X xc, this is the first class win for the machine.
"There's some close competition in the U2 class, but that's just fine with me," says Beasley. "I like competition. I have to thank Can-Am and Warnert for building me a great bike. It ran well, handled great and had tons of power."
Can-Am X-Team rider Kevin Trantham, raced his Can-Am Outlander 500 EFI ATV to the 4×4 Lites win in Florida. MPR Racing's Mike Penland was edged out by fellow Can-Am racer Forrest Whorton in the first ever race of the Utility Senior (45+); both riders were on Outlander 800R ATVs. Other Can-Am DS 450 racers taking class wins at the opening round were Santo Derisi (Vet 30+ A) and Nickalus Lineberger (Junior B 22+).
The next round in the GNCC championship is the Washington, Ga. round of the series. It takes place on March 6. For more information on Can-Am racing, visit Can-AmXTeam.com.
Related Reading
Defending Champ Borich wins GNCC Opener Published March 2nd, 2010 1:20 PM
Top Brands
Popular Articles