1 View
Polaris to Support Side by Side Racing
March 13th, 2008 12:14 PM
Share
Success of Ranger RZR model sparks expansion of racing program
Thanks to the racing success of the Polaris Ranger RZR in 2007, Polaris has expanded its side by side racing program in 2008.
Polaris will have Ranger race teams competing in the Can-Am Grand National Cross Country series (GNCC), World Off Road Championship series (WORCS), Best in the Desert (BITD), Champion Off Road Racing (CORR), M4SX Side x Side Nationals, SCORE International and Mud racing.
"The expansion of our Ranger race team is part of our commitment to side by side racing," says Polaris product line sales manager Craig Scanlon. "With the addition of Ranger RZR and its race successes, 2007 was a break out year for us and we are excited to see what 2008 holds."
CORR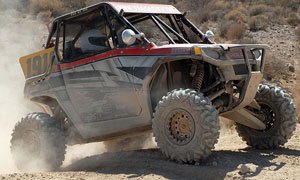 Dragonfire Racing, Jagged X, Mafia Industries and Dana Creech will tear up the CORR track with their RANGER RZRs. All will race the Mod Class.
Dragonfire Racing is sponsored by Polaris, Makita, Monster Energy, ITP, PRP, Fox Shocks and Specialized Bikes.
Jagged X sponsors include Polaris, CR Designs, UTV Offroad Magazine, Vision X Off Road Lighting, Jet Trim Seats, OMF Performance, DJ Safety and Mountain States Contracting.
Mafia Industries sponsors include, Polaris, Good Year, Alba, Schampa, Dirt Skins, PRP, SRT Race Wheels, Radflo shocks, Gear One, UTV Off-Road Magazine, Pro Armor, CRB and SIMPSON.
Best in the Desert and M4SX Side x Side Nationals
After a strong 2007 and great start to 2008, Jagged X and Mafia Industries will race their Ranger RZRs in the Best in the Desert series.
Jagged X dominated Best in the Desert for 2007, finishing first in the 2007 Class Champ Chase. Mafia Industries started off the 2008 BITD season with a bang, taking first in the Parker 250. Mafia Industries also will race MS4SX Side x Side Nationals at Lake Elsinore MX Park.
GNCC
William Yokley, a multi-time Pro and Pro Production GNCC winner on quads, is taking on the new GNCC side by side class. Yokley will race a Ranger RZR in the 701-850 UTV Modified class.
He is sponsored by The Army National Guard, Rocky Mountain ATV, Polaris Industries, ITP Tires, Elka Suspension, Roll Design, HMF Exhaust Systems, IMS/Roll, Tire Balls, Andrews Cycle, Douglas Wheel Technology, Baldwin Motorsports, CGR, O'Neal Clothing, Panolin Lubricants, IMS, Hinson, 317 Graphics, Intense Fabrication & Design, Tsubaki Chains, Hardkor, Shoei Helmets, Axcaliber Axles, Streamline and Powermadd.
Straight off his 2007 victory in the 701-850 UTV Modified class, at the inaugural GNCC side by side race at last year's Ironman, Dana Creech is back in his Ranger RZR for the 2008 season. Creech will, once again, race the 701-850 UTV Modified class.
WORCS
In addition to Doug Eichner, Dana Creech will race his Ranger RZR on the WORCS circuit in the Rhino Mod class.
Mud Racing
Team Highlifter-Polaris Racing will be back in full swing after a dominating 2007 season. The team will be racing both Ranger XPs and Ranger RZRs in Bogger, Pro Series A, Pro Series B, Open and Mud Chic classes in at least eight races.
Team Highlifter-Polaris Racing also races Polaris Sportsman ATVs. The team is sponsored by Polaris Industries, Warn Industries, SuperTrapp, Dayco and Bayou Snorkels.
Published March 13th, 2008 12:14 PM