1 View
Pure Pre-order Demo Hits Retailers
August 15th, 2008 1:17 PM
Share
ATV racing game to have full release in September
Disney Interactive Studios has announced that a demo version of its off-road ATV racing game, Pure, will be available the week of August 18.
This pre-order demo disc will be available at several major retailers in the United States and Canada, including Best Buy and Blockbuster. The Pure demo will also be available for download on Xbox Live and the PlayStation Store.
The demo will reportedly include a tutorial mode and a single racetrack set in Italy.
"PURE is an action sports game like no other that lets you soar off huge peaks and see for miles in the distance while you pull adrenaline-inducing tricks," says Jason Avent, game director at Black Rock Studio." The demo will give fans a limited but intense sample of the gameplay and provide practice for when the game is released in late September."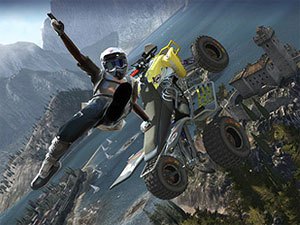 "We expect Pure to set a new standard for off-road racing that delivers adrenaline-inducing vertical experiences with spectacular aerial tricks and intense wheel-to-wheel racing," says Craig Relyea, senior vice president of global marketing for Disney Interactive Studios. "Pure will appeal to a wide audience based on the game's jaw-dropping aerial tricks, breakneck racing and vast environments."
According to Disney Interactive Studio, players start by choosing among a variety of male and female character riders. They can then either race against computer opponents up to 16 online players.
"Black Rock Studio has established itself as a leading developer of racing video games and we expect to continue that heritage with the creation of Pure, our first game since becoming part of Disney Interactive Studios," says Avent. "Pure combines the best features of both extreme sports and racing to produce an extraordinary and unique experience."
For more information, visit www.purevideogame.com.
Published August 15th, 2008 1:17 PM
Top Brands
Popular Articles