13 Views
ATV Tools You Never Knew You Needed
January 19th, 2022 12:56 PM
Share
We're committed to finding, researching, and recommending the best products. We earn commissions from purchases you make using links in our articles. Learn more here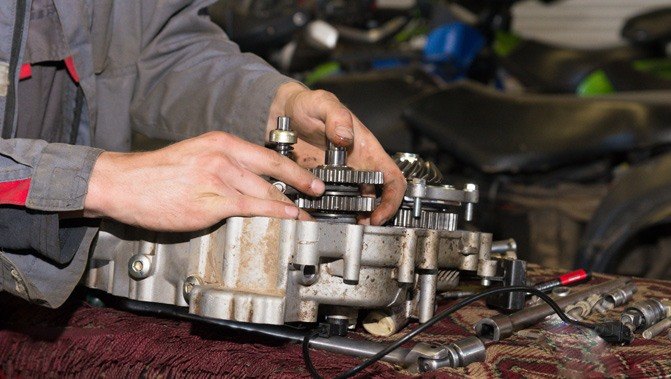 Don't look past these useful additions to your ATV tool kit
While working on an ATV or UTV can be rewarding, it can often be frustrating if you do not have the proper tools. Trying to throw a wrench at something does ease your mind's frustration, but it may not be exactly the right tool for the job. Having spent a large portion of my life working on my own off-road rides, I have found some ATV tools that are life savers… even though they may only get used a few times in their life span.
When you look at topics in the wild and ever-expanding world of social media specialty pages, you will find all kinds of problems that people are facing with their machines. I have to say that most of these issues are self-induced and then passed off on the manufacturer as a "why isn't this built better" or some other excuse to their own negligence. We're here to help you tackle these mechanical gremlins by showing which tools are a must have for your garage.
Table of Contents
1. Electrical Diagnostic Equipment
If you take a mechanically engineered piece of equipment and drop it under water, never clean it and then drop it in the nastiest mud you can find and again never clean it, you are bound to have electrical issues. If you are that kind of ATV or UTV owner, then you need a good digital multimeter and test leads to solve the many electrical issues you'll eventually face. Our favorite test leads are the ones from LOADpro. These specialized test leads will work with many typical digital multimeters to help you locate issues due to problem wiring. Whether you are searching for a short or open circuit, the LOADpro is a key tool to have. This tool also simplifies the process of finding high resistance in wiring for those who may not expertly understand the Ohm's function on their meter.
The key to the tool is the pen-style handheld device that adds 0.5 amps load to the circuit when the button on this tool is pressed. This gives you instant readings on your multimeter to properly and quickly diagnose those pesky power gremlins. High resistance is a common problem when you deal with water- logged ATV/UTV electronics and is a result of wire that has had higher than normal amp draws for a period of time. High resistance can also be attributed to corrosion from exposed portions of wire or consistent exposure to wet conditions. This degrades the copper wire and the wire then cannot properly deliver the power for the device it is supplying. You can use this tool to test accessories like lights, fans, switches, as well as relays etc. The LOADpro Dynamic test leads are a must have and at an average of $65-$75, it is an affordable solution to your electrical problems and one of the ATV tools every enthusiast should have on hand.
2. Cordless 1/2" Impact Drivers
Another addition to our list of ATV tools worth keeping your garage is a good quality cordless impact wrench. One of our favorites is the Dewalt ½" lithium battery powered impact driver. This handy tool not only has the grunt to loosen stubborn nuts and bolts, but can double as a "road trip" lug remover for your tow rig. The advancements in lithium battery power and especially Dewalt tools gives the average garage mechanic the ability to do more jobs at home. The battery life is incredible, and the best part is that many other tools in the Dewalt family use the same battery, so you have a spare if you need it somewhere else. There are two different types of these ½ impact drivers from Dewalt and the difference being the battery capacity as well as the amount of torque these will effectively apply. Torque is a key factor in the ATV/UTV world as you need to be aware of just how much power you need in your situation. Most will find the 18-20 v0lt tools to be enough for almost all situations at a reasonable 400 lbs-ft of available torque. The detent pin anvil gives the bump needed to loosen stubborn lug nuts and bolts easily and I find the tool lends itself to many different jobs, so it does earn its keep in the toolbox.
3. e. Torque Limiting Impact Extension
If you have invested in one of the powerful cordless impact wrenches mentioned above, you might want to consider a torque limiting extension set to go along with it. This compact set of torque limiting extensions keeps you from snapping off the 10mm or even 12mm lugs from your wheel hubs. I know you love to hear the "Uga Dugas" just pounding away at the little lug that holds your wheel on, but for heaven's sake, just don't do it. This kit gives you torque tools from 75 lbs-ft all the way to 150 lbs-ft, so there is a wide range of jobs that can be completed with this accessory to the garage. Each of these extensions are color coded for easy reference once you use them a few times, and most kits come in a hard-plastic case as well, so you are not trying to keep up with where you left your most used extension. These sets can be purchased from $35 on up, and is a smart addition to your collection of ATV tools.
The final addition to our list of ATV tools all of you should have in the shop is a specialty item that more advanced garage mechanics will at some point need. If you tear into the latest power plants in our ATV or UTV world, then chances are your service manual will instruct you on torque to yield or torque to angle ratings. After rebuilding the top end of our " Sunken Wolverine" we noted that advancements in ATV/UTV head bolts would change the landscape in the toolbox. You shouldn't simply reuse the old head bolts, as some still do, because these bolts stretch when torqued properly and do not retract to their once new form, causing them to be ineffective. You need to replace the cylinder head fasteners to properly rebuild any engine that uses torque to yield fasteners to be sure it gets back together correctly. Using torque to yield fasteners is becoming even more popular and you will need a torque to yield or angle adaptor tool to use in line with your torque wrench. This simple tool attaches to the torque wrench and simply gives you a proper angle to determine where the yield point is when the final torque is achieved.
The shop manual might give you multiple steps that include pre-torque and then loosen 360 degrees and then re-torque to a specified rate as well as a certain angle. This is where the torque to yield tool will be used. This tool can be relatively inexpensive, or the more elaborate versions can cost hundreds of dollars. The one I use most often was less than twenty dollars at the local auto parts store.
5. Aftermarket ATV Bolt Kits
Ok... They're not tools, but when you're working on your ATV it's not uncommon to come across a stripped bolt or to strip one as you're doing maintenance. Even worse, you may have misplaced or dropped one and have no idea where it went. I can speak from experience. That is where having an aftermarket bolt kit can come in extremely handy. You can get kits that are ATV/UTV specific, so you can just update most every bolt on the frame, or you can get a universal kit that comes complete with push pins, cotter pins and a wide variety of nuts and bolts that you can use to replace stripped or missing pieces.
We're not recommending doing sit-ups or push-ups while working on your ride, but padded workout mats can come in extremely handy. Sure it's unconventional, but the dark color makes it easier to see items that might have slipped out of your hands and fallen down, while the padded material helps to prevent those items from bouncing away into the unknown corners of your garage. What I really like about these is that they can be rolled up and packed away for easy storage or to take with you to the track.
Are any of these tools more important than another?
That is really up to you and your mechanical abilities. The cordless impact is handy to have for changing tires, tightening axle nuts and other heavy duty jobs so you may find yourself in need of that more than you would a multi-meter and diagnostic leads. Maybe the machines you work on have some rusty hardware, and a nut and bolt kit will serve you well. In other words, all of these tools can be considered important, but more for one person than another, so you need to figure which is more important to you.
Do I really need a 1/2" impact driver? Can I get away with a smaller, less expensive model?
Sure you can, but know that you may come across some instances where you'll appreciate having more power (insert Tim the Toolman Taylor grunt). The stronger tool may require a little more attention and finesse on your part with smaller fasteners, but you'll appreciate it when the larger stubborn nuts and bolts.
Additional Resources
Recent Updates
12/28/2021: Updated product links, ranked product, updated product descriptions, added new product (atv bolt kit and padded workout mat), added additional resources, added faq.
Become an ATV insider. Get the latest news first by subscribing to our newsletter here.
We are committed to finding, researching, and recommending the best products. We earn commissions from purchases you make using the retail links in our product reviews. Learn more about how this works. Published February 26th, 2020 12:53 PM
Top Brands
Popular Articles