1 View
Best ATV and UTV Products From SEMA 2019
February 23rd, 2021 3:41 PM
Share
We're committed to finding, researching, and recommending the best products. We earn commissions from purchases you make using links in our articles. Learn more here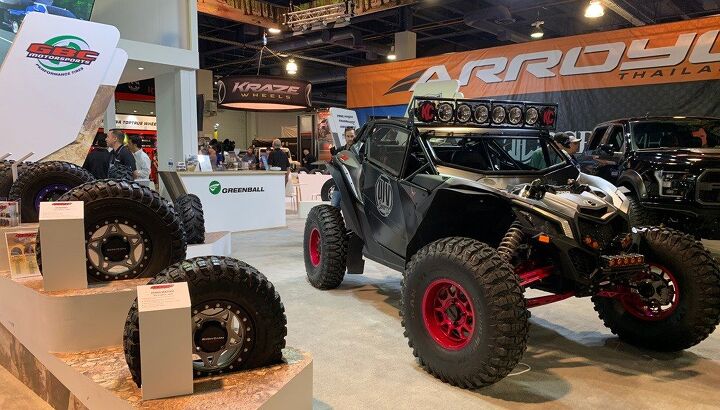 Record number of new powersports products displayed at SEMA
As usual, SEMA 2019 was one for the books with plenty of custom vehicles, new products, and a mass amount of people/exhibitors in attendance. If you haven't been to SEMA before, it's well worth your trip out to Las Vegas to see all of the custom vehicles and the massive amount of new products, which happen to be the latest and greatest innovations on the market. The presence of ATVs and UTVs at SEMA continues to grow every year, too, and the 2019 show featured the largest showing of powersports products to date.
We searched SEMA 2019 for the most innovative ATV & UTV products on the market this year. Here are the top ATV & UTV products from the 2019 SEMA Show.
Rigid New SR-L Series LED Lights
The new SR-L series is made up of several single row LED light bars, along with Spreader lights, which are made to light up a scene. To customize the SR-L series, you can choose from four different colors of backlights. Hidden mounting hardware allows you to mount these lights clean and effectively. The Spreader lights offer a wide range of light to illuminate the side of a truck, trailer, or work area. Prices start at $859.99.
Made out of 300M Chromoly, the SuperATV X300 axles offer extreme durability and are great for those who want to push their UTV driveline to the max. These axles are engineered to twist until the load is gone then return to their original position. This not only relieves driveline stretch, but it also relieves stress on all of the powertrain components. Like many other SuperATV axles, these are built to handle high articulation angles. The complete axle and CV kit comes packed with high-temp grease so you're ready to install and, most importantly, ready to ride!
SSV Works Overhead Weatherproof Audio Solution for Polaris RZR
Enough messing around with wires, individual speakers, and making your own speaker pods. Modern audio systems do all of this for you, and more. SSV Works' latest edition is a ready-to-rock stereo system with an easy install and rugged UV-treated polymer enclosure for the entire system. It bolts to the factory mounting points, and the 4 overhead speakers pump out 200-watts of internal power. Want more power and sound? The system is built with the capability to add more speakers and amplifiers. This was named the best new powersports product at SEMA 2019. Prices start at $749.99.
You have undoubtedly heard of WARN winches and their Made in America products. Their latest winch is called the Axon, and the entire lineup takes capability and durability to the next level. The contactor is now a digital unit, and its integrated into the winch body itself – they renamed it the Motactor. With a digital, integrated design, the Axon gives you the ultimate durability and is waterproof to boot. The Axon is available in many different weight ratings. Essentially the entire winching system is simplified and strengthened in the Axon.
Icon Alloys New UTV Wheels
Icon Alloys is following up its successful lineup of truck and SUV wheel offerings with its first UTV-specific wheel, which we saw at SEMA 2019. Available in a 15" diameter at launch, the UTV Compression Wheel is available in multiple colors, has a true deadlock with a knurled lock ring for the utmost in strength. The wheel uses 10.9 hardware on the ring, and inner mating surface is ribbed for tire retention and proper seal. Prices start at $251.99.
Milwaukee Tool M18 Fuel 1/2" Extension Anvil Controlled Torque Impact Wrench with One-Key
Typically, battery powered torque wrenches are large and heavy. The new Milwaukee M18 impressed us with its compact overall size. Plus, having the extension built in makes it easy to take off lug nuts on deep offset wheels without having spare extensions. With up to 1100 ft-lbs of torque, you can feel comfortable knowing that this tool will be able to take your lugs off to change a tire quickly, and put them back on with plenty of torque to get them tight. Prices start at $549.
Hypertech 4-point Harness Seatbelt – Runner Up for New Product of the Year
Known mostly for its programmers and other digital products, Hypertech is forging a new name for itself in the UTV industry with purpose-built accessories. Hypertech isn't taking the challenge of entering this competitive market lightly, either. Its new 4-point, 2" seat belt harness system won Runner Up in the New Product of the Year challenge at SEMA 2019! An L-shape shoulder and lap belt design reduces hassle of strapping in and exiting. Plus, the shoulder straps have integrated pull-down adjusters, pockets, and padding. Prices start at $125.
Fab Fours Side-by-Side Series Winch-Ready LED Front Bumper – MSRP: $449
Fab Fours is known for its truck and SUV bumpers, parts, and accessories, but it has now launched its first side-by-side bumper for the Polaris RZR lineup. With a bolt on installation, attaching this bumper couldn't be easier. The bumper was made for maximum tire clearance. It is also winch ready, has mounts for a 10" light bar, and it has integrated shackle mounts. Fab Fours made this bumper out of 11-gauge steel, and it is fully welded inside and out for strength and durability. Prices start at $449.
Kleinn Air Horns, Can-Am X3 Air Horn Kit
This air horn system is more than meets the eye, and that is a good thing considering the price… Kleinn has developed an on-board air system that doubles as an air-horn kit. The 150 PSI compressor requires no cutting or drilling to install, same with the air horns. The compressor has a 1-gallon tank and an air hose so you can fill up your tires after a flat on the trail, and the Dual Air Horns in this kit are, in fact, a 152 decibel Model 102-1 air horn. This particular system fits a 2017-2019 Can-Am Maverick X3. Prices start at (gulp!) $1119.95.
Stratos Climate 5" Multi-Fit Under Dash Heater Kit
Many new utility UTVs can come equipped with a heating and/or air conditioning system right from the factory. But, what if you already have a UTV without climate control and you want to add it? Stratos Climate 5" Multi-Fit Under Dash Heater Kit, by TSI Products, could be your cost-effective solution. It includes a universal fit design for many different UTV models. The unit itself has variable fan speed, temperature control, and four adjustable vents for both the driver and passenger. Plus, the kit includes all components to install the system under the dash. Names runner up for new product of the year at SEMA 2019, retail price is $399.
Bubba Rope UTV Recovery Gear Set
Having a recovery gear set with you at all times is essential on the trail. Bubba Rope debuted its latest full Recovery Gear set, which is specific for the UTV market. It includes a Power Stretch recovery rope, two NexGen Gator-Jaw synthetic shackles, and a lightweight mesh duffle bag to keep everything straight. Prices start at $150.
We are committed to finding, researching, and recommending the best products. We earn commissions from purchases you make using the retail links in our product reviews. Learn more about how this works. Published November 13th, 2019 10:12 AM
Top Brands
Popular Articles