40 Views
May 31st, 2021 3:10 PM
Share
We're committed to finding, researching, and recommending the best products. We earn commissions from purchases you make using links in our articles. Learn more here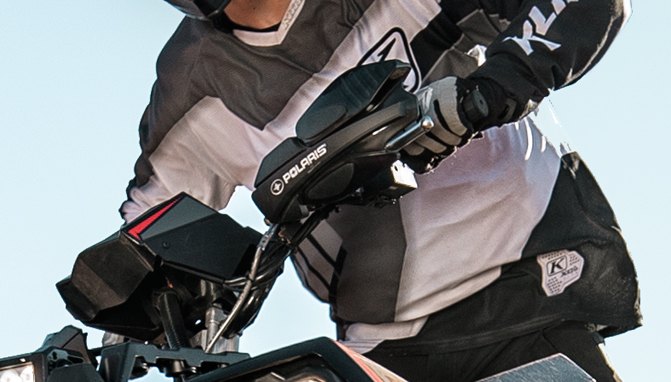 Protect your hands from trail debris with a quality set of handguards
We all try to keep safe and well-protected on the trails, but if you're riding without a pair of ATV handguards installed, you're inviting injury.
Sure, there are plenty of powersports gloves on the market with built-in knuckle guards – hard plastic plates that are designed to deflect and protect your digits from harm. But we're of the opinion that a little bit of redundancy never hurt anybody, and besides, those gloves still leave much of your hand exposed to tree branches, rocks, and flying debris like pebbles. ATV handguards give your hands more complete protection, mounting directly to the handlebars and covering the full surface area of your hands while you ride. Most are made from aluminum or a mix of hard, high-strength plastics, both of which can take a beating before yielding or cracking.
Here, we've rounded up the best ATV handguards on the market today, scouring the internet to bring you the best value, most highly rated handguards out there.
Table of Contents
1. Editor's Choice: Acerbis Uniko ATV Handguards
You can get decent hand protection for very little coin, but if you value quality over all else, there are these: Acerbis Uniko ATV Handguards. Sure, they're a bit pricey, but they look sharp on any ATV and they offer protection for your hands that's virtually unparalleled. They feature a uniquely clever mounting system that relies on a knurled knob which sits within the open end of your hollow handlebar, and expands outward when fastened to grab on tight and provide the utmost mounting security. According to one reviewer, these ATV handguards can even protect your levers in the event that you roll, and with their integrated aluminum bars, they'll keep your mitts protected against plenty besides.
2. Best Customization: PowerMadd Sentinel ATV Handguards
The second entry on our list of the best ATV handguards gives you the most options for personalization of all, bar none: PowerMadd's Sentinel ATV Handguards. These handguards are available in a total of eight different color schemes, from black-on-black to blue-on-white and a number of other options in-between. Not only that, but they're styled to blend right in on most modern ATV models, and they're remarkably sturdy and well-built, with a hard plastic spine for rigidity and a softer, more pliable plastic for flexibility. Like the Polaris ATV handguards listed above, these, too, require a separate mounting kit, but the kit is widely available, well made, and not overly expensive.
3. Best Value: PowerMotor Universal ATV Handguards
About as basic – and as affordable – as you could ask for, these PowerMotor ATV handguards deliver a lot for your money. Featuring a simple, no-frills design that should blend right in with just about any popular ATV model, these handguards are available in six different colors, offering more opportunities for personalization than competing products, and the included mounts work with handlebars measuring either 7/8" or 1 1/8" in diameter. More importantly, they're surprisingly sturdy, with polypropylene plastic construction and an aluminum alloy band spanning the width of each guard. In other words, they offer light weight, durability, and corrosion-resistance all in one package. They're an outstanding value.
4. Kolpin ATV Handguards With Mirrors
They may not be the prettiest ATV handguards on the market, but with integrated sideview mirrors and Kolpin's well-respected name behind them, these guards are well worth a look. Designed to fit most 7/8" handlebars with ease, accommodating most of the mainstream ATV market, these ATV handguards feature convex "fisheye" mirrors that let you see who – or what – is coming up behind you on the trail, along with durable molded polyurethane construction and all the necessary hardware for an easy installation. Kolpin's trademark "Rhino Rib" reinforcement means that they can take a pretty decent hit and still keep your hands protected, and they're perfect for anyone who values all-around visibility as much as they do protection.
5. Polaris ATV Handguards
There are lots of great reasons to go with OEM parts and accessories, from the strict design and manufacturing quality controls, to the customer support and guaranteed fitment with supported models. You can get all that at a fair price with these Polaris ATV handguards. Officially, they fit a wide array of Polaris ATV models, although there's nothing saying they can't be adapted to non-Polaris ATVs – provided, of course, that you're able to find a clever way to mount them. These Polaris ATV handguards are remarkably sturdy and well-built, they look fantastic, and they install quickly and easily onto supported models with the required mounting kit. The only downside? That mounting kit is sold separately.
How Do You Install ATV Handguards?
ATV handguards could hardly be easier to install. Like with all things that mount directly to your handlebars, they typically utilize circular clamps – either supplied with the handguards, or in some cases, sold separately – that tighten down onto your ATV's tubular handlebars and use friction to remain in position.
To install, first fasten one handguard to its respective mount, and fit the clamp over the handlebars, close to the grip. Begin to tighten it down, but not so much that it can't be shifted left/right or up/down. Now, place your hand on the grip, and use your free hand to maneuver the handguard into position; most ATV handguards offer better than full coverage for your mitts, so try and aim to leave your whole hand protected. Once you've found a position you like, taking into account how much space you may need to remove your hand from the grip with your riding gloves equipped, hold the handguard in place and use your free hand to tighten the fastener down the rest of the way.
To install the other handguard, you can repeat the same process, but you may find it easier to get the handguards symmetrical if you simply use a tape measure to measure the distance from the end of the handlebar to the clamp, and use that measurement to find the left/right orientation of the second handguard. To ensure that the pitch is identical, try torquing the clamp fasteners down just enough that the second handguard will stay put if you let go, and viewing the handlebars from the side to check their alignment.
Different handguard mounts will have slightly different designs, but the basic principle is typically the same. And the good news is that, if you take your ATV out for a rip and decide that your ATV handguards are positioned less than perfectly, you can always go back and loosen the clamp fasteners, and try again.
Additional Resources
We are committed to finding, researching, and recommending the best products. We earn commissions from purchases you make using the retail links in our product reviews. Learn more about how this works. Aaron Brzozowski
Aaron is a freelance writer, videographer and car enthusiast based out of the Detroit area. He has a special affinity for the Porsche 944 series, and once owned a Volvo 240 sedan with a Weber carb in place of the factory EFI system. His work has appeared on AutoGuide, GM Authority, /Drive, and VW Vortex, among other sites.
More by Aaron Brzozowski
Published May 31st, 2021 3:10 PM
Top Brands
Popular Articles