160 Views
Best ATV Windshield Options
April 1st, 2021 9:51 AM
Share
We're committed to finding, researching, and recommending the best products. We earn commissions from purchases you make using links in our articles. Learn more here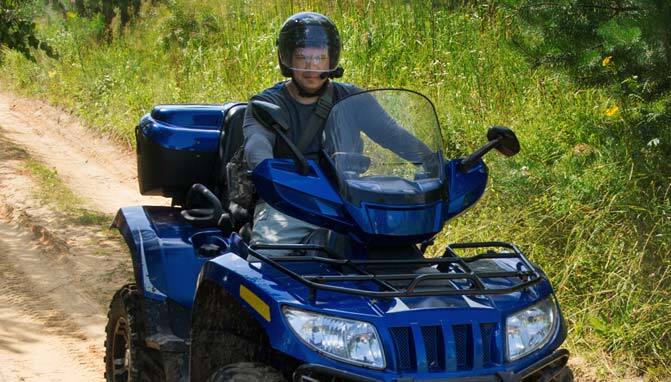 Add some protection from the cold to your ATV
An ATV windshield can be a huge bonus to your riding experience, deflecting dirt, rocks, rain, and other debris so you don't have to suffer through being pelted repeatedly in the face as you blast down the trail. And although the effects would be tough to measure, putting a windshield on your ATV can also help improve its aerodynamics, deflecting some amount of oncoming air around the rider and reducing drag. Sure, that's only going to show up at higher speeds, as a modest bump to fuel economy and top speed, but every little bit counts.
There's still more good news for the ATV windshield shopper: many units on the market are as close to universal, "one size fits all" designs as possible, installing easily on just about every mass-produced ATV out there. That takes a lot of the stress out of shopping for a new ATV windshield because it means that whichever one you settle on, there's a high probability it will fit your ride without much hassle.
Taking even more of the guesswork out of windshield shopping, here, we've rounded up some of the absolute best ATV windshield options on the market today.
1. Editors Choice - PowerMadd Cobra ProTEK Rapid Release Windshield for ATV
A sharp-looking ATV windshield designed specifically with newer ATVs in mind, the PowerMadd Cobra ProTEK Rapid Release Windshield is a smart buy. It mounts directly to your ATV's handlebars, and unlike many competitors' products, there's no need to remove it before loading your ATV up on the trailer for transporting it to or from your property. The windshield is crafted from optical-grade polycarbonate, and it features a Rapid Release system that makes removal and reinstallation a snap. Best of all, it's a near-universal fit; so long as you can see the upswept part of your handlebars from the front of your ATV, this unit will work for your ride.
2. 2. Best OEM Quick Release - Polaris Lock & Ride Tall Windshield
If you ride a Polaris, you have to check out the manufacturer's own Lock & Ride Polaris ATV windshield, which is designed to fit a wide range of Sportsman models from 2008 up. It features a headlight cutout and a sharp, sleek shape that will perfectly compliment your Polaris's design, but by far its greatest attribute – apart from the OE build quality and guaranteed fit – is its Lock & Ride technology, which makes it possible to attach or detach the windshield in just seconds. It's not a "universal" fit like most of the ATV windshield options we've rounded up here, but if you happen to have a compatible model, this may just be the best buy.
3. Best Budget - Black Boar ATV Wraparound Windshield
Looking for something even cheaper? Try this Black Boar ATV windshield on for size. It costs roughly half what many of its competitors cost, but still offers the durable, clear optics of acrylic and copious coverage to protect you against off-road debris. That material choice is notable; acrylic is cheaper and less impact-resistant than polycarbonate, but it's glossier and more scratch-resistant, and it's still around 17 times as impact-resistant as glass. Depending on the conditions where you ride, it might just be the better choice, and it's able to fit the vast majority of ATV models. If there is a downside, it's the mounting hardware; many customers have noted that it feels a tad flimsy.
4. Maier USA Universal ATV Windshield
Flaunting more of a classic, rounded design than the PowerMadd, this universal ATV windshield from Maier USA is no less functional, with a sleek polycarbonate fairing that's ready to protect your hands and face from flying debris on the trail. Granted, there are some drawbacks to this design; the manufacturer suggests removing the windshield any time you're going to be transporting your ATV at speeds greater than 55 mph, and it doesn't come equipped with a quick-release mounting system. Even still, removal and reinstallation are simple enough, and Maier even backs the windshield with a one-year warranty, so you get peace of mind with your purchase.
5. Genuine Honda ATV Windshield
Like Polaris, Honda has its own Honda ATV windshield designs, each one well-engineered and guaranteed to fit certain, specific Honda TRX ATV models. With durable, impact-resistant polycarbonate construction, a clever tool-less clamping system that takes just minutes to install, and Honda's signature logo printed across the lens, this is one ATV windshield that every Honda rider should put on their shortlist. Note that different part numbers cover different Honda ATV models: among the most popular, HRWS-1 is compatible with TRX500 Foreman models from 2005 through 2016, and HRWS-4 covers TRX650 and TRX680 Rincon models from 2003 through 2016.
6. National Cycle Lexan ATV Windshield
Made from durable, impact-resistant Lexan polycarbonate, this National Cycle ATV windshield is every bit as functional and well-made as most of its peers, but for a bit less coin. Featuring black epoxy powder-coated steel mounting components and a headlight cutout to accommodate center-mounted driving lamps, this ATV windshield is compatible with a wide array of Polaris Sportsman and Yamaha Foreman models, and it will readily fit plenty of other ATVs, too, although some customers have noted incompatibility with things like power steering components, gear selectors, and 4x4 selectors. It's best to contact the manufacturer if you have any doubts.
Which ATV Windshield is Right for Me?
Which ATV windshield is right for your ride is largely a matter of preference when it comes to style and construction material. Every windshield on the market is functionally similar, attaching to the handlebars and featuring a general bell shape that provides coverage for both your face and hands, although sizing can vary and not all windshields have a headlight cutout.
Material is a much bigger differentiator, with acrylic and polycarbonate accounting for virtually 100% of the ATV windshields available. Polycarbonate is a stronger, more flexible material, with roughly 250 times the impact resistance of glass, but it's also pricier and not as glossy. Although cheaper and more rigid, acrylic is still somewhere around 17 times as impact-resistant as glass, and much glossier and more scratch-resistant than polycarbonate. Generally, acrylic is regarded as the superior optical material, while polycarbonate is considered structurally superior; if you ride your ATV hard, or it tends to see a lot of hard flying debris, we recommend polycarbonate.
And then, there's the style. Some ATV windshields feature hard, angular lines made to match more modern ATVs with their flashy angular bodywork. Most, however, rock a fairly standard, classic look that's a bit more gently curved. And the level of tint on the windshield material can vary from model to model, too, with some windshields being perfectly transparent, while others have a modest tint or a fade to black toward the handlebars. Which style is right for you is purely a matter of taste.
At the end of the day, above all, try to verify compatibility with your particular ATV before ordering if you can. Few things are quite so annoying as having to ship an incompatible part back to a vendor on your own dime.
We are committed to finding, researching, and recommending the best products. We earn commissions from purchases you make using the retail links in our product reviews. Learn more about how this works. Aaron Brzozowski
Aaron is a freelance writer, videographer and car enthusiast based out of the Detroit area. He has a special affinity for the Porsche 944 series, and once owned a Volvo 240 sedan with a Weber carb in place of the factory EFI system. His work has appeared on AutoGuide, GM Authority, /Drive, and VW Vortex, among other sites.
More by Aaron Brzozowski
Published April 1st, 2021 9:51 AM
Top Brands
Popular Articles