40 Views
Best Kawasaki Teryx Windshield Options
May 6th, 2021 10:12 AM
Share
We're committed to finding, researching, and recommending the best products. We earn commissions from purchases you make using links in our articles. Learn more here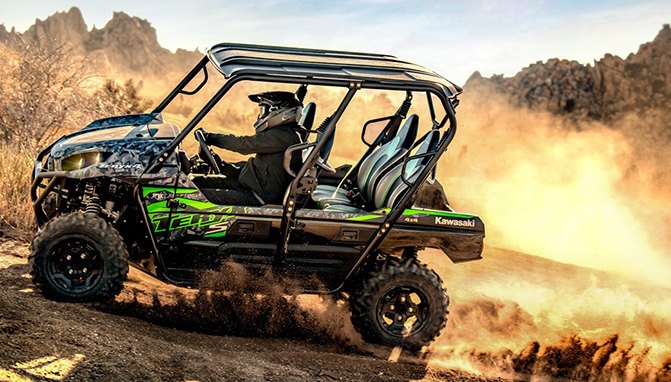 These windshields will give you a break from the wind in your face on your next ride
Providing ample protection against wind, rain, snow, and debris, a Kawasaki Teryx windshield is a worthwhile upgrade for your trusty side-by-side.
Thankfully, there are numerous rugged, well-built Kawasaki Teryx windshield options on the market today, with a variety of half-, full-, and tilting windshield designs from some of the UTV aftermarket's best-known brands. This means that regardless of your specific needs or budget, there's a Teryx windshield out there for you. It doesn't matter if you drive a 2009 or earlier Teryx side-by-side, or a brand-spanking-new model, you won't be left squinting by the breeze when you drive.
Here, we've rounded up the best Kawasaki Teryx windshield options available today, with an eye on quality and overall value, for a range of different Teryx model years. Stick with one of the windshields on this list and you can be sure you're getting a worthy bit of kit for your ride.
1. Best Teryx 800 / 800 4 Full Windshield: SuperATV Kawasaki Teryx Heavy Duty Full Windshield
This is just about the strongest, most durable Kawasaki Teryx 4 windshield you can get, and it comes from one of our favorite aftermarket ATV/UTV parts providers: SuperATV. At a quarter of an inch thick, this is among the thickest UTV windshields you'll find, and it's made from polycarbonate – a material already some 250 times stronger than glass, and around 25 times stronger than acrylic. Here, that polycarbonate is finished with SuperATV's advanced XR Optic Hard Coating for unbeatable scratch-resistance and optical clarity and fitted with a weatherproof seal against the hood. This windshield is compatible with 2016+ Teryx 800 and 4 800 models, and about the only thing it's missing is a fold-down upper windshield pane – a small feature to give up for such a well-built windshield
2. Best 1st Gen Teryx Folding Windshield: UTV Windshields and Accessories Kawasaki Teryx Windshield
The perfect Kawasaki Teryx windshield for drivers of older (2009 and prior) Kawasaki Teryx models shopping on a budget, this full tilting windshield from UTV Windshield and Accessories is a stunningly good deal. Made from 3/16"-thick polycarbonate, this windshield is rated to withstand winds up to 80 miles an hour, so you can leave it installed while you trailer your UTV to or from your property, and it features a weather seal along the bottom edge to keep rain and snow where it belongs: outside of the cockpit. There's a half-windshield version available, with a hinge roughly a third of the way up the windshield so you can flip the upper pane down to provide some cooling airflow on hot summer days, and a half-windshield option at an even lower price. Best of all, both varieties are manufactured right in the USA.
3. Best Teryx KRX 1000 Full Windshield: SuperATV Scratch-Resistant Kawasaki Teryx KRX 1000 Windshield
Have you got a new Kawasaki Teryx KRX 1000 in your arsenal? Then you'll want to check out this Kawasaki Teryx windshield from SuperATV. Purpose-built for the KRX 1000, this windshield is available in at least two different versions, one with a full, fixed pane, and one with a flip-down pane that allows cooling airflow into the cockpit on those warm summer days. No matter which one you get, you're getting a windshield constructed from 1/4"-thick scratch-resistant polycarbonate, manufactured in Madison, Indiana with SuperATV's unmatched reputation for quality. A full-length weather seal along the bottom edge keeps you nice and dry whenever there's a drizzle, and the flip-down version of the windshield even has retaining straps that keep the pane locked down so it doesn't fly up on the trail.
4. Kolpin Kawasaki Teryx Full Tilting Windshield
Providing a perfect, no-drilling fit and install for Kawasaki Teryx models from 2010 through 2013, this full tilting Kawasaki Teryx windshield from Kolpin boasts some serious specs and great features at a fantastic price. The windshield's 1/4"-thick polycarbonate construction makes for a durable, rugged bit of kit that can survive whatever the trail throws at it. A scratch-resistant finish ensures that the windshield won't get cloudy from encounters with brush and tree branches as well. Unlike many other tilting designs, this Kolpin windshield features an upward-swinging upper pane that can be locked into either of two open positions – 3", or 5-1/2" open – or left fully closed for trailering or providing extra protection. In short, it's a Kawasaki Teryx windshield with full coverage and all the best features, at a price point just about any buyer can afford.
5. Clearly Tough Kawasaki Teryx Full Folding Windshield
Clearly Tough's full folding windshield for the Kawasaki Teryx 800 and Teryx 4 800 boasts premium quality at a fair price. It's made from 3/16"-thick polycarbonate, which is naturally strong – up to 250 times stronger than glass – and impact-resistant, but the manufacturer has taken the extra step of coating that polycarbonate with a UV-treated, scratch-resistant hard coat so that it doesn't cloud up as quickly as standard polycarbonate. In fact, Clearly Tough is so confident in the longevity of their windshield that each one is sold with a five-year material warranty. Designed for Teryx models from 2016 and up, this windshield also features a sealing weather strip along the bottom edge for a water-tight fit, and a hinge that allows the top portion to be folded down for more airflow.
Which Type of Windshield Is Right For Me?
There are three basic types of Kawasaki Teryx windshield available on the market today: full (fixed), half, and tilting or "flip" windshields. Each one has its benefits and drawbacks and choosing the right type for your ride can get complicated.
A full windshield will, of course, provide you with the most protection from the wind, helping keep you warm on colder days more effectively than a half-windshield. It also provides the best protection from debris like rocks, twigs, mud, and sand. But with that extra protection comes a considerable liability: on days that are rainy or muddy, the windshield can quickly become difficult to see through, and without a wiper to clear it off, you may have to stop your driving periodically to clear the windshield by hand. With a half-windshield, you can easily see over the top of the pane, leaving your vision unobstructed.
What's more, every polycarbonate or acrylic windshield, no matter how high-quality, develops micro scratches that cause the windshield to "cloud" over time. On overcast days or at night, that's not as much of an issue, but on especially sunny days, a clouded windshield can be dangerous as the sunlight refracts through those countless tiny abrasions. Here too, the half-windshield has the advantage because it's easier to see over.
And then, there's the best of both worlds: the tilting or "flip" windshield. These windshields come equipped with two individual panes, connected by a hinge that allows you to either drop one of the panes flat, or flip it up out of the way, effectively giving you a half-windshield when you want it, and a full windshield when you don't. Of course, the big drawback here – besides the potential for more annoying rattle, depending on the windshield's build quality – is the cost. Tilting windshields typically cost significantly more than either fixed- or half-windshield options.
But as a rule, if you can afford a good, well-built tilting windshield with positive customer reviews, that's the best all-around option. If you can't, whether to go for a full- or half-windshield will come down primarily to where you drive, and what time of year. If you find that your Kawasaki Teryx spends the bulk of its life splattered in mud, you might be better off with a half-windshield.
Additional Resources
We are committed to finding, researching, and recommending the best products. We earn commissions from purchases you make using the retail links in our product reviews. Learn more about how this works. Aaron Brzozowski
Aaron is a freelance writer, videographer and car enthusiast based out of the Detroit area. He has a special affinity for the Porsche 944 series, and once owned a Volvo 240 sedan with a Weber carb in place of the factory EFI system. His work has appeared on AutoGuide, GM Authority, /Drive, and VW Vortex, among other sites.
More by Aaron Brzozowski
Published May 5th, 2021 3:50 PM
Top Brands
Popular Articles