9 Views
Five Gift Ideas for the UTV Driver
November 8th, 2017 3:48 PM
Share
We're committed to finding, researching, and recommending the best products. We earn commissions from purchases you make using links in our articles. Learn more here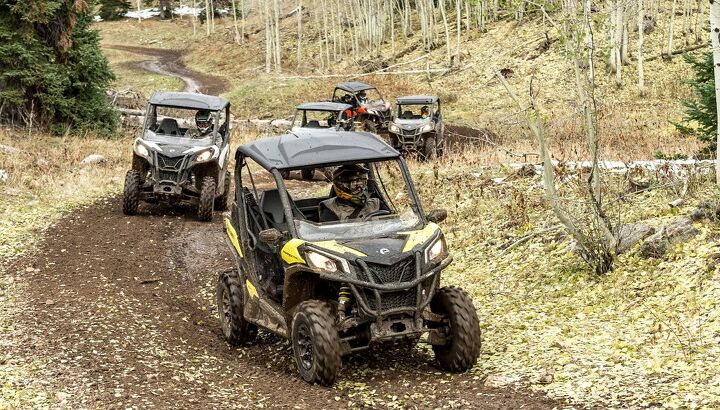 With the holiday season on the horizon and Black Friday around the corner, we've come up with a list of gift ideas for the UTV driver in your life.
For the past few days, my email has been flooded with lists of gift ideas from just about every hobby and pastime I've ever been interested in. I didn't really see too much that caught my eye. Then my wife asked me to make her a list of things I wanted. As I sat and contemplated what I wanted, and what I knew she'd be agreeable too, I thought I might as well share it with everyone. It might spark some ideas for you for this holiday season. And if you want to get me something from this list, well I wouldn't complain. So here are some gift ideas for the UTV driver in your life.
Mixed Nuts
Ever get those holiday mixed nuts assortments as a gift? They usually came from someone who was the bare definition of a casual acquaintance. I always had to fight people off to get the cashews, too. There's a different and much better kind of nut assortment you can put on your list of gift ideas for your favorite UTV driver – a metric bolt assortment. There is nothing more frustrating when working on your machine than losing the bolt you need to finish the task. It will mean a lot to someone to get them the assortment of metric bolts. I know I'd sure appreciate it!
Click here for more information.
Hoodie
Just like sports fans who want to wear something with the logo of their team on it, UTV drivers and off-road junkies like to sport off-road legit logos on their clothing. And since it is winter, it's hoodie season. When I was a kid, Fox Racing was "the stuff." I wore head-to-toe Fox gear and had shirts, hats, etc. Even my wallet was Fox. I still think it's pretty cool. Just sayin'.
Click here for more information.
Yeti Rambler
You know, they put cup holders in UTVs for a reason. Might as well fill it with something cool. Get that special someone on your list a Yeti Rambler. I have several and will likely get more. They take a beating, keep your stuff cold or hot, and now they have a Mag-Slider lid that lets you close it off so dirt and stuff doesn't get into your drink. And they fit well in that cup holder too. Take it from me!
Click here for more information.
Spot!
My cousin is a crazy dude. When he goes out, he goes all out and into some of the most remote places he can find. Then he got married. She didn't mind him going on these types of adventures, at least at first. Then he got into a tough spot that caused her to be quite concerned. Now he carries a Spot! GPS Tracker. It is a great peace of mind thing for you and the person waiting back at home and the perfect item to put on your list of gift ideas. It communicates via satellites so you can get a signal out when phones are useless. It's a great gift that says you care about someone.
Click here for more information.
New Whip
A new UTV is the gift that keeps on giving. I'm going out on a limb here – a big limb. My wife just said she knows what she wants to get me for Christmas. It's something I've said I really want, and she says it's really expensive and is actually something we'd both enjoy. It has to be a new Side-by-Side, right? I mean, what else could it be? Besides, she hears me talking about them all the time. There are so many sweet new UTVs out there and there's a ton of incentive to buy right now. Great financing rates and big sales make the Holidays a perfect time to buy a new UTV, and I'm betting your dealership would even throw in a big red bow on the ROPS. I know mine would. In fact, I think I'll take my wife there this weekend, just to see if she gets the hint. Derrek Sigler
Derrek's love for all things ATV started when he was a mere 11 years old, growing up on his family farm. His mom gave him and his sister a choice - get a horse, or a three-wheeler. The sister wanted the horse, and Derrek wanted the ATV. Luckily he won out, and was soon burning up the trails on a Yamaha Tri-Moto 200. By the time he was 14, he had saved enough of his own money by working on the farm and in his folks restaurant to buy a new 4-wheeler. That happened the day he and his mom were driving past the dealership and saw 1987 Banshee. His mom had no idea what he was buying, and he never looked back. He's been riding ever since, and been writing professionally for many years. He has ridden all over North America and been behind the controls of just about every machine out there. And yes, he still has his 1987 Yamaha Banshee.
More by Derrek Sigler
Published November 8th, 2017 3:48 PM
Top Brands
Popular Articles