1 View
Five Gifts For Your ATV-Loving Significant Other
February 14th, 2018 4:21 PM
Share
We're committed to finding, researching, and recommending the best products. We earn commissions from purchases you make using links in our articles. Learn more here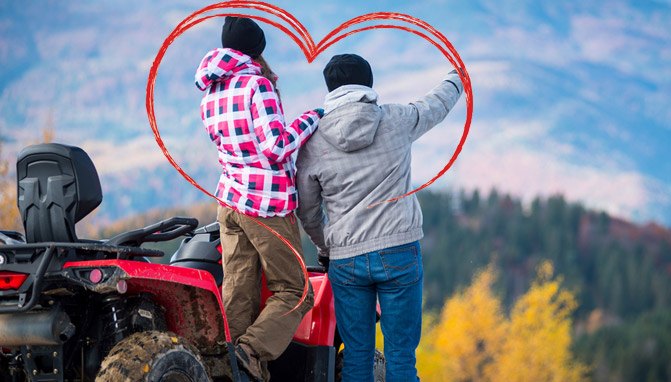 With Valentine's Day here, we thought we'd share some gift ideas for the ATV-loving women in your life.
Guys, since we're staring at Valentine's Day on the calendar, it got me to thinking that when we're thinking of riding, we should also be thinking of the significant others in our lives that let us. Yeah, it's time to discuss the wives and girlfriends that support our hobbies and lifestyles. Of course, Valentine's Day is just one day, and we all spend way more than that riding, wrenching and bench racing. So, to keep you in her good graces year round, here are some suggestions for gifts that you can get at any time that will keep the two of you riding down the trail of happiness.
Flowers
Go ahead and laugh, but flowers truly can save you more times than not. You can get some sweet deals on flowers on Amazon and bail yourself out of hot water for buying yourself a new helmet, or an exhaust kit for your ride. Nothing like two dozen roses to say, "I'm sorry I spent all weekend riding the dunes with my buddies, honey." Pair those flowers with some chocolate-covered strawberries if you really screwed up, like the time I bought a complete new set of plastics for my Banshee and "forgot" to ask my wife if it was ok first. The shipping was fast, too. I only had to spend one night in the garage.
Helmet
If you don't already have a helmet for her, well, you may be paying for that decision by now. If your significant other likes to ride, but doesn't have a stylish helmet that she really likes, it's time to change all that. Get your girl a cool new skid lid that she'll be happy and proud to wear. A helmet also says that you care about her well-being and want her to be completely safe when you're on the trail. If that isn't enough to convince you, I have a buddy who said once that he always got his wife a nice full-face helmet because it helped to keep him from hearing her "yappin'" when they were riding. Yeah, he's single now, but…
Phone Case
If your spouse is anything like my wife, then she's on her phone quite a bit. My wife checks for work emails, manages our school PTA and much more from her phone. She also has a mild FarmVille addiction, but I'm not supposed to talk about that. Get your wife a good phone case if she goes riding with you, as it'll help in case the phone gets dropped or if the trails are dusty. Phones cost quite a bit, so protect it. Plus, you can get some designs that she'll love. My wife loves her Otterbox cases I've gotten her over the years. As an added bonus, it'll help protect the phone is case she gets mad at you and chucks her phone at your head. I have a feeling if my wife sees that Farmville comment, she might do just that.
Gloves
Gloves are always a good gift idea. They say that you care about her hands and her safety. Getting her own pair of Mechanix goves tells your spouse that she's welcome to come help you work on the machine, and you want her hands to stay as soft and gently as ever. Ok, so when I bought my wife her pair, she might have said something along the lines of how now I expected her to help out more, or something along those lines. I think she was smiling when she said it. All I know is that she wears them and appreciates having her hands protected.
Dress
Did you know that Fox Racing also makes things like little black dresses and stuff? Yeah, I was pleasantly surprised too. So now you can buy your wife a nice dress to wear when you take her out for a night of dining, dancing and drinking, and at the same time, know that she's wearing something with roots in off-road and motocross. And the best part is, they're not that expensive, so you won't have to feel bad about spending the money on a dress instead of something like tires, or a new exhaust system. The important thing here is to have a plan in place before you give her the dress. Have dinner reservations made. Have the babysitter lined up if you need one. Wash the grease out from under your fingernails and shave and stuff. Seriously, I can't help you out much more than this. Derrek Sigler
Derrek's love for all things ATV started when he was a mere 11 years old, growing up on his family farm. His mom gave him and his sister a choice - get a horse, or a three-wheeler. The sister wanted the horse, and Derrek wanted the ATV. Luckily he won out, and was soon burning up the trails on a Yamaha Tri-Moto 200. By the time he was 14, he had saved enough of his own money by working on the farm and in his folks restaurant to buy a new 4-wheeler. That happened the day he and his mom were driving past the dealership and saw 1987 Banshee. His mom had no idea what he was buying, and he never looked back. He's been riding ever since, and been writing professionally for many years. He has ridden all over North America and been behind the controls of just about every machine out there. And yes, he still has his 1987 Yamaha Banshee.
More by Derrek Sigler
Published February 14th, 2018 3:16 PM
Top Brands
Popular Articles