5 Views
Moose Utility Division Light Bars Are Sleek, Simple, And Ready To Shine
June 1st, 2022 9:40 AM
Share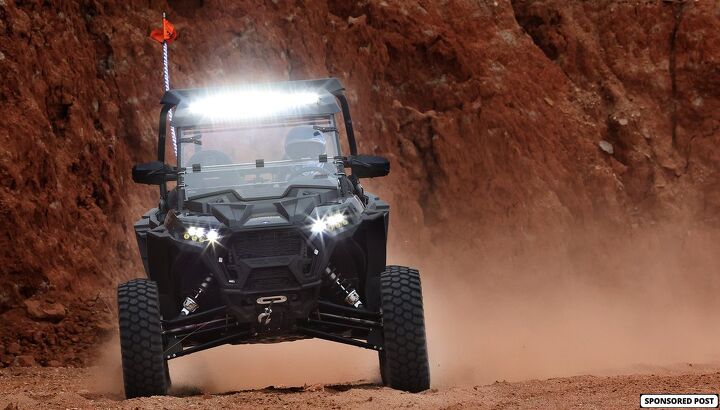 See better and ride longer with a quality light bar from Moose
You'd be hard-pressed to overstate the importance of good visibility on the trail. It's the reason why goggles with tear-offs remain so popular among ATV enthusiasts, and why side mirrors are one of our most-recommended UTV accessories. And if you've ever found yourself still making your way down the trail come sundown, you probably know firsthand that nighttime visibility can be a real issue with your ride's factory lighting alone. The right auxiliary lighting kit can make or break your journey home through the dusk.
Enter Moose Utility Division – or "MUD". As a leading manufacturer of ATV and UTV parts serving the hunter, rancher, and powersports enthusiast, MUD knows full well what constitutes a durable, reliable, trail-worthy product: tough design and construction; dust- and water-resistant enclosures; and an intuitive user experience. You'll find all of that in the company's Single-Row LED Light Bar product line.
LED pod lights remain a popular auxiliary lighting option for ATVs and UTVs, but if you really want the best all-in-one solution, the LED light bar is king. Light bars offer more light output, a better price-per-lumen ratio, and most often, a combination spot/flood beam pattern that covers all your auxiliary lighting needs in a single package. Moose Utility Division Single-Row LED Light Bars deliver all of the above, in packages ranging from 8" to 42" in length, with anywhere from 3,050 to 21,150 lumens of output, ensuring that no matter what you ride or drive, somewhere in the lineup is the perfect light bar for you.
Common to all of Moose Utility Division's light bars is an IP67-rated extruded aluminum housing with a "military-style" breather to help combat moisture buildup inside the unit, automotive-grade epoxy sealing to stop water in its tracks, and a scratch- and impact-resistant, tough-as-nails polycarbonate lens with magnifying optics. The housing's IP67 rating refers to its resilience in the presence of heavy dust and water. We'll spare you the engineering lecture, but basically, what you need to know is that MUD's LED light bars are effectively dust-tight and highly water-resistant, being able to withstand being submerged in up to a meter of water for half an hour without faltering – not that we recommend trying it. As a rule, you should probably try to spend as little time at the bottom of the pond as possible in your side-by-side.
All of these light bars are driven by the same excellent LED chips, too: 5-Watt CREE LEDs with a piercing bright white 6,000K color temperature and a life expectancy in excess of 50,000 hours. That's equivalent to six years of continuous, non-stop runtime, if you were wondering. They're arranged to provide an 80/20 combination spot/flood pattern, which bears the benefit of both adequately lighting up the trail directly ahead of your vehicle, while also casting some light off to either side so you can clearly see any potential hazards in your periphery.
MUD 8-inch Light Bar
For your average ATV, MUD's 8" and 12" Single-Row LED Light Bars are ideal packages. The 8" version puts out a whopping 3,050 lumens of light, which in most cases is more than enough to adequately illuminate the trail, and it draws just 2.2 Amps, taking it easy on the vehicle's electrical system. And being so compact, with just six LED chips arranged in a single row, any weight or aerodynamic penalties are negligible. Of course, it has its limitations, and the 12" version might be better suited for faster, higher-powered machines where seeing further is critical, or for riders who have impaired low-light vision. It's rated for 5,350 lumens from 10 LEDs, drawing a total of 3.7 Amps, and the price difference between it and the 8" model is so small it barely warrants considering.
The bigger the vehicle, the wider the light bar it can fit – and the more light is required to safely negotiate the trail. Better suited to side-by-sides, MUD's LED light bars are also available in lengths of 22", 32", and 42". By the time you get to 22", the single-row light bar is putting out 10,400 lumens from 20 LEDs, drawing 7.4 Amps of current. Step up to the 32", and light output swells to 15,250 lumens from 30 LEDs, with an 11.1-Amp current draw.
The big daddy of them all, the Moose Utility Division 42" Single-Row LED Light Bar, casts a staggering 21,150 lumens of light onto the trail, summoning the collective output of 40 LEDs. To put that in perspective, that's about 26 times as bright as your standard 60-Watt household light bulb, all being cast directly off the snout of your UTV so you can safely navigate the trail after sundown. Needless to say, it's the most expensive and power-hungry of the bunch, but it's still a very fair value, and LEDs are several times more efficient than their incandescent forebears, giving this light bar a not-unreasonable current draw of 14.8 Amps.
If you're ready to unlock better nighttime visibility on the trail so you can keep hunting, keep working, and keep playing longer, check out Moose Utility Division's full line of Single-Row LED Light Bars now.
Visit MooseUtilities.com for more information.
Published June 1st, 2022 9:22 AM
Top Brands
Popular Articles