1 View
MotorFist Pilot Jacket and Pant Review
August 9th, 2018 3:20 PM
Share
Fast Facts
MSRP (Pant/Jacket): $139.99 each
Sizes (Pant/Jacket): 31-42/XXS - 3X
Colors: Brow and Charcoal
Material: 100% Polyester Rip-Stop Chassis
Features: Zippered ankle/wrist closures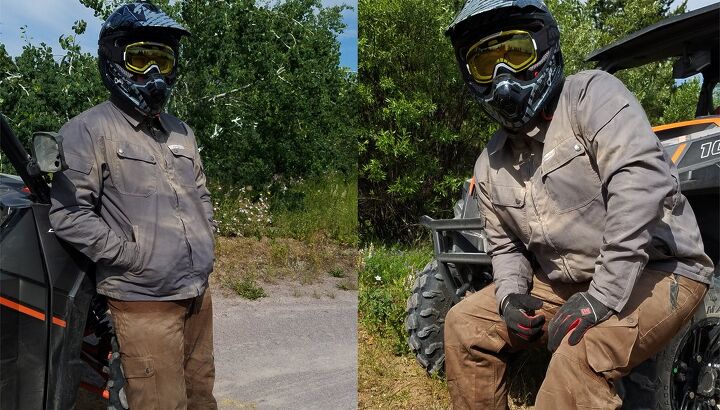 MotorFist is new to the ATV and UTV gear market and we had a chance to test out the new MotorFist Pilot jacket and pant to see how they held up to our abuse.
Snowmobile clothing know-how makes ATV and UTV clothing know-how. We know firsthand, when we explore the backcountry in the winter for sister publication Snowmobile.com, MotorFist is one clothing brand we trust when we fulfill our winter assignments.
Snowmobiling is a fairly-clean sport, cold, more often than not, but clean. ATV and UTV riding is a dirty sport, and hot, more often than not. This past April when we switched gears from Snowmobile.com to ATV.com, we returned to MotorFist, an Idaho Falls, Idaho company, its loaner snowmobile clothing. While doing so, media relations manager, Shona Haldane, asked if we wanted to sample their new Pilot outerwear for ATV and UTV use. "Well ya."
Before our ATV.com assignments began filling our weekends, and prior to our receiving a 2017 Polaris General Deluxe, our MotorFist Pilot jacket and pant became our outwear of choice when we lit the fire on our 2003 100th Anniversary Harley Davidson Heritage Classis. We know the Pilot jacket and pant are not biker club leathers, but as warm, functional and awesome looking the Pilot jacket and pant are, we did not give a hoot what others thought; we still received that Harley wave from other biker dudes as we passed them by. What are we saying here, the Pilot jacket and pant are excellent products for chilly-morning motorcycle riding.
What did we use the MotorFist Pilot jacket and pant for? That's right, Harley cruising on cold mornings and UTV riding in the high country. The Pilot products are functional for both.
The MotorFist Pilot jacket and pant come in two colors, a root beer brown and charcoal gray. We chose to be different and set on a brown pant and gray jacket. The Pilot jacket has a 100% polyester rip-stop chassis with a mesh liner, which aids in cooling. Also to keep the wearer cool, it has a ventilated upper back. To load and lock your stash, it has two hand pockets, two chest pockets, two bicep pockets and an internal cell phone pocket. For dust control, the Pilot jacket as a Kiss Welt front zipper with internal flap and zippered cuff closures.
MotoFist's Pilot jacket and pant, here in charcoal gray and root beer brown, were two UTV products we grew fond of. Their rugged chassis and generous pockets were appreciated.
The MotorFist Pilot pant, like the jacket, is a 100% polyester rip-stop chassis, and too has a mesh liner. For comfort and protection, it has a gusseted crotch and dual-layer fabric reinforcement at the knees and seat area. To ensure the pant fits snug, but not too tight, it has an expanding elastic waist with two adjusters. The pant has seven pockets, two up front, two at the back end, one on each thigh – cargo pockets – and a knife pocket with an internal leather reinforcement. To keep dust and dirt from migrating in, the Pilot pant has zippered ankle cuff enclosures.
After a 30-minute chase, dust and dirt like to find their human magnet; the Pilot jacket and pant breaks that bond.
From our use, the Pilot pant and jacket are excellent products. When wearing these on warm days, wear the Pilot pant as you would a normal pair of pants. For the Pilot jacket, though it is breathable, wear an inner-layer shirt that is breathable and wicks moisture off and away from your body. Just as choosing the proper inner-wear to manage body temperature and sweat for backcountry snowmobiling, managing it during the summer is as crucial.
When following other UTVs on a dusty trail, cinching down the MotorFist Pilot pant and jacket at the cuffs – arm and legs – and closing down the jacket's neck area, are sure ways to keep dust from piling on top your regular clothes. From reviewing MotorFist's other products, we recommend adding to the Pilot jacket and pant, MotorFist's Next 2 Skin shirt and pant.
UTV riding takes some forethought. With the MotorFist Pilot jacket and pant, this driver also wore a MotorFist helmet and goggle. This whole package worked well.
Dust management goes to wearing a well-designed helmet with matching goggle that secures the opening. For us, we relied on MotorFist's own. We also learned that wrapping our neck with a breathable scarf or bandana, and pulling the Pilot jacket's zipper to a full stop also prevented dirt from migrating down to our torso.
This was a fantastic year at ATV.com where we tested UTV (side-by-side) outerwear, and so far, we are pleased with 2017's products. Many on the outside, looking into the UTV world, see UTVs as a new-style convertible car that traverses sand, rock and dirt. That is partially true – partially. Serious UTV and ATV off-roaders leave home clean and return home a dirt clod with arms and legs. Snowmobiling may be cold, but playing on the dusty trails outside Mackay, Idaho is one dirty job; we take cold and clean over hot and dusty. But, MotorFist with its well-designed and rugged Pilot pant and jacket, cleans up UTV riding, and makes off-roading much more inviting, for those that know and for those who do not know.
Get MotorFist Pilot Jacket and Pant Here
Go to www.motorfist.com and click on its Offroad banner.
Note from ATV.com Editor-in-Chief Lucas Cooney:
I also had a chance to test out the MotorFist Pilot jacket and it has made the rounds on various ATVs, UTVs and even my bicycle commute into work.
I've been pleasantly surprised how good the jacket is at keeping my temperature regulated, so I don't get too sweaty when I'm working hard. I wouldn't call it fully breathable, but it does a very good job of not locking in body heat when I'm climbing a hill on my bike.
An added bonus for me is that it also makes for a passable casual jacket. Since the colors are neutral and there are no crazy graphics, I had no trouble putting this jacket on and going about my day in the city…so long as I brushed off the trail dust first.
Published September 25th, 2017 1:31 PM