1 View
Top 10 Products From 2016 High Lifter Mud Nationals
May 5th, 2016 1:11 PM
Share
We're committed to finding, researching, and recommending the best products. We earn commissions from purchases you make using links in our articles. Learn more here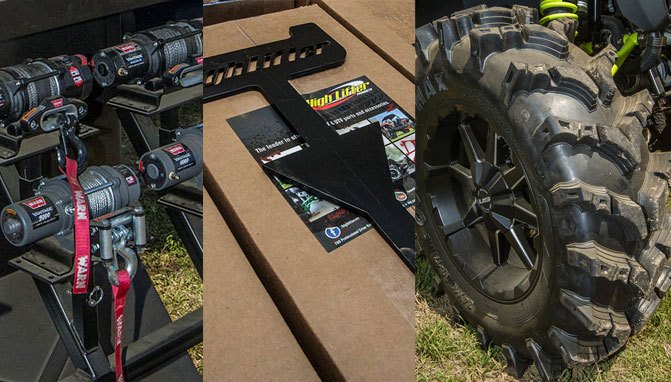 Products any mud-rider can appreciate
Over the many years we have visited the High Lifter Mud Nationals, the aftermarket has been out in full force with many products for purchase. What you will most likely find is repair parts and people to repair them. We have compiled some of the usual products from this event with a couple that fit in a weird way, but fit nonetheless.
Some of these are just plain simple ideas that someone developed in a garage, but have a huge impact on the way the typical HLMN event goer enjoys their time here. So take a second to dig through our photos and see just what you may have missed
This Might Get Loud
When you're out on the trail and you just want to stop and take a break then you must have some tunes to rock out with. It's very common to see many UTVs and ATVs rolling with extensive and expensive stereos. Audio Formz, along with MB Quart, had the customers covered with massive systems as long as their pockets were full of gold!
Flat Prevention
The last thing you need when riding with your friends is a flat tire. High Lifter Products knows this and the fix it suggests is its own brand of lifetime tire sealant. I cannot tell you how many times I have watched Dan Doughty, High Lifter product genius, puncture that display tire filled with this stuff only to have it seal up without any noticeable loss of air in seconds.
Winches
Many HLMN event attendees will rush out into the vast acreage at Mud Creek Off Road Park and get stuck before they even know how they got there. If you do not have a friend with a winch then you will need one of your own. WARN always attends the High Lifter Mud Nationals and with its products you can stay on the move in the deepest mud. It may be a slow move, but you can get out of what you get into.
Mud Tires
Would you take your street car, with street tires, to a mud bog? Well obviously not and if you need mud tires you can find them at the HLMN. STI brought out this massive 34-inch tire on a 17-inch rim and called it the Outback Max! Super digging treads for that really nasty mud hole.
Engine Parts
It has come to someone's attention that blowing up your motor in the thick sticky mire is relatively common, so companies like Millennium Technologies come to the rescue. If you need replacement engine parts or need that big inline Twin Prostar rebuilt, these guys are here for you.
Cooler Tie Down Straps
If you visit the ATV Mud Nationals at any point, I dare you to sit and try to count the number of coolers roaming around in the back of Side-by-Sides and on the rear racks of ATVs. I also think you will see many of those coolers flipping out of the same vehicle unless they are tied in properly. This young man named Jason Carnes has the solution to that with his Cooler Commander straps.
Waders
Isn't it ironic that people from all over the world come to the High Lifter Mud Nationals and plan on staying clean? Well its true and with a good pair of waders you can do just that. These are affectionately called Gator Waders, but I'm sure they are not gator proof. They will keep the mud and water off of you, though.
Mud Removal
How many times have you walked into the house with your muddy boots on only to be greeted by mom or the wifey with a broom handle to the rumpus? Well if you mud ride a lot or plan on keeping the east Texas mud out of your camper, then you need one of these really cool boot scrapers stabbed up in the ground outside the door.
LED Lights
The riding at High Lifters Mud Nationals does not end when the sun sets. In most cases it is just starting. If you ride at night with your friends then you need a good lighting system like the ones offered by Gorilla Axle. The LED light craze is in full swing and getting the brightest most reliable lights is a must for hard core night riders.
Jewelry?
Now for our final product we want to help those who come to the High Lifter Mud Nationals looking for love. If you come to this annual event looking for a weekend wife or husband, then you have to get him or her a ring. This guy has you covered with custom signature spinner rings. If you're smart you can have two different girls or guys names engraved on the ring and just spin it to the desired name…. just a thought.
Axles
I did have an honorable mention here and it might be one of the more serious products to have on hand when riding the muddy stuff. The axle transfers all of that incredible power out to the wheel and takes a lot of abuse, so Moto-Master comes to the rescue for those who have no talent at finessing the throttle.
Mud Nationals Gear
You cannot come all the way to Jacksonville, Texas for the largest mud riding event of the year without getting an event T-shirt. This year's shirt was possibly the best I have ever seen and I wear mine proudly even in the mountains of North Georgia! Published April 26th, 2016 4:27 PM
Top Brands
Popular Articles