1 View
10 Jaw Dropping UTVs From 2016 High Lifter Mud Nationals
June 3rd, 2016 2:33 PM
Share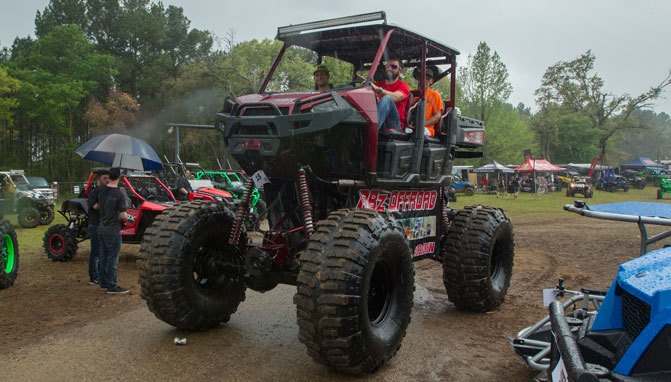 Lift kits galore on these mud-conquering machines
Each year incredible feats of off-road engineering can be found turning heads at the High Lifter Mud Nationals. Getting ideas from a designer's mind and into a running and very functional machine is a feat in itself, but the result can be pure sweetness for the eyes. It wasn't long after entering the gates of Mud Creek Off-Road park that we were able to find something fascinating and as the week rolled on there were plenty more machines to drool over. Here are 10 of our favorites from this year.
Hayabusa Powered RZR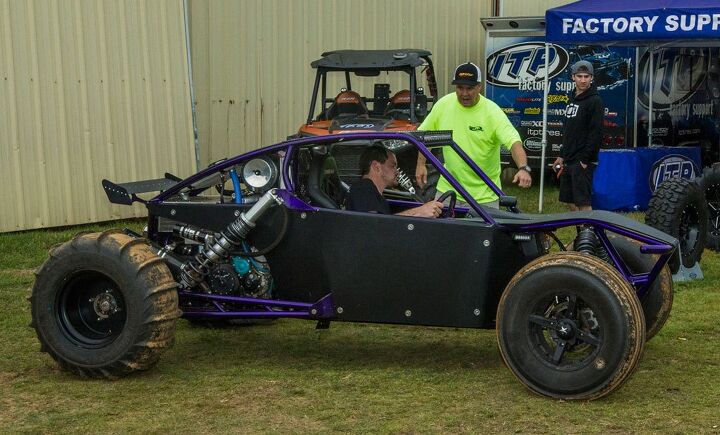 Our very first vehicle just happened to belong to a High Lifter Mud Nationals regular who had hired out the shoehorning of this 1300cc Hayabusa engine into a fully custom frame. The fact that the suspension, for the most part, of a Polaris RZR was used to get the rough spots out of the trails gives it just a little more creativeness. This beast is set up for and headed to the dunes, but stopped by the 2016 High Lifter Mud Nationals to try and win a spot in the Show and Shine competition.
Super ATV Prowler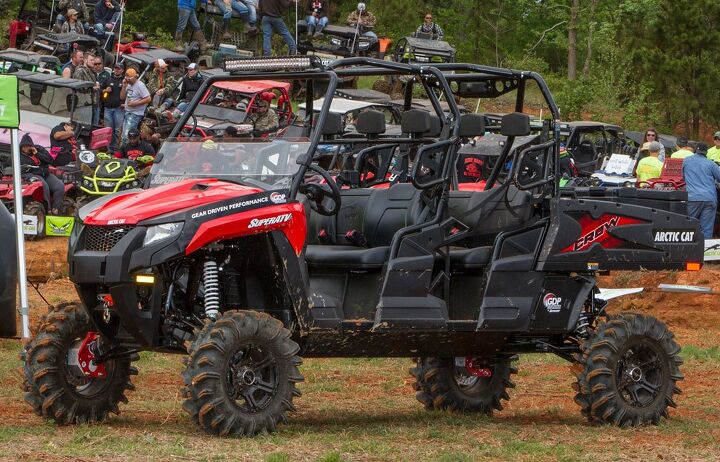 Arctic Cat has always been a name in the High Lifter Mud National event coverage. For this year's event it decided to grab everyone's attention with a fully custom rig. This Arctic Cat Prowler Crew has a gear lift and mud-spewing tires that should make it easy to get around the wet Texas Landscape. We have to admit that this is a great looking rig!
High Revving RZR 170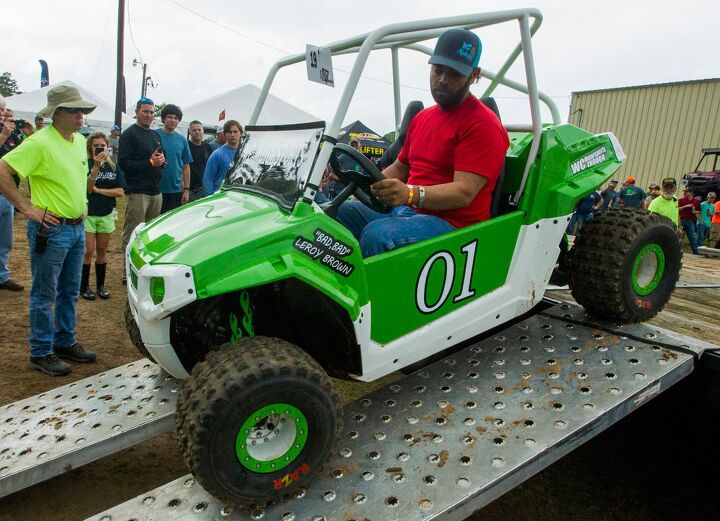 The mighty Polaris RZR 170 is a fun vehicle for the children that are old enough to occupy the cab. But sometimes the kids are bigger than normal and this little monster has had a streetbike engine transplant hiding inside the fenders. This Ninja ZX600 engine roared and I cannot imagine what it was like to drop the gas foot on the floorboard.
SpeedWerx Wildcat Build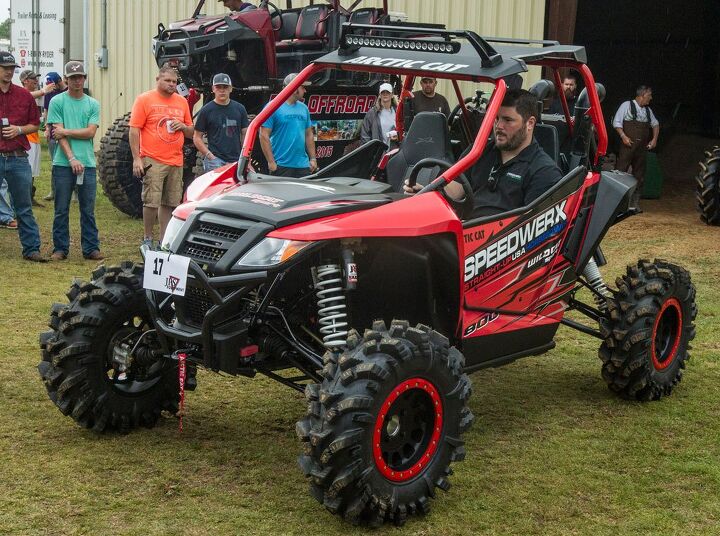 It seemed that transplanting available engines was this year's theme. This really Wild Cat gave everyone the treat of that distinct two-stroke ping and blistered the tires with just a bump on the go pedal. This SpeedWerx creation caught everyone by surprise as it idled through the park and wouldn't it be really cool if Arctic Cat decided it needed to go into production?
High Lifter Dirt Track RZR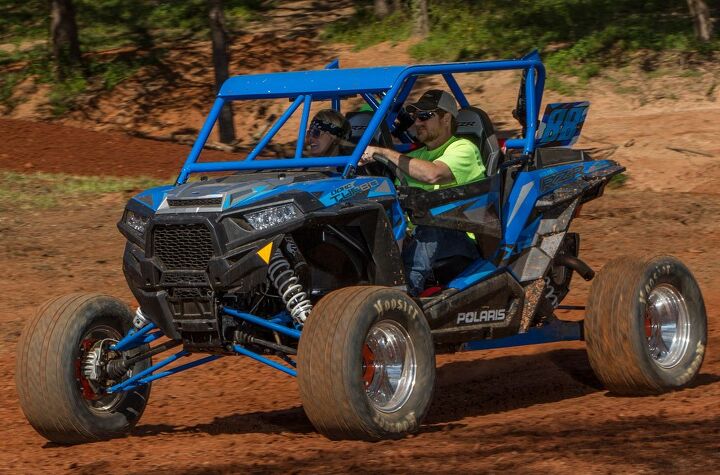 Having spent over three years of my life wrenching old dirt cars on Saturday nights it was exciting to learn that High Lifter's own Jesse Johnson and Brian Haughton had started racing their RZRs at a dirt track in Shreveport, La. This beautiful blue RZR belonging to Jesse was also used to lead the UTV racers around High Lifter's UTV MX track.
RBZ OFFROAD Monstrous Ranger Crew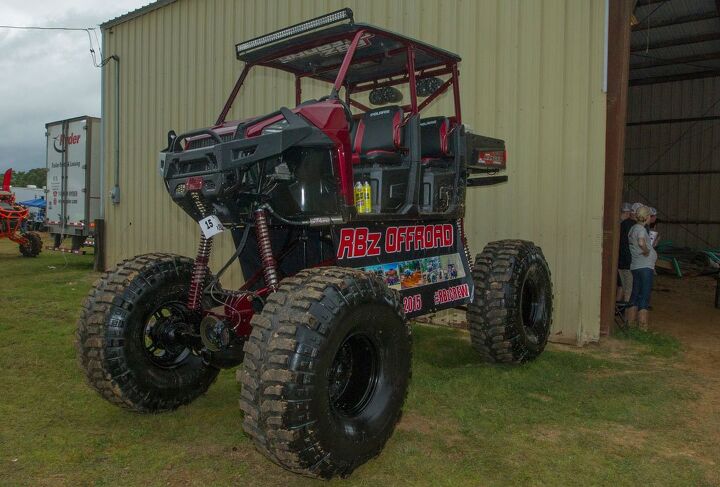 There is nothing like staring up into the cab of a monster Polaris Ranger Crew. This build by RBZ OFFROAD stood out not only for its height, but the deep red paint also attracted eyes to enjoy. These projects are popular, but I'd think you might need a big bank account to afford it.
S3 Custom Defender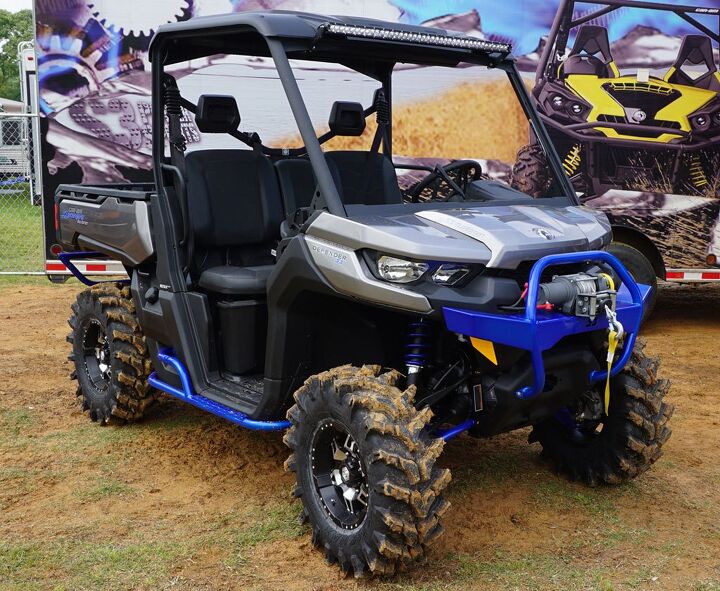 The Can-Am Defender has been well received and it was this S3 Custom rig that stopped me in my tracks. The beautiful silver and blue Defender is actually sporting products that can be found in the Can-Am accessory catalog and have been specially engineered by S3. The STI Outback Max tires look like they could remove soil quickly.
Triple Threat Customs Platinum RZR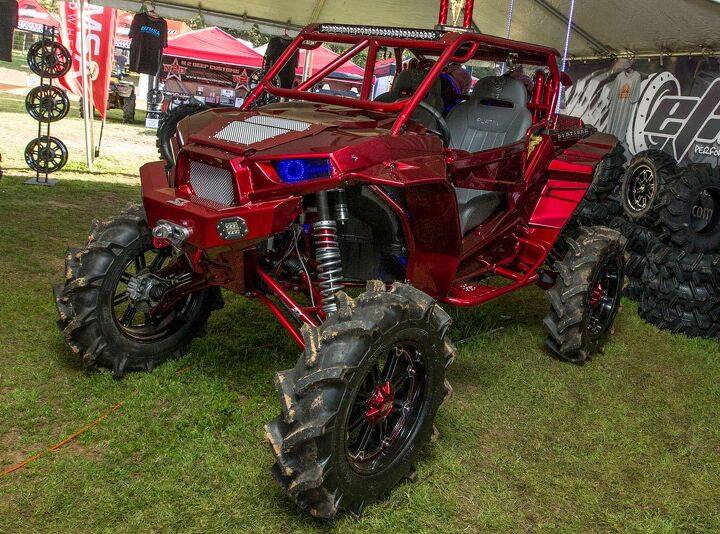 Having taken the number two spot in the Show and Shine competition, this sparkling RZR affectionately known as "Platinum" is definitely a winner in my book. The deep red color and custom seating really set it apart. If you look closely the small details continue to jump out at you. Built by Triple Threat Customs, "Platinum" will most likely look much better with a dose of Texas mud.
High Lifter Hydraulic Ranger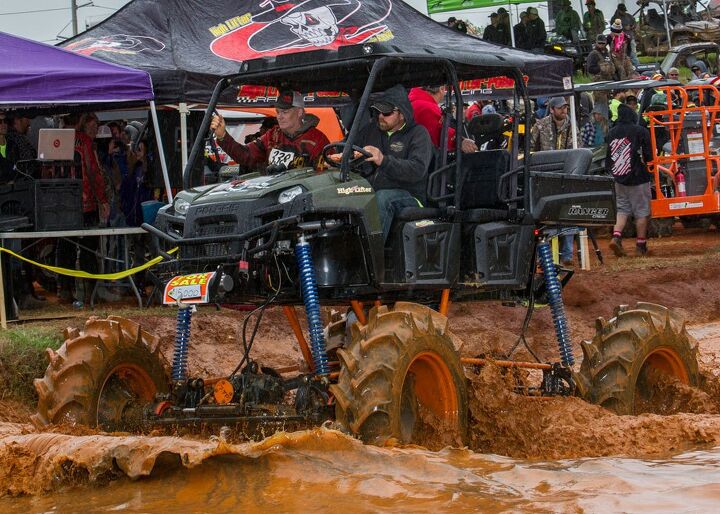 We have seen this beast around for the last few years and it has always gotten the reputation as the rescue unit. The massive build by High Lifter Products has hydraulic steering and the steering wheel is merely a place to lay the push button controls. The huge Polaris Ranger is powered by the original engine, but geared to churn the massive tires. It's also for sale at $15,000 for those wanting to buy instead of build!
WARN Winch Wolverine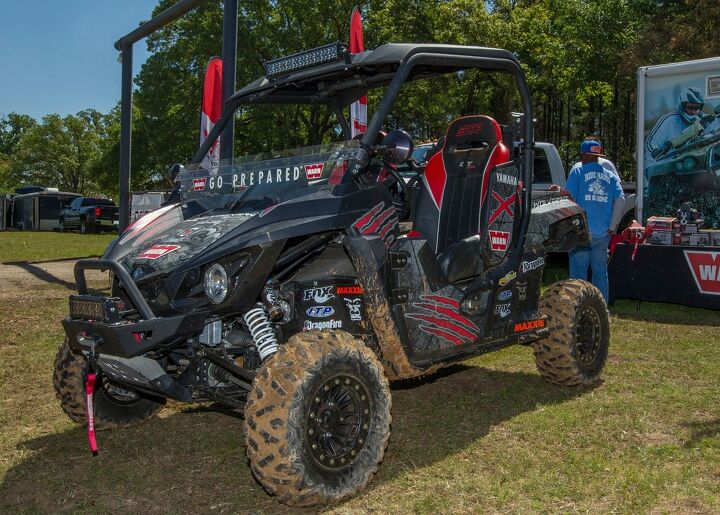 Yamaha was on hand for the High Lifter Mud Nationals with a couple of exotic mud rigs, but it was this WARN Winch hopped up Yamaha Wolverine that made us do a double take. Dressed out with winch bumper, custom lighting, cozy custom seating and all kinds of other extras, this Wolverine had everything you might need to get out and enjoy the trails. I'd say it might need a bit more height, but with the WARN winch system on board at least you can get out of what you get into.
Published April 20th, 2016 4:06 PM
Top Brands
Popular Articles