1 View
DragonFire Racing Offers New Rhino 700 Mods
June 16th, 2015 4:13 PM
Share
DragonFire Racing of Mesa, Ariz. has introduced three new aftermarket accessories for the Yamaha Rhino 700.
Topping the list is the Rhino 700 EFI 7 Map Race Controller. This controller, which retails for $499 (DFR-1PEFI), has seven base map settings and allows the end user to run any of DragonFire Racing's pre-programmed settings or calibrate their own fuel and ignition map.
Settings range from a 4500 rpm map for lower speed driving and an 8500 rpm map for overall top speed, which is a 2000 rpm increase over stock. This allows the vehicle to reach speeds in the mid-60 mph range when used in conjunction with DragonFire Racing's 700 EFI Clutch and Sheeve.
For added speed at a lower cost, DragonFire Racing offers its Rhino 700 CDI, 8000 rpm, which costs $250 (DFR-1PCDI08). This ignition comes with the company's standard map. The CDI takes the vehicle from 6500 rpm to 8000 rpm and a top speed of 52 mph. By adding DragonFire Racing's 08 Rhino Sheeve or Snowmobile Clutch the car can do over 60 mph.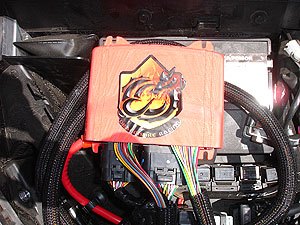 If you are adding the CDI, the company recommends its Stage 2 Clutch Kit due to increased horsepower and rpm. The Yamaha 700 EFI DFR Stage 1 and Stage 2 Clutch Kit retails for $225 (DFR-1PC08). It comes with proper weights, instructions and springs for a stock Rhino 700 EFI and a modified Rhino 700 EFI with Intake, EFI Controller and Exhaust.
"The clutching gains allow you to harness all the horsepower you have purchased, making your Rhino 700 the fastest bolt-on Rhino possible," DragonFire Racing says in a release.
Related Reading:
Dual complete exhaust system for Rhino 700
2008 Yamaha Rhino 700
Published May 14th, 2008 11:08 AM