1 View
Kawasaki Introduces Teryx Performance Parts Catalog
June 16th, 2015 4:22 PM
Share
Suspension and exhaust kits highlight race-oriented parts
Kawasaki Motors Corp. U.S.A. has introduced its Teryx Performance Parts Catalog, which included a full line of Team Green UTV racing parts for the Teryx.
According to Kawasaki, these parts have been developed in cooperation with the official Team Green factory UTV racing team.
The following Kawasaki Racing Parts and all other items listed are subject to the following conditions:
These items are intended for closed-course competition only. Alteration of emissions-related components can constitute violation of federal and/or state laws. Substantial fines and penalties can result if used for other than closed-course competition use. Also, use of unauthorized components and/or use of a vehicle in competition can affect a vehicle's warranty coverage. Kawasaki Racing Parts or other items listed here are not covered by any warranty and are not returnable.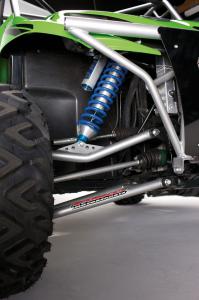 Funco Competition Suspension Kit
– 13 ½" wheel travel
– +4" width over stock
– 1 ¼" diameter 4130 chromolly A-Arms
– 4130 chromolly Heim joints
– 4130 chromolly tie rod extenders
– Adjustable caster and camber
– King piggyback reservoir shocks
– 300mm axles
– Stainless braided brake lines
– Bolt-on installation
– Bright metallic silver powdercoat finish
– MSRP $5,999.95
Funco Competition Front Bumper
– Competition legal chromolly tube front bumper
– MSRP $499.95
Dalton Industries Performance Clutch Kit
– Improves acceleration and back shift performance in a variety of conditions
– Offers flexibility to tune your clutch to driver preference and conditions while still maintaining maximum belt grip
– This kit uses Dalton's patented 'Quick Adjust Cam Arms' which allow you to add or subtract mass from the main body of the flyweight without even removing weight from the clutch.
– MSRP $379.95
Dalton Industries Billet Overdrive Clutch Cover
– Billet aluminum overdrive clutch cover allows more belt travel for increased top end speed
– Premium billet aluminum construction and design offers increased strength, better cooling and lighter weight
– No Machining or modification of the drive clutch is necessary
– This component is for race applications and contains no engine brake bearing and the KEBC system must be disabled
– MSRP $214.95
Adjustable Sway Bar Kits
– Torsion bar design
– Billet aluminum brackets and arms
– 4130 chromolly tube
– Direct bolt-on replacement in the rear
– No cutting or drilling required
– Front sway bar for long travel suspension only
– Billet aluminum down rods with steel heims
– MSRP $559.95 for front and $599.95 for rear
Dynatek Adjustable Ignition
– Programmable timing curves (4)
– Programmable rev limits
– Increased spark energy
– Improved throttle response
– Launch limiter
– Tachometer output
– Easier starting
– Programmable RPM activated outputs (2) can be used for nitrous activation, shift light, auto shifter, or boost control
– External curve selector switch
– Plug-in module replacement (easy mounting)
– MSRP $349.95
Dynatek FS Ignition
– Improved timing curves
– Higher rev limit
– Overrides belt indicator for full performance at all times
– Easier starting
– Increases spark energy
– Improved throttle response
– Plug-in module replacement (easy mounting)
– MSRP $209.95
Dyno-Jet Jetting Kit
– Includes adjustable needles, recalibrated slide springs and an assortment of main jets
– MSRP $86.65
Muzzy's 2 into 1 into 2 Stainless Full Exhaust System
– Fully tuned equal length stainless steel headpipes merge from 2 into 1 into 2
– The polished aluminum canisters feature billet aluminum inlets and outlets
– Each canister comes standard with the Muzzy Modular Endcap system that includes a removable USFS approved spark arrestor and quiet cone
– MSRP $899.95
PWR Performance Radiator
– 18 fins per inch and 100% TIG welded, PWR radiators are strong and durable
– PWR All-Aluminum radiators are made from aircraft quality aluminum and manufactured 100% in-house
– Featuring oven brazed (no epoxy) core, this radiator is a direct replacement for the OEM radiator
– MSRP $499.95
ITP C7 Beadlock Wheel
– Light weight aluminum rims manufactured with ITP's exclusive Advance Cast technology with durable black powder-coating
– Billet outer beadlock ring in polished aluminum
– 14" x 7" rims for front or rear
– MSRP $199.95 for Beadlock Wheel Black/Silver (fits front and rear)
TerraCross Tires
– TerraCross R/T radial tires feature an all-new XD (Extreme Duty) construction – an extra sidewall ply and increased sidewall and tread rubber thickness for improved puncture protection
– Wrap-around shoulder lugs, interlocking tread pattern and wide footprint result in increased traction and flotation
– MSRP $139.95 for 26" x 9" x 14" front
– MSRP $159.95 for 26" x 11" x "14" rear
ITP Wheels and Tires
– Wheel and tire are offered pre-mounted or replacement wheels and tires are offered individually
– MSRP $349.95 for Beadlock Wheel and front TerraCross R/T Tire
– MSRP $369.95 for Beadlock Wheel and rear TerraCross R/T Tire
Mirror
– 14" x 3" single pane convex mirror with powder-coated housing
– Polished billet aluminum mounting brackets
– MSRP $99.95
Trail Tech Vapor Multi-Purpose Meter and Millet Mount
– Speedometer: current speed, maximum speed, selectable MPH/KPH display
– Tachometer: real-time RPM bar graph, numeric RPM readout, programmable up to 20,000 RPM
– Temperature: ambient temperature, engine temperature, dual programmable temp lights, exact model fit temperature sensors, selectable °F/°C display
– Distance: permanent odometer, selectable mile/kilometer display
– Clock: hour meter, stop watch, ride time, accululated ride time, permanent hour meter, selectable 12/24 hour display
– Billet dash mount offers locations for stock warning lights
– Vapor meter and billet dash mount sold separately
– MSRP $124.95 for Meter
– MSRP $99.95 for Billet Dash Mount
Published October 29th, 2008 12:52 PM
Top Brands
Popular Articles