1 View
Scorpion VX-24 Impact Helmet & Commander Jacket Review
June 16th, 2015 6:05 PM
Share
We're committed to finding, researching, and recommending the best products. We earn commissions from purchases you make using links in our articles. Learn more here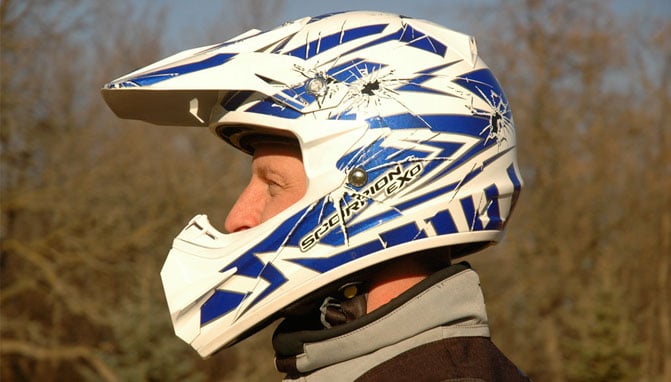 Inflate your wardrobe
I consider myself a serious off-road rider. You're probably one too if you always wear proper riding gear: Helmet, over-the-ankle boots, gloves, goggles and pants and jersey/shirt. Anybody with a true love for the sport knows the importance of wearing items like these. Scorpion Sports is a company that caters to hard-core riders and its line of on- and off-road riding apparel proves it. I recently tested two of Scorpion's EXO products: VX-24 Impact helmet and XDR Commander jacket.
VX-24 Impact Helmet – $139.95
When I first learned of the Scorpion EXO VX-24 helmet with AirFit, my mind rewound back to 1991 and the National Basketball Association's Slam Dunk Champion Dee Brown. Here's why.
Scorpion VX-24 Impact Helmet with AirFit
Eighteen years ago Brown put the Reebok Pump shoe in the minds of millions of basketball fans. Before he took off for his signature "no-look" slam, Brown paused on live TV and pumped air into his sneakers via an integrated pump in the shoe's tongue. He then made the dunk and won the contest. It was a dream-come-true for a marketing executive and that subtle act sold a lot of kicks to a lot of b-ballers. I remember saying, "I need those and I'll be dunkin' like Dee!"
However, the truth is that pump shoe couldn't help me soar any higher than a pair of my wife's high-heeled shoes. In reality, the air technology was about adding customized comfort and fitment. After all feet, like heads, come in all sorts of different shapes and sizes. An MX helmet with an air pump can't make you jump like Jon Guetter — of ATV back flip fame — or give you the raw speed of two-time AMA ATV MX Champion Dustin Wimmer, but it can provide an improved fit. But more importantly, says Scorpion, the integrated AirFit HelmetPump air inflation system is about safety and wind noise reduction. It's installed to allow for minor neck roll and cheek pad adjustments and is not designed to adjust for an ill-fitting helmet, reads Scorpion's literature.
I had a chance to try a new blue-and-white Scorpion VX-24 Impact helmet. Although the AirFit technology is a cool feature, it's not the only highlight of this line of off-road lids. Not only can you tweak the fitment, you also get other key attributes that appeal to dirt riders. For starters, the helmet is both Snell and DOT certified, which means it's put up to strict on- and off-road testing standards. The shell is made of advanced Polycarbonate Composite intended to be both lightweight and tough. The interior liner and cheek pads feature Kwik-wick moisture-wicking fabric. It's removable, washable, and breathable and is designed to keep your head cool and dry in the summer riding season and warm in cool riding conditions. The helmet also has integrated goggle strap grip sections and a rubber nose roost shield offers improved protection. Also, the padded chinstrap has different shaped eyelets, a nylon pull-tab and snap to control extra strap length and Kwik-wick material for added comfort.
Like other MX helmets, the VX-24 has an adjustable and removable visor. Scorpion calls it an aero-tuned visor and claims it reduces lift at high speeds. For improved airflow, the integrated ventilation system has large intake manifolds and aero-tuned rear vents.
HelmetPump How-To
To inflate the helmet, simply press the large yellow button.
Internal air bladders on each side of the helmet — beneath the cheek pads — are inflated or deflated by depressing the HelmetPump's yellow button or red button located in the front chin/mouth of the helmet. The larger center, yellow button inflates the bladders in the helmet. The small red button deflates the bladders.
I purposely pushed the yellow button 25 times to test its function and was surprised to feel the bladders continue to expand and push on my cheeks. The helmet was too tight on my face at that point and probably would make anybody, other than a horse-faced freak, uncomfortable. Nine pumps were enough to supply proper comfort for me. I also found it easier to remove the helmet if I first deflated the bladders. However, it was easy to forget about the air system since it's a new technology. Scorpion suggests you don't attempt to adjust the HelmetPump while you're riding.
Impact-ful
The chin vent brings to mind a Stormtrooper. Hope Scorpion cleared this with George Lucas.
My test helmet's attractive white-and-blue color scheme included a bullet-riddled glass theme that was neither too over the top nor boring. I appreciate the visor hardware makeup (read: non plastic configuration), but would like to see the top visor screws be made a bit larger and easier to adjust. However, I like that they are outside, on top of the visor and not underneath it and cumbersome to adjust. The Stormtrooper-esque front mouth guard/vent adds a cool look. Ordinary MX goggles fit well inside the eyeport and look good with the integrated roost guard. However, I had to work harder to allow my Scott goggles with their extra nose guard and ventilation visor to fit inside the eyeport area. Speaking of the eye port, the white rubber material surrounding it and the base of the helmet was the most difficult to clean. (Editor's note: the online photo of this helmet shows blue surrounding the eye port area, not white).
In a sense, a helmet's vent system creates a vacuum to suck in air and cool your head. Scorpion's own literature reads "your helmet ventilation systems should be kept clear of any obstructions including dirt, insects or other items which could interfere with proper air flow." However, the venting system on the VX-24 does not offer vent closures for extremely dusty conditions or mud riding. Having the ability to close the vents would be better.
In terms of comfort, the VX-24 Impact helmet fit me perfectly. I've worn other medium helmets that were a bit too big, but this one (7 1/8 – 7 ¼) worked well. I've worn lighter helmets over the years compared to this one, but Scorpion's 5.5-pound top-of-the-line lid doesn't feel that fat. I've also felt softer fabric inside a helmet before, but the Kwik-wick liner and cheek pads do the job just as well.
Scorpion's VX-24 offers a great value for its price of $139.95. And it's fit and function is excellent. Plus, you have more than 10 color schemes and two more affordable solid black finishes (Matte- $129.95; Glossy – $119.95) to select from.
VX-24 Impact Helmet Stats
MSRP:
$139.95
Sizes:
XS to 2XL
Snell/DOT approved:
Yes
Designs:
Impact, Hellraiser, Ampt, Solid
Colors:
Green, Blue, Yellow, Orange, Red
Options:
VX series helmets can be converted for use in snow with a snow conversion kit. Custom liner and cheek pad kits available.
XDR Commander Jacket – $339.95
I'm not sure I've ever worn a true off-road jacket like the Scorpion XDR Commander. I don't think a team of MIT grads could design a better piece of equipment. Yes, I said equipment. It's more than just a jacket; it's a hardcore accessory. With that being said, die-hards looking for the ultimate riding jacket with a rugged design and all-season construction, look no further.
Jerrod likes his Commander jacket "this much!"
I was literally blown away when the XDR jacket showed up. It was almost too heavy for an ordinary plastic hanger and made me question its 3-pound weight (as claimed by Scorpion). I knew instantly I'd received a heavy-duty jacket. Of course, with a retail price of $339.95, I should have expected nothing less. I know that's a lot of cash to invest in a jacket — especially these days — but it's worth it. You really get two jackets in one and lots of added comfort and versatility.
The exterior features Cordura and reinforced Schoeller fabric panels for added durability, abrasion resistance and waterproofing at the wear points (elbows/forearms, shoulders and rear panel). About the only thing this jacket lacks are zip-off sleeves, but that's OK with me. If I want a vest, I'll wear a vest. However, it has zippered, water-resistant vents on the chest, forearms and back and a removable storm collar. The upper back vent features double zippers and can accommodate a hydration bladder and hose. An integrated opening and hook allow for perfect hose alignment over your shoulder. A lower, large waterproof storage pocket adds to this jacket's charm.
To customize the fit, the Commander includes a four-point torso adjustment system and sleeve tension straps. The arm straps are designed to control wind flap for high-speed rides. It also comes with power stretch panels to "maximize mobility," said Scorpion. Think of them as flex points that are designed to stretch for improved comfort.
Under My Command
Thankfully when I wore it in the LaSal Mountains in Utah the weather was unseasonable cool. Snow fell and cooler morning riding temperatures bit at any exposed skin. The Commander excelled at keeping me warm, dry and comfortable all day. In fact, it was so warm, I had to ditch the outer shell and only wear the waterproof liner, which served as a decent lightweight riding jacket. The liner also has cuff gaiters, which prevent the sleeves from riding up on your arm and keep the cold air out.
My large jacket was a bit too tight when I wore a sweatshirt underneath it. I suggest you explore the sizing chart on the Web site or try one on at a Scorpion dealership before purchasing a Commander. It fit much better when I only wore a motocross jersey beneath it. It also fit a little better after removing the integrated EXO-TEC CE Armor panels that are located inside the jacket at the forearms and shoulders. If you plan on riding aggressive, I'd keep the armor installed, but for slow, scenic cruises, you could remove them.
My gray Commander jacket was covered in dust and red dirt from Utah and I wondered how well it would do in the wash. After the wash, I closely inspected it for tears, loose seams or stains and it came out unscathed and looking brand new.
Overall, this jacket has it all and then some, including reflective panels for improved visibility, stellar raised, reflective Scorpion logos, interior pockets, and removable Everheat Thermoliner. If you prefer hooded-sweatshirts or flannel shirts, this jacket is not for you. However, if want to look good, feel protected and stay warm and dry, take a closer look at the Commander jacket.
XDR Commander Jacket Stats
MSRP:
$339.95 to $364.95
Sizes:
SM to 3XL; LGT to 3XLT
Colors:
Neon, Black, Gray
For more information visit ScorpionUSA.com. Published November 24th, 2009 5:34 PM
Top Brands
Popular Articles