1 View
7 Head Turning Yamaha YXZ1000Rs
April 22nd, 2016 10:40 AM
Share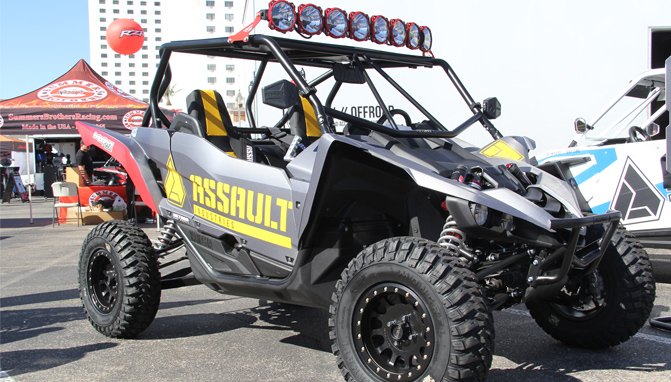 What would you do with a brand new YXZ and a no limit budget?
Users seem to be divided in their aesthetic opinions of Yamaha's new YXZ 1000R. Some people love it while many have been searching for a solution to enhance the overall appearance. Whether you love it or hate it, here are seven awesome YXZ1000Rs that we wouldn't have to think twice about driving.
It's hard to tell, but the wrap is actually made to look like carbon fiber.
@assaultutv new look for the YXZ1000R ~ @kchilites @elkasuspension @methodracewheels @prolinewraps @gbcmotorsports @ruggedradios
A photo posted by Ted (@khopesh_media) on Feb 23, 2016 at 11:18am PST
Trinity Racing and SDR Motorsports worked with Glazzkraft to find a solution to cover up those front shocks.
It's finally here! The Trinity Racing YXZ 1000R. Look for it on the cover of next month's @utvoffroadmagazine and pick up a copy to see what went into creating this turbo charged monster! @sdrmotorsports @lonestarracing1 @omfperformance @proarmor @kchilites @glazzkraft @ruggedradios @elkasuspension @getmorewraps @streamline_brakes racing racingequipped
A photo posted by Official TrinityRacing.com (@trinity_racing) on Dec 28, 2015 at 12:15pm PST
One of the fastest women on four wheels, Cory Weller.
Qualified 2nd in the @dragonfireracing @yamahamotorusa 1000r !!! With a 2 inversion we are starting on the pole! SR1 qualifying up next. Watch live at www.livetrackfeed.com
A photo posted by (@wellerracing) on Feb 27, 2016 at 11:00am PST
Not overly LOUD, but this YXZ is super clean with a nice custom cage.
The best toy I ever had my DS14 Yamaha YXZ @methodracewheels @Tensortire @goodridge_motorsport @motecusa @nrg_innovations @johnreedracing @piaa_usa @ ReplayXD @alwaysevolving Photo credit: MHC Nina
A photo posted by David Sterckx ?????? (@davidsterckx) on Apr 8, 2016 at 10:40am PDT
Some people spare no expense on their toys.
Killer build!! 1000r yxz underground racing yxzaddicts guide @yamahamotorusa @utvguide @sidebysidestuff @utvunderground @sandsportssupershow
A photo posted by Yamaha YXZ Addicts (@yamaha.yxz.addicts) on Mar 24, 2016 at 6:34pm PDT
This was one of several YXZ1000Rs that competed at the UTV World Championships.
All ready for tomorrow @utvworldchampionship 1000 underground @utvunderground @utvworldchampionship @suspendedfabrication @msawheels @efxtires @ruggedradios @prpseats @stvmotorsports @lonestarracing1 @albaracing @yamahamotorusa @rhinowraps @yxzforums
A photo posted by Jeremiah Staggs (@jerry_fast) on Feb 19, 2016 at 10:46am PST
This one looks almost too mean to drive.
Pretty happy with the way this thing came out! 1000r What's everyone think?
A photo posted by HCR Racing (@hcrracing) on Dec 17, 2015 at 3:44pm PST
Published April 22nd, 2016 11:00 AM
Top Brands
Popular Articles