1 View
Honda Kicks Off FourTrax Rancher ATV Production In North Carolina
July 21st, 2023 1:09 PM
Share
A new era of all-terrain-vehicle production is underway at Honda North Carolina Manufacturing (NCM) in Swepsonville, North Carolina. Thanks to a $380 million investment, Honda is expanding the production of its ATVs in North America by making the NCM plant its exclusive home for four-wheeler manufacturing in North America. Through this, Honda aims to improve its manufacturing efficiency while increasing productivity.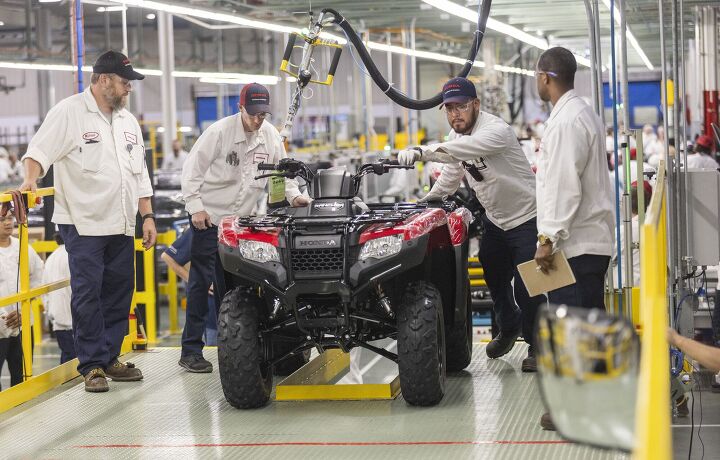 The 700,000 square foot plant will allow Honda to build its FourTrax and TRX series ATVs for North America in much closer proximity to the machines' end destinations. While the youth-sized TRX90 has been rolling off the line at NCM for some months now, Honda just completed its first FourTrax Rancher at the facility, representing the stateside production of one of the brand's most popular models. For now, NCM is responsible for assembly through welding and paint; further departments will see the start of construction this fall.
"We're excited to bring ATV production to Honda North Carolina Manufacturing, and this team has done an incredible job working as one team with Honda associates in South Carolina to make it happen," said David Werden, assistant vice president and production division lead at NCM. "Flexibility in manufacturing has always been key to our ability to meet the needs of Honda customers and it's important that we continue to evolve our business to prepare for the future."
NCM is not only responsible for ATVs. Over its 40 years, the plant has housed the production of snow blowers, string trimmers, mini-tillers, water pumps, pressure washers, generators and general-purpose engines. As it takes on ATV production, Honda's Talon and Pioneer side-by-sides will now be built at the Honda South Carolina Manufacturing (SCM) in Timmonsville, S.C. This plant is the exclusive home of Honda UTV production worldwide, which the brand hopes to expand in the coming years.
"The associates at Honda North Carolina Manufacturing have been a critical part of our ability to maintain a versatile product lineup for nearly four decades and that will continue in the future," said Hank Real, vice president, Powersports & Products, American Honda Motor Co., Inc. "Transitioning ATV production to NCM will leverage our facility's manufacturing experience and talented Honda associates to ensure we continue to supply the high quality our customers expect from a Honda ATV."
Published July 21st, 2023 1:09 PM