1 View
Ranger RZRs Win All Heartland Challenge UTV Classes
August 24th, 2011 11:48 AM
Share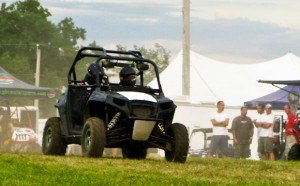 Polaris Ranger RZRs collected more podiums at the four-hour Heartland Challenge UTV race, in Carlisle, Iowa by taking the top spot in all three classes offered and going one-two in the overall.
Team Elia racing in the "850 Modified" class edged out "Open Modified" Class Winner, Team Coastal/Yokley Racing by six seconds for the Overall.
Team Elia went into the race with a nearly-stock Polaris Ranger RZR S 800 with the only mods being what it took to make it race ready. The conditions were perfect as it rained earlier in the week so there was almost no dust and no mud, making for good traction. Team Elia felt the key to its win was going fast through the woods, having consistently faster lap times and staying out of the pits. For the first two hours of the race, the team was patient getting through the traffic and in the third and fourth hour, the team was able to find its rhythm, step up the pace and pass vehicles each lap. Through the home stretch, Team Elia kept its pace steady and came to the finish line with a six-second lead over Team Yokley.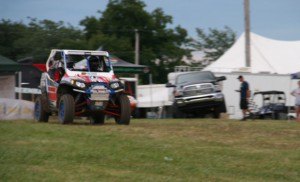 For Team Yokley, the race began with William Yokley getting a good start, and immediately starting to pull away from the pack. Yokley drove for the first two hours, and opened up a lead of several minutes. Scott Kiger took over for the last two-hours, and everything was great. The check point stations were telling the team that they had a lead of more than 5-minutes, and Kiger maintained a steady pace, not taking any unnecessary risks in the darkness. At the finish, the team found out that Team Elia had finished ahead on adjusted time, because they started on another row. Team Yokley then traveled to Washougal, Wash. WORCS race where Yokley finished first and Kiger third.
Published August 24th, 2011 11:48 AM