1 View
Can-Am Commander Racers Finish 1-2 at BITD Desert Mint 400
March 28th, 2012 1:49 PM
Share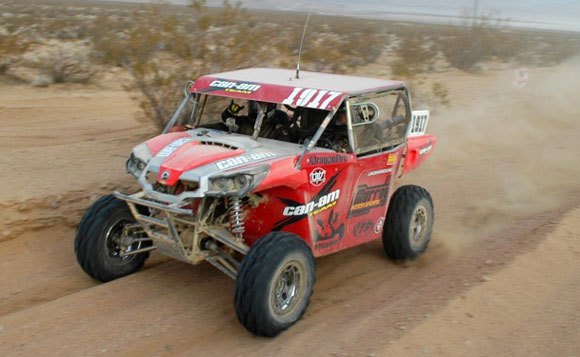 Can-Am X-Team racers Derek and Jason Murray piloted their Murray Motorsports / Can-Am Commander 1000 X to the UTV class victory in the 2012 Best In The Desert Mint 400 race in Las Vegas, Nev. Driving the Can-Am X-Team-supported Desert Toyz Commander 1000, racer Cory Sappington finished second and joined the Murrays on the UTV class podium. The Mint 400, dubbed the single largest off-road event in the United States, allowed side-by-side vehicles to compete along side the automotive field for the first time in the history of the race.
"I just couldn't be more proud of our guys and the way they each drove their Can-Am Commander side-by-sides in these gruelling conditions," says Jimmie O'Dell, Race Manager, Can-Am. "It was definitely a historic weekend of desert racing for Can-Am, the Commander 1000 and our X-Team racers. The Murrays and Sappington's team deserve a lot of credit for all their hard work and dedication that they each put into preparing their machines and for putting the Commander on the top two spots of podium in the first ever Mint 400 UTV race."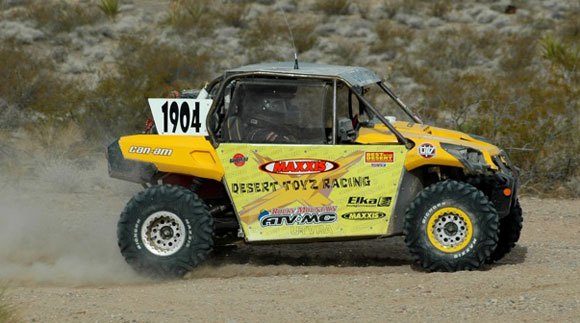 Murray Motorsports, winners of two of the last three BITD UTV class races, started 18th out of 30 competitors. However, the team kept pushing forward, picking competitors off one by one. With 10 miles remaining, they caught Sappington and raced ahead for the class overall, becoming the first side-by-side and Can-Am Commander 1000 to cross the Mint 400 finish line. The Murrays finished in 4:38.58, roughly five minutes ahead of the second place team of Sappington and co-pilot Jim Sharp. The two Commander racing teams finished seventh and ninth, respectively, in the overall Mint 400 two-lap race standings.
"I really want to thank everyone at BRP for all their help and support. We really want to keep this momentum going into the next race. We had absolutely no issues with our Can-am Commander 1000," says Derek Murray. "The organizers really treated all the UTV finishers like kings, as we were recognized on stage with our award for the UTV class overall immediately after Robby Gordon was presented his for the Pro truck overall."
Published March 28th, 2012 1:48 PM