1 View
Video Game Review: Box10 ATV 5
October 15th, 2012 4:45 PM
Share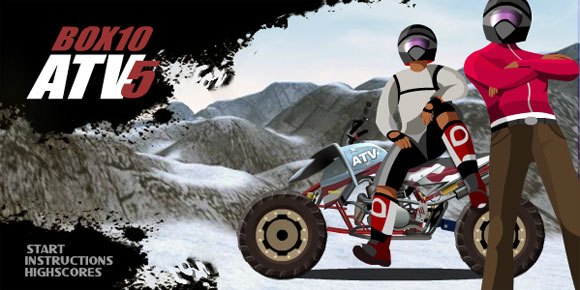 Free on-line video games are, for the most part, disappointing. So it was with very low expectations that I clicked on a link for Box10 ATV 5. What can I say…I'm can't turn down anything ATV-related.
My main complaint with most of these games is that they're just too easy. At first it didn't seem as if ATV 5 would be any different. The first few levels of this 10-level game went by in a flash. Sure, I crashed and burned a time or two, but mostly because I was trying to rush through it so my co-workers wouldn't make fun of me for playing.
The last couple of levels, however, do take a little thought and a little luck to complete. In fact, I got to the 10th and final level in just 10 minutes or so, but it took me at least that much time to finally finish. Lesser men would have given up, but I wanted that sweet vindication from finishing what I started. I'm sure my wife will be very proud.
Like most flash-based ATV games, the controls were very simple – just the arrow keys. The game revolves around climbing up and down large and small rocks and hills. You can certainly do a blackflip in most areas, but I didn't notice any reward for doing so. There was a points system, but I had neither the time or desire to figure out how to accumulate more points.
The bottom line is that this game is a good time waster. It won't amaze you with its realism or graphics, but it is a good way to kill 20 minutes.
Published October 15th, 2012 4:45 PM
Top Brands
Popular Articles