1 View
ProManPTO Releases Cool Minder Fan Reverser
June 21st, 2013 3:42 PM
Share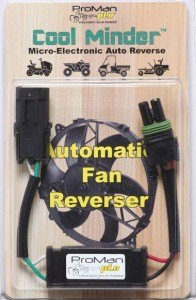 With the goal of clearing your radiator of dust and debris, ProManPTO has introduced its new "Cool Minder" automatic fan reverser for ATVs and UTVs.
Installing the Cool Minder is as easy as plugging it into your radiator fan's connector. When the thermostat starts the vehicle's cooling fan, the Cool Minder is pre-programmed to automatically reverse the fans direction for several seconds to blow out debris and dust build up on your radiator. Then the program winds the fan down to a stop and reverses the fan to continue through its normal cooling cycle. This entire sequence then repeats automatically to assist in keeping your vehicle's radiator clean while you work or play.
"Plug it in once and forget it while Cool Minder watches over your cooling system," ProManPTO says in a release.
According to ProMan PTO, the Cool Minder fits the majority of Polaris, Honda, Yamaha, and Suzuki ATVs and UTVs and will be available for other brands soon.
Visit ProManPTO.com for more information.
Published June 21st, 2013 3:40 PM