87 Views
Top 10 ATV Racers of All Time
July 24th, 2013 4:18 PM
Share
We're committed to finding, researching, and recommending the best products. We earn commissions from purchases you make using links in our articles. Learn more here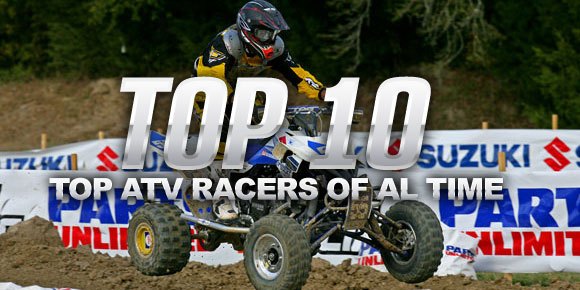 Since the dawn of factory-backed race teams in the mid 1980s, the ATV racing industry has gone through some serious transitions, near catastrophes and fought plenty of uphill battles.
From the lull of the 1990s when everyone raced on machines from the previous decade, to the boom of the 2000s where factory race teams were coming out of the woodwork, to today where most OEMs are being very cautious with the entire Sport ATV segment, let alone racing.
In that time, hundreds of ATV racers have risen through the professional ranks but to those of us who've been following the industry for a couple decades, there are a handful of names that stick out. Not all of them are multi-time champions, but every one of them has had a significant impact on the sport in one way or another.
Gary Denton
Photo courtesy of LED Performance
I would have paid good money to be in attendance at the Rosebowl in 1985 when Gary Denton debuted the 1985 Quadracer LT 250R amidst a sea of production three wheelers. The first of its kind, truly race ready (for its time) ATV fueled the shift from three to four wheels and Denton would go on to be the winningest ATV motocross racer of all time with eight national titles, countless stadium wins and the 1994 Mickey Thompson Off-Road Series Championship.
Barry Hawk
Photo courtesy GNCC
The first time I heard the name Barry Hawk it was on a video recap of the 1993 Blackwater 100. Hawk had won the race that year and went on to win a total of seven GNCC ATV Championships. Hawk would later transition to two wheels and won the 2003 GNCC Motorcycle Championship. Hawk retired from professional racing in 2010 and joined the Racer Productions staff as a trail boss to help lay out the courses for the next generation of GNCC racers.
Doug Eichner
With an impressive 51 Championships throughout his professional career, Doug Eichner is possibly the winningest racer on our list. He has been heavily involved in ATV racing since turning pro in 1986 and has won races and championships all over the world. With seven wins at the renowned Pont de Vaux in France, as well as seven WORCS championships and countless other race wins, Eichner retired from ATV racing in 2010. This year we saw him return to racing action in a Polaris RZR in the Pro Production UTV class at the World Off-Road Championship Series.
Doug Gust
Photo courtesy of Jake Klingensmith
"Digger" Doug Gust earns mad props for not only a successful career, but for being one of the oldest guys to go out there and still hang with the kiddies. He was one of the brave souls to weather the dark storm of the 1990s and was among the first to secure a factory contract back in the 2000s when the OEM's were getting back into racing. At over 40 years of age, Gust continued to race for several more years as a factory-backed Suzuki racer and competed against riders half his age.
Bill Ballance
Photo courtesy GNCC
The GNCC series is unique in that while the field is stacked with talent, there are only a handful of racers who have won an actual championship. In fact, most of them win several until someone bumps them off the throne and begins a reign of their own. Bill Ballance managed to break Barry Hawk's streak of seven championships in 2000 and began his reign atop the Pro ATV class, racking up nine consecutive GNCC championships from 2000-2008. In that time he secured factory support, had his own Ballance edition products ranging from exhausts to tires and even a Ballance Edition Yamaha YFZ450R. Ballance continues his involvement in the sport, racing a handful of GNCC events, and running a motocross track and a race team. Although his reign came to an end in 2008, Ballance holds the record for most championships.
Josh Frederick
Josh "the animal" Frederick earned himself that nickname for his tough, come from behind, never give up mentality. A self proclaimed poor starter, Frederick often found himself in positions where he was forced to work his way through traffic if he had any hope for a win, which he did often. Frederick won three WORCS championships during his career, as well as the prestigious SCORE championship in 2005 and 2012. He had success all over the world, from Mexico to Canada and even France. Frederick began transitioning to side-by-side racing in 2012, but never gave up on his love for ATV racing. Unfortunately, Frederick was involved in a terrible accident early in 2013 where he broke his back and lost the use of his legs. Despite adjusting to this new way of life, Frederick maintains the same never give up spirit and hopes to return to side-by-side racing in the coming months and years.
Traci Cecco
Photo courtesy GNCC
Traci Cecco is the sole woman on our list for her incredible accomplishments in a largely male-dominated sport. Cecco earned a total of nine ATV championships during her career and is widely considered one of the most influential women of the sport. Although she retired after her ninth championship in 2012, Cecco remains present at the GNCC events, supporting her husband and the racing family she has built over the years.
Jeremiah Jones
Photo courtesy of Jake Klingensmith
Jeremiah Jones made our top 10 list not just for his success on an ATV (he has three national championships to his name), but also for his commitment to the sport as a whole. He was one of Suzuki's power players back when it were racing the LT-Z400 and he was instrumental in the development of the LT-R450. If you follow ATV racing at all, you are probably aware that Jones suffered a career ending accident in 2006 that left him without the use of his legs. Despite such a life-changing incident, Jones has remained heavily involved in the industry that he loves, serving as the team manager for the Factory Suzuki race team as well as a trackside rep for several industry companies. Today Jones continues to attend the nationals and also runs his own riding school where he grooms the next crop of ATV racers.
Chris Borich
Photo courtesy GNCC
Although he has a ways to go to beat Bill Ballance's record of nine consecutive GNCC championships, Chris Borich is well on his way. The Suzuki-backed Borich is a constant threat and has a reputation for messing with other racers, hanging back until the final lap of the race and then charging hard for the win. Some have said it's almost as if he can pass at will. Borich is in the top spot this year and is working to add championship number five to the list. Only time will tell if Borich can catch Ballance, but if can wrap up the 2013 championship he'll be over halfway there.
Chad Wienen
Photo courtesy ATVA
Chad Wienen is another rider who doesn't have a huge number of championships under his belt, but he earns a spot on the list for being one of the hardest working racers in the sport. Wienen burst onto the scene back in the mid 2000s with a reputation as a guy who could manhandle the quad underneath him. He's one of the only racers to have ridden for almost every factory race team (Suzuki, Kawasaki, Can-Am and Yamaha) and after breaking his back during the 2011 season, could have easily thrown in the towel and given up without ever achieving the ultimate goal of winning a Pro ATV national championship. Instead of quitting, Wienen trained even harder, put together a completely new program with Yamaha and went out and won the 2012 ATV motocross national championship. His perseverance paid off and after eight rounds of racing, Wienen is close to wrapping up the 2013 title as well. He's a great example of hard work and dedication and will be tough to beat in the years to come. Seth Fargher
Growing up in Oregon, most of Seth's involvement in the powersports world was limited to what he saw in magazines and videos. Following a brief stint in the corporate world, Seth took a flying leap (literally) and moved to California to pursue a career in freestyle motocross. Though short lived, the opportunity immersed him in the industry and is now a well-established off-road writer.
More by Seth Fargher
Published July 22nd, 2013 10:46 AM
Top Brands
Popular Articles