1 View
2013 AIMExpo: Monster Axles XP
October 17th, 2013 3:46 PM
Share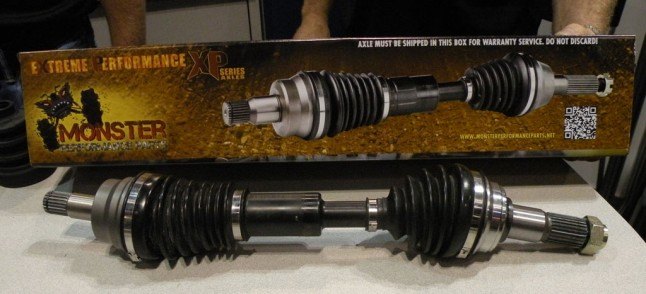 Mud riders or anybody looking to lift up their ATV or UTV may want to check out new Monster Axles XP series, which we had a chance to see at the 2013 American International Motorcycle Expo in Orlando, Fla.
We'll be getting our hands on one of these axles in the near future for a proper test, but here are the product highlights to tide you over.
• The Monster Axles XP series features 4340 chromoly steel CV joints, which are designed to be larger and more durable than stock.
• Machined grooves are cut into the ball tracks and contact surfaces to allow for better lubrication flow. This is designed to increase lubricant flow to cool the joint more efficiently and better distribute lubricant throughout the joint.
• The axles is fixed to the shaft and gives up to a 40-degree angle of operation, which is intended to prevent the bar from hitting the inner CV joint housing.
• XP shafts telescope, allowing for use of stock sizes up to a four-inch lifted vehicle. The plunge mechanism of the shaft is a ball and cage design, which we are told allows for a smooth range of travel without binding or catching like splined shafts can do.
• CV boot material is puncture resistant and features a multi-rib design for more flexibility and increased durability.
The Monster Axles XP series retails for $659.95 per pair. Visit ATVPartsConnection.com for more information.
Published October 17th, 2013 3:46 PM